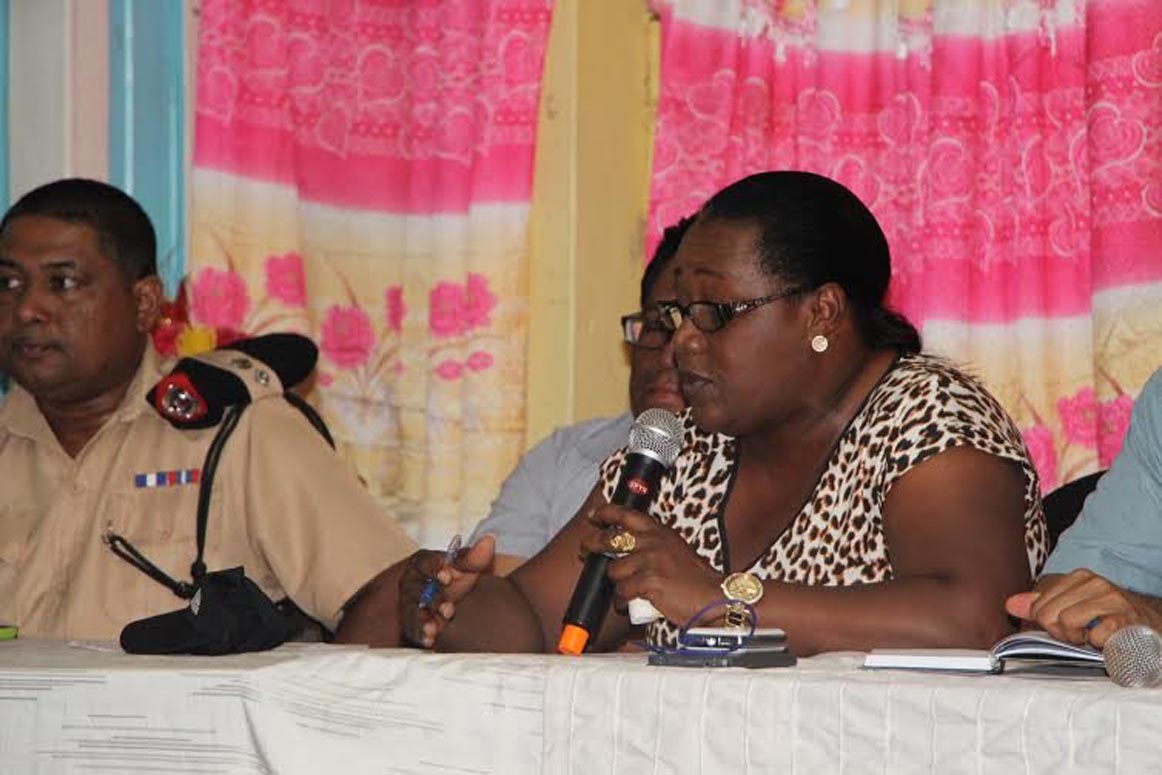 Georgetown, Guyana – (January 11, 2016) Minister of Natural Resources, Mr. Raphael Trotman, assured Region Eight miners that the Coalition Government is committed to ensuring that they can ply their trade to maintain their livelihoods and secure their fair share of Guyana's national patrimony, at a town hall-styled meeting held in Mahdia, on Sunday morning.
Minister Trotman was accompanied by a team comprising Minister within the Ministry, Ms. Simona Broomes, officials from the Guyana Geology and Mines Commission (GGMC), Guyana Forestry Commission (GFC), Ministry of Public Infrastructure, the regional administration and Commander of 'F' Division, Mr. Ravindradat Budhram.
This was the two Ministers' first community outreach since their appointment as heads of the realigned Natural Resources Ministry.
Minister within the Ministry of Natural Resources, Mrs. Simona Broomes makes a point during the meeting with residents and small miners in Mahdia, Region Eight.
Road infrastructure
The state of the roads in the region is a major bugbear for residents, since for many; it has had an adverse impact on their livelihoods. Minister Trotman informed the meeting that the paving of roads in Mahdia has been catered for in the 2016 National Budget, which is expected to be presented to the National Assembly shortly. The project will be overlooked by the Ministries of Public Infrastructure and Communities. Additionally, the region's water woes should soon come to an end, as engineers from the Guyana Water Incorporated (GWI) have already moved into the area and are set to start working.
Mining pit accidents
The Administration is also concerned about the incidence of mining pit cave-ins. Last year, mining pit accidents resulted in a number of fatalities, the worst occurring at Mowasie, Region Eight, which claimed the lives of 11 miners. Since then, mining operations there have been closed down. Minister Trotman informed the meeting that this mine will not be reopened until its safety standards are properly verified; noting that his Ministry will not condone haphazard mining practices that put people's lives at risk. He did reveal, however, that the operations at Jumbie Creek, where a miner died after one of its walls caved-in last year, has been reopened.
"Many modifications have been made and it's supposed to be a model [of] how things should be done and how to make sure that walls don't collapse," he said.
Similar sentiments were expressed by Minister Broomes who reminded the meeting that the matter of mining fatalities should not be taken lightly. "One life is one too many…negligence is like suicide," she said.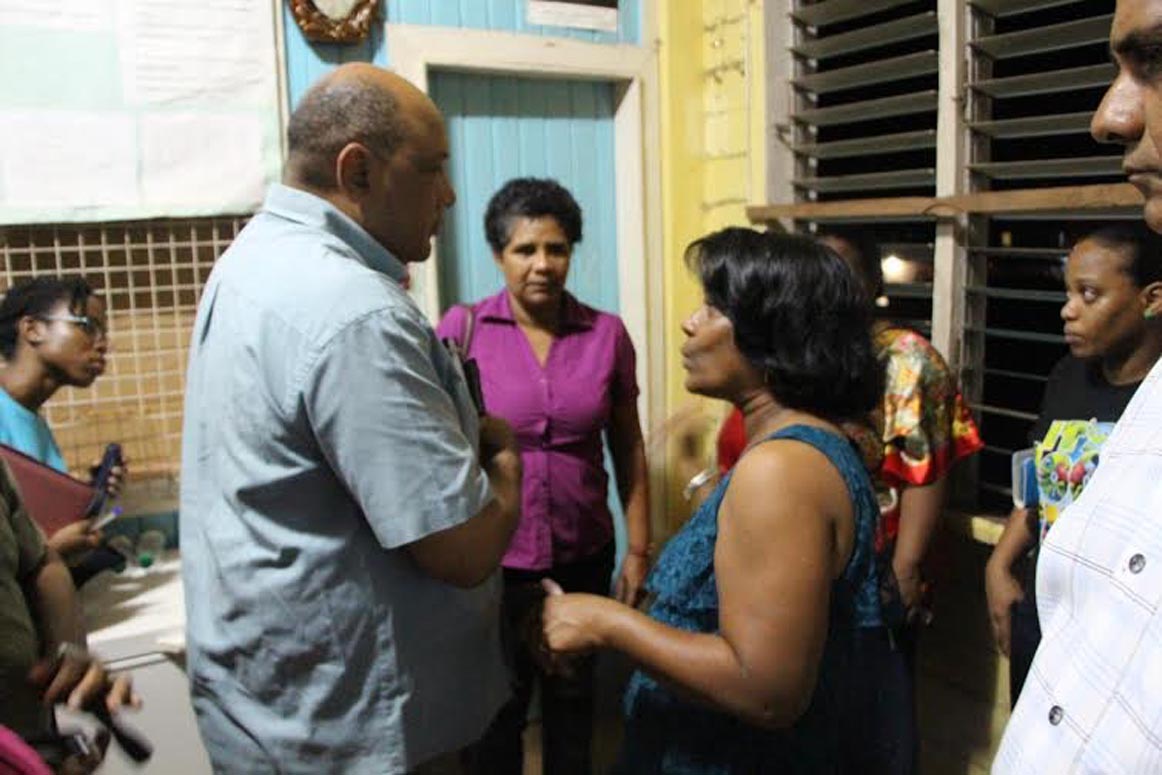 Minister of Natural Resources, Mr. Raphael Trotman, interacts with residents after the meeting.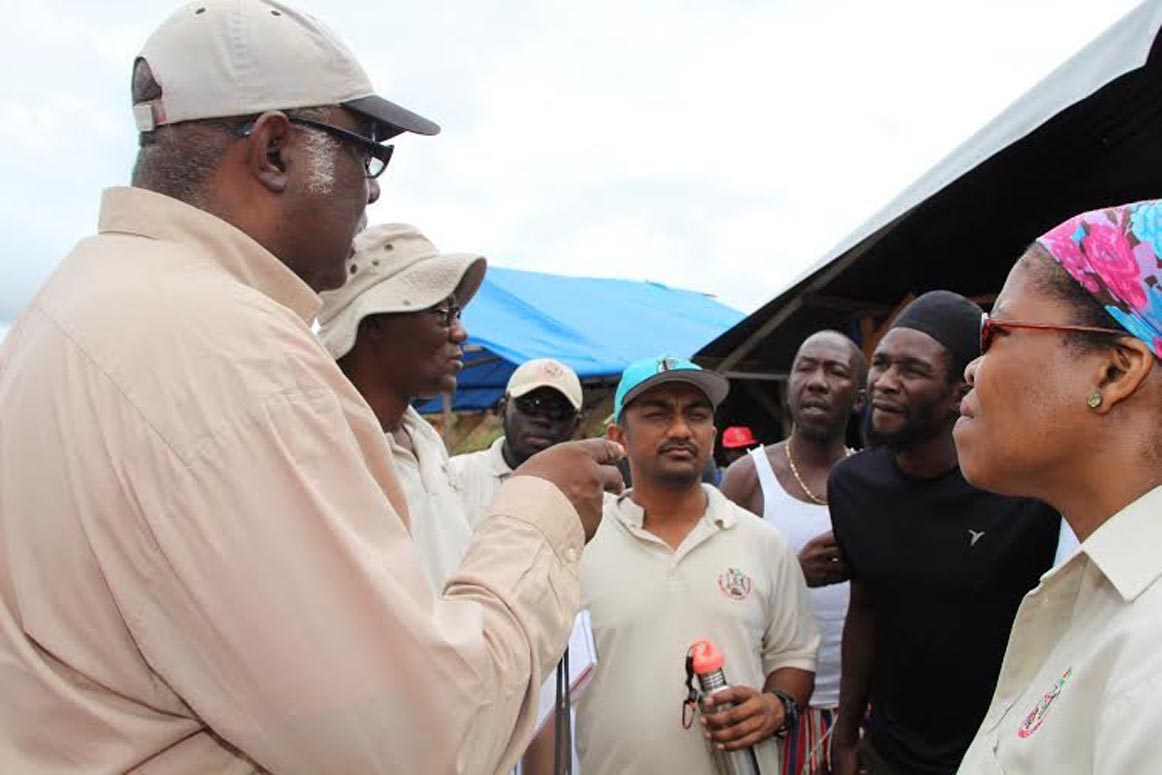 Officials from the Guyana Geology and Mines Commission (GGMC) speak to miners and shopkeepers at a mining camp at OMAI
Underage drinking, drug use
Meanwhile, the Coalition's Region Eight Member of Parliament, Ms. Gloria Bancroft, spoke of instances where reports of sexual abuse were allegedly being swept under the rug by police officers who are believed to be taking bribes. "When people make a report to the Mahdia Police Station, they get no satisfaction," she said.
In response, Minister Broomes, who is well-known for her untiring advocacy of fighting all forms of human trafficking and abuse, called on Commander Budhram to ensure that the law is upheld, particularly as it relates to the sale of alcohol and drugs to minors.
"Commander, it is one of the areas I am asking of you, personally, to have the police take a different line of action to protect these young girls, we have to protect them… charge the owners of these businesses," she said.
The Commander, who was recently moved from Rabbit Walk, Eve Leary to Bartica in order to better serve 'F' Division, gave assurances of his full support to ensuring that law and order is maintained in Region Eight. With regards to complaints made by residents of instances of police misconduct, Commander Budhram said that the Force has a zero-tolerance for police roguery and emphasised that any officer that is found to be in collision with the law will be dismissed.
He also gave residents his personal phone number to contact him directly if they are being pushed around by law enforcement officers, or if they have reason to believe that matters are being covered up.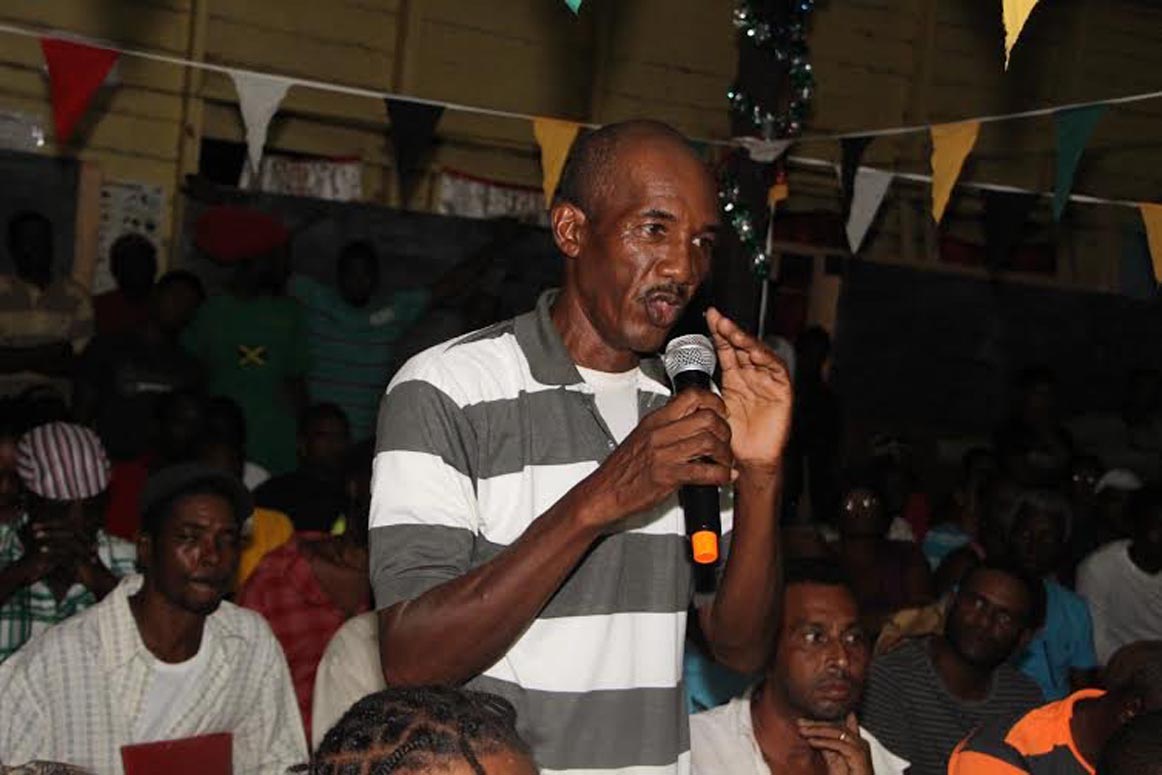 Mahdia residents and miners listen as Mahdia resident, Pastor Michael Matterson, voices his concerns to the Ministers.
Land issues
The overlapping of a boundary that is the source of much contention, even engaging the attention of the court, was the subject of an extensive discussion at the meeting. At the close, Minister Trotman urged the parties involved to work to find an amicable solution.
Meanwhile, Toshao of Micobie, Mr. John Andrews lamented that most of his community's titled lands have been issued to miners. The Minister informed that the law states that no mining could take place on their land without the Toshao and the Village Council's permission. Further, he added, President David Granger has ordered a Land Commission to be established by March to review all lands, both ancestral and leased.
"We will ensure that there is lands for pork knockers, land for everybody just to reassure you. This is the national patrimony of Guyana and everybody has a right to it," Minister Trotman said.
On Friday, discussions are expected to continue in Georgetown when the Natural Resources Ministry hosts a symposium for small-miners at the Arthur Chung Convention Centre (ACCC) on the East Coast Demerara. At this forum, miners will be able to discuss their problems openly with Government officials as well as make recommendations on the way forward.