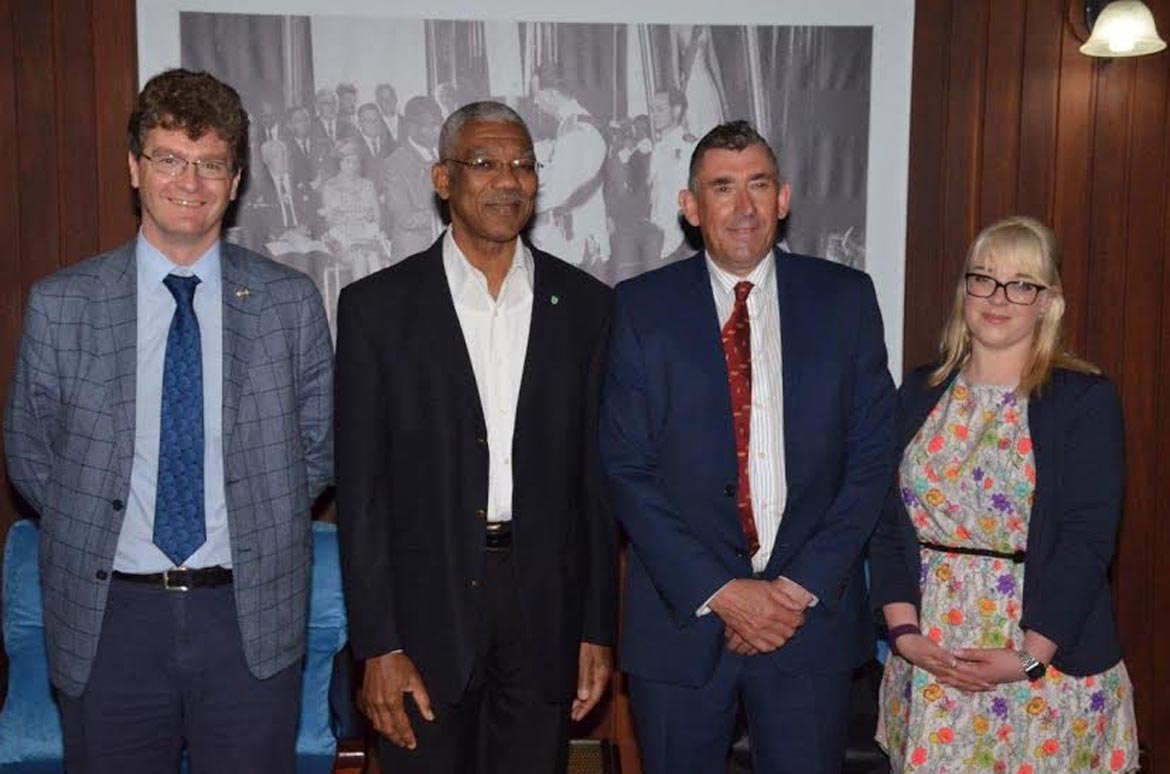 Georgetown, Guyana – (January 11, 2016) The Honourable Ian Hansen, member of the Legislative Assembly of the Falkland Islands, accompanied by British High Commissioner to Guyana, Mr. Greg Quinn, today, met with President David Granger, at the Ministry of the Presidency, to secure his views on the Islands' fight for self-determination.
In an invited comment, Mr. Hansen said that the meeting was to familiarize himself with the new President and to obtain his views on the right of the Falkland Islanders to determine their own future.
"We thought it would have been a good idea to meet with the New President because one of our [representatives] was here couple of years ago when he was the Opposition leader and then he was very supportive of the Falkland Islands rights to self-determine their future so we thought that we would come back and it has been a very productive meeting. He is still very, very clear that we should determine our own future, obviously by peaceful means so I was very pleased with the meeting," he said.
British High Commissioner to Guyana, Mr. Greg Quinn; President David Granger, Honourable Ian Hansen and Ms. Krysteen Ormond, Public Relations and Media Manager, Falkland Islands Government; after the meeting this morning.
Mr. Hansen said the meeting also discussed the Guyana/Venezuela Border Controversy and oil giant ExxonMobil's recent discovery of oil, offshore Guyana.
In the meantime, the British High Commissioner said that he was there to facilitate the meeting. Mr Quinn also noted that Guyana's relationship with the United Kingdom is at the best it has been for a very long time.