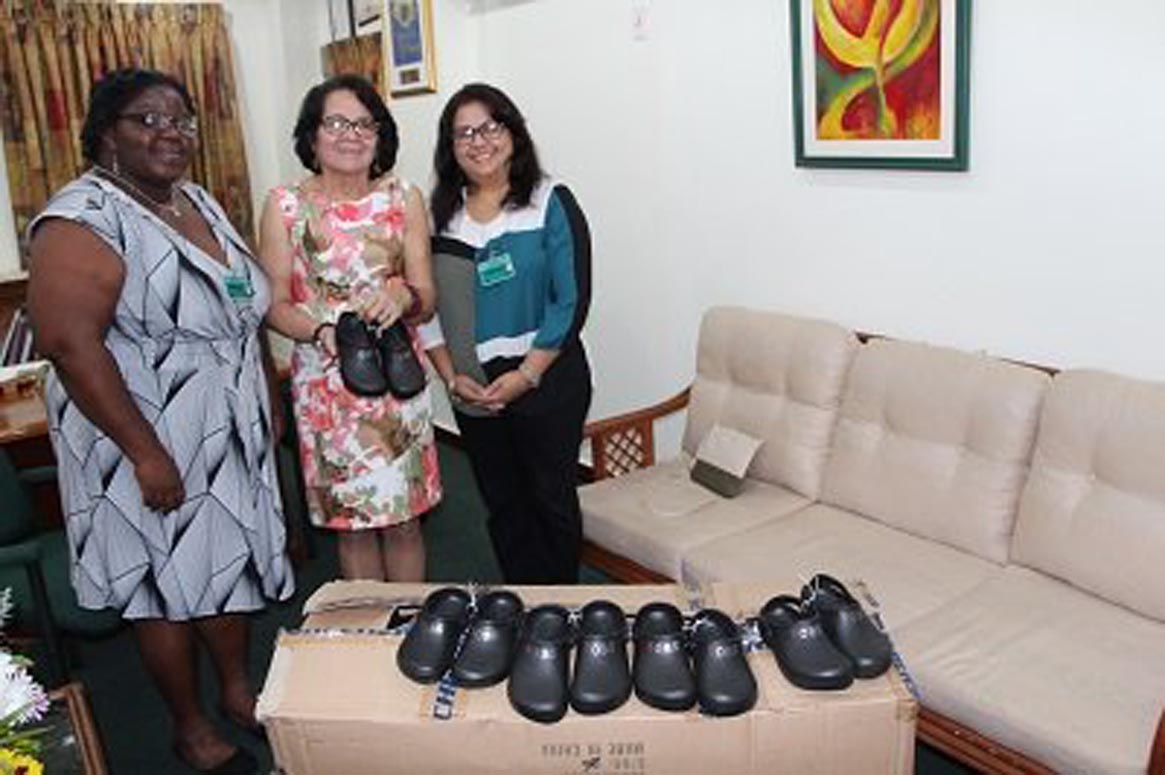 Georgetown, Guyana – (January 6, 2016) The Rotary Club of Stabroek, today, made a sizeable donation of footwear and personal care packages to the Office of First Lady, to aid in Mrs. Sandra Granger's efforts to support vulnerable groups.
Past President of the Club, Ms. Luana Falconer, and Assistant Secretary, Ms. Grace McCalman made the presentation, during a meeting at State house.
First Lady, Mrs. Granger, who expressed gratitude on receiving the items, said she is certain that they would impact the lives of the beneficiaries. In the coming weeks, the First Lady's office will start distribution in the Barima-Waini area, the first community to benefit.
According to Mrs. Granger, today's donation will add to the project. She said the goal is to have as many as 30,000 pairs of shoes to distribute in hinterland communities. However, that target is still to be met, even as donations continue to come in. The personal care packages will be given to adolescent mothers, who are currently benefitting from services under the auspices of her office, she said.
Meanwhile, Ms. Falconer said the organisation was motivated to make the donation, after following the work of the First Lady since the current administration took office. "We are giving stuff to the First Lady for the good work that she is doing in the communities, particularly in the Amerindian communities," she said.
Already, 1500 pairs of shoes have been donated under the 'Rethink Initiative-Kind Soles Project' also known as 'the shoes that grow project', started by Mr. Ernie Ross. The shoes donated under this project, as the name suggests, are specially designed to fit children as they age and their feet grow.
First Lady, Mrs. Sandra Granger smiles as she displays a pair of shoes donated by the Rotary Club of Stabroek to 'the shoes that grow project', operated under the auspices of her office. She is flanked by, from left, the Club's Assistant Secretary, Ms. Grace McCalman and Past President, Ms. Luana Falconer, on her right.