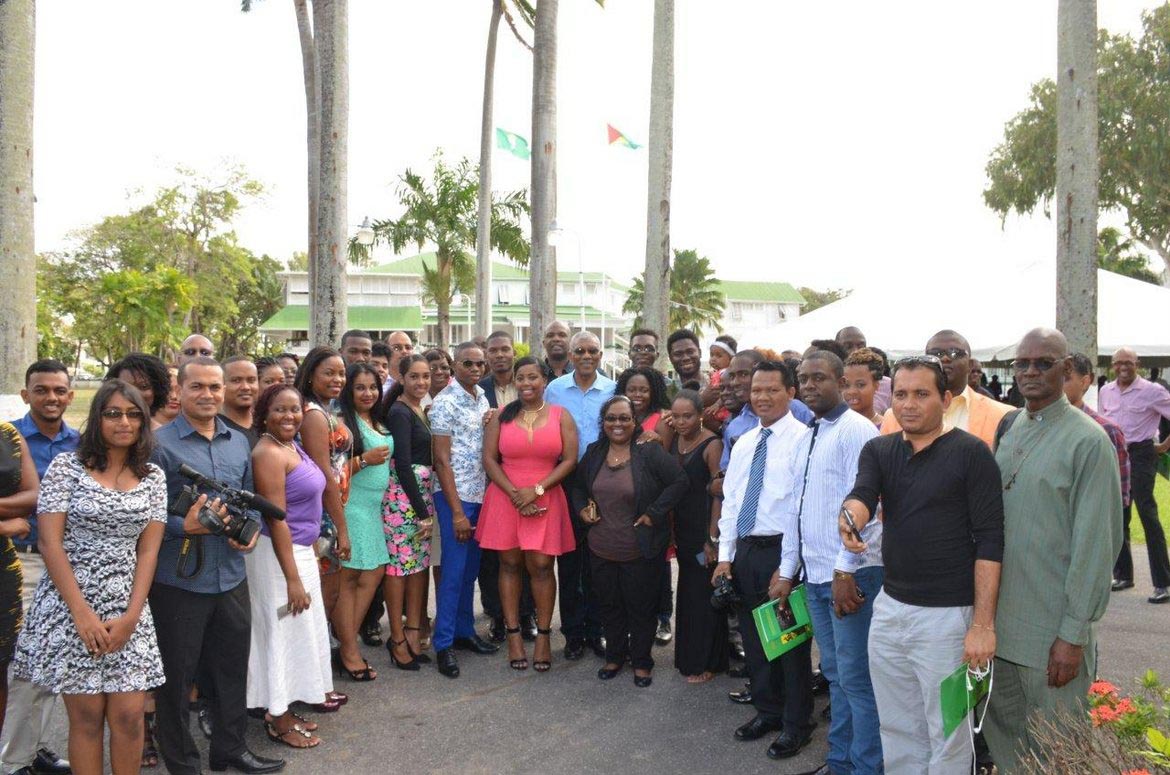 Georgetown, Guyana – (January 03, 2015) President David Granger, today, pledged monetary support from the Government to the Guyana Press Association (GPA) to aid training programmes and workshops, which will build capacity in the press corp. The President made this announcement to members of the media, who were present at a Media Brunch, hosted on the lawns of State House, even as he committed to building a stronger relationship between the State and the Media.
President Granger also indicated that there are no strings attached to the financial support and said that a free and unfettered Press is critical to the development of Guyana and called on the media to truthfully and critically examine the work his administration so that they can help the Government to improve their performance.
"…I am committed to the media because I believe that as a Government we couldn't afford to be without the media; truthful media, even aggressive media… The State is not going to become involved in journalism. It will provide the platform on which young journalists can learn their profession… I would like to pledge hard money, in support of the Guyana Press Association in 2016. Once the GPA is prepared to mount these seminars at least once per quarter, the State will help without any intervening in the actual programme or doctrine," President Granger told the media operatives present.
President David Granger (centre) and members of the media fraternity after this morning's Media Brunch, hosted on the Lawns of State House
He added that he does not intend to head an administration that is not open to criticism. "You write the truth and help the Government to improve its performance. I won't like to be the Head of a Government, which is not subject to criticism… we want to know the truth and we will correct our performance," the President said.
Reminiscing on his years as a Journalist, President Granger said that it is important that persons in any field be trained and that they abide by certain ethical standards. He noted that Journalists are no exception since it is a profession like any other. Pointing out that the GPA has as part of its logo, a torch, President Granger said that it is this torch that all journalists must use in their quest for stories and information.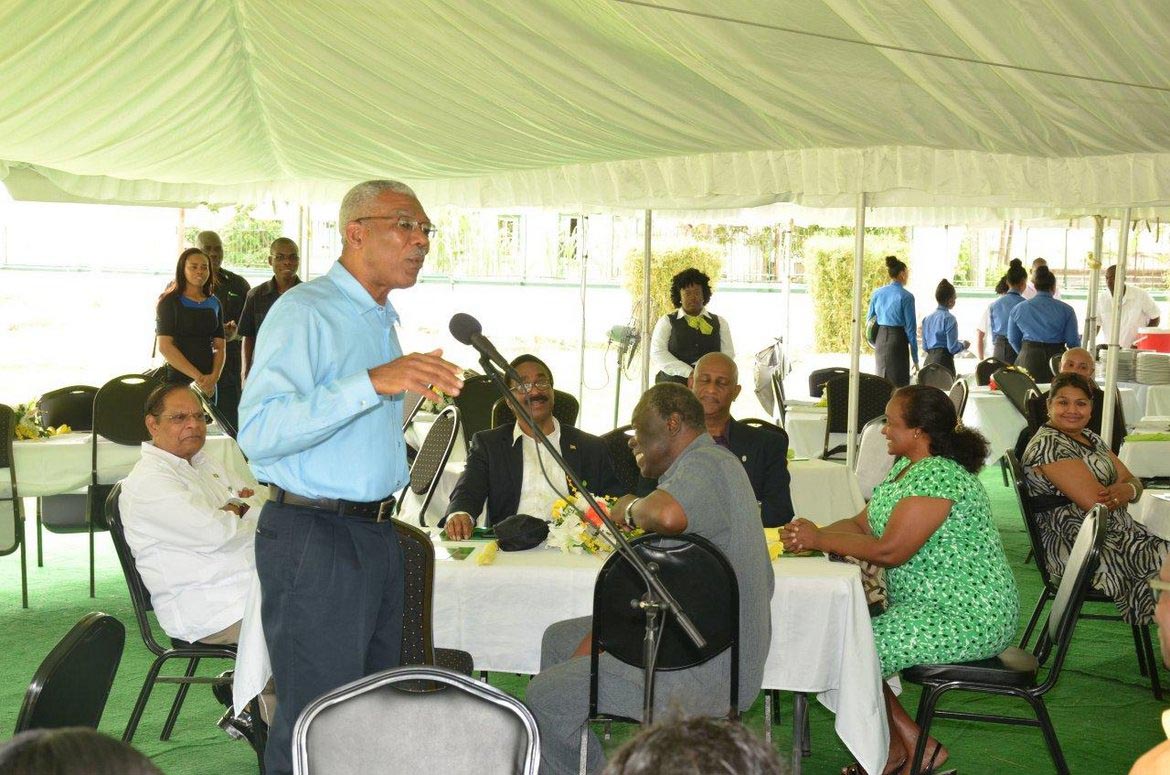 President David Granger shares a light joke with his audience, including (L-R) Prime Minister, Moses Nagamootoo; Attorney General and Minister of Legal Affairs, Mr. Basil Williams; Director of Communications, Press and Publicity Unit in the Ministry of the Presidency, Mr. Mark Archer, veteran journalist Mr. Adam Harris; and other members of the media fraternity.
"That's the torch; the torch of truth and journalism is not you lying down in a hammock and dreaming up a story. You have to go out and find out what the truth is… so when you write, you don't write based on surmise or conjecture. You write what you are prepared to defend and people have to be trained to write the truth," he said.
Outlining his hopes for this year, the President expressed the wish for a stronger relationship to be built between his government and the media. "I hope that the relationship between the state and the media will be further developed based on mutual respect," he said.
The Media Brunch was for years regarded as a tradition by past Presidents. However, for a number of years the event had not been held. President Granger has committed to hosting the every at least at the beginning of every year.
The event was attended by several Ministers of Government including; Prime Minister Moses Nagamootoo, Minister of Finance, Winston Jordan, Minister of State, Joseph Harmon, Attorney General and Minister of Legal Affairs, Basil Williams, Minister of Social Protection, Volda Lawrence, Minister for Public Telecommunications, Catherine Hughes, Minister of Business, Dominic Gaskin, Minister of Citizenship, Winston Felix and Minister of Indigenous Affairs, Sydney Allicock.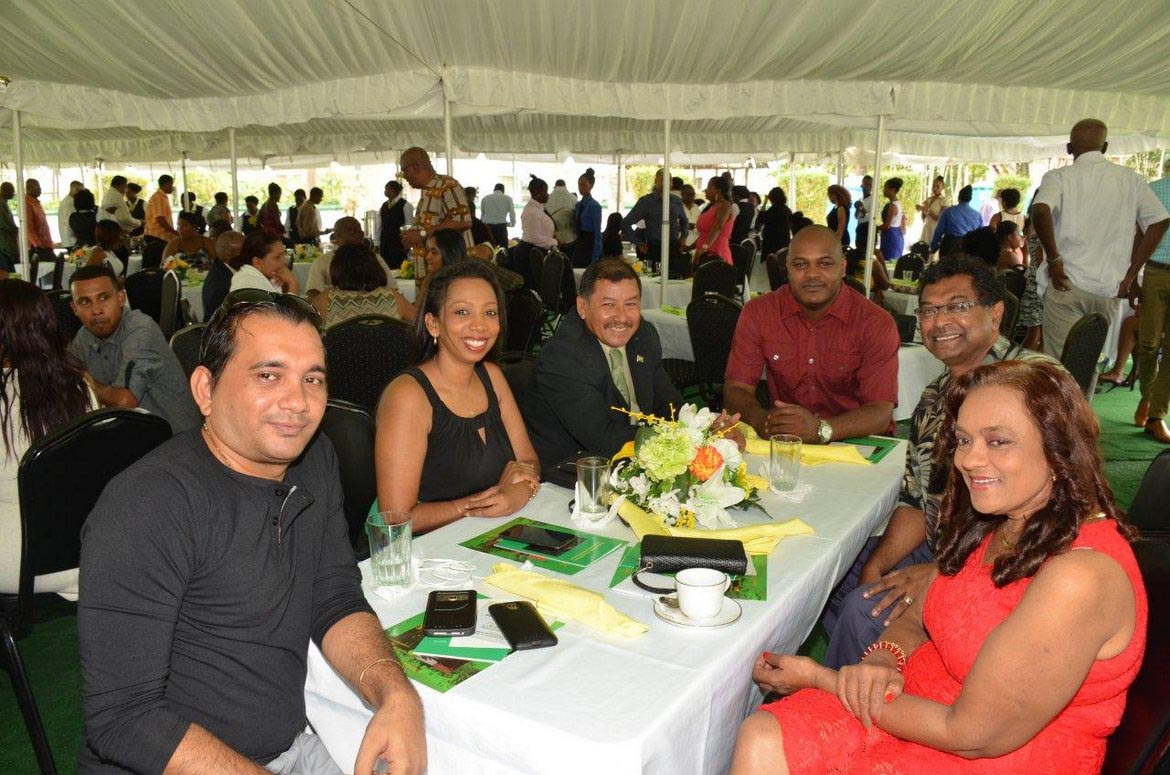 (L-R) Mr. Leonard Gildharie, of Kaieteur News; Ms. Molly Hassan, Chief Executive Officer of the National Communications Network; Hon. Sydney Allicock, Fourth Vice-President and Minister of Indigenous People's Affairs; Mr. Gordon Moseley and Hon. Khemraj Ramjattan, Third Vice President and Minister of Public Security were among some of the attendees at the Media Brunch hosted this morning at State House.