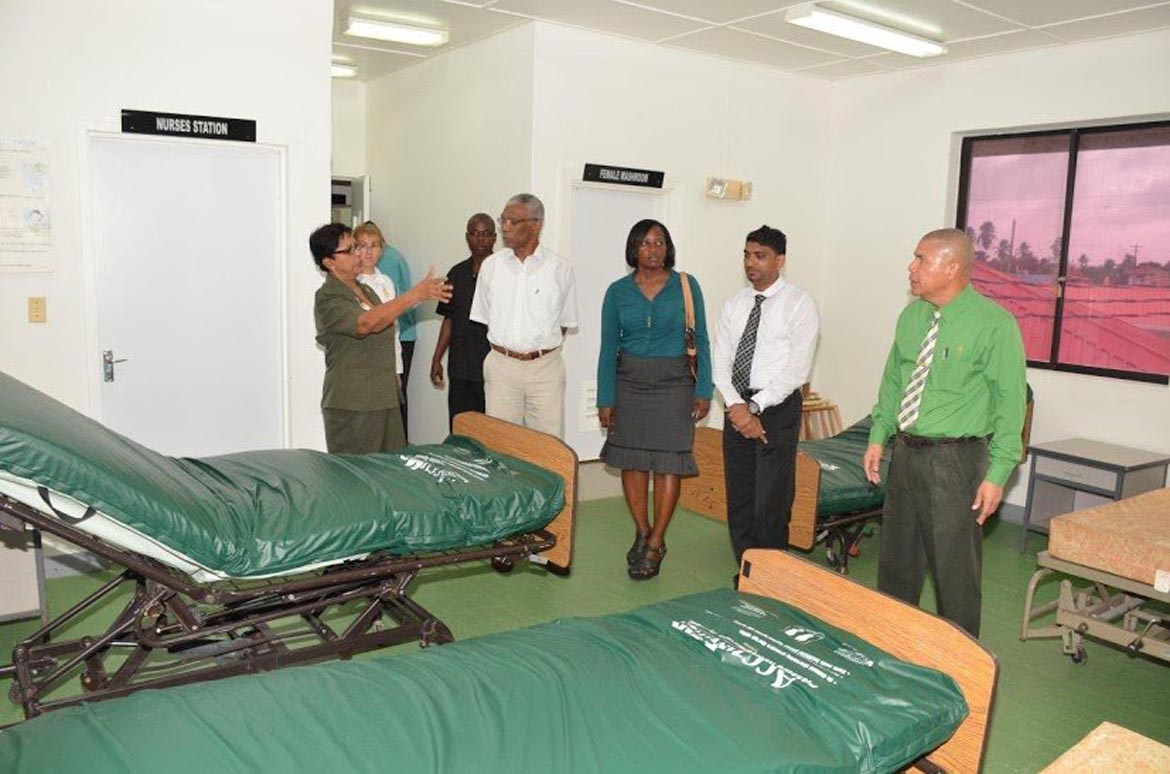 Georgetown, Guyana – (December, 28 2015) President David Granger has pledged that his Administration develop the capacity of the Diamond and Leonora Diagnostic Centres, following a tour of those facilities, earlier today. The President also used the opportunity to observe the maternity care capabilities of the institutions.
During the 'fact-finding' mission, President Granger was accompanied by Minister of State, Mr. Joseph Harmon, Minister of Public Health, Dr. George Norton, and other senior medical officials. In an invited comment, he said the objective of the exercise was to assess the capabilities of both institutions.
"We wanted to see the challenges that face the ordinary patients who came in off the road. Mothers particularly, and we want to see what measures needed to be put in place in order to provide a better quality health care," President Granger said.
Ms. Savitri Chandrabose, Staff Nurse at the Leonora Diagnostic Centre (left) gestures while speaking to President David Granger, as Minister of Public Health, Dr. George Norton; Director – Regional Health Services, Dr. Kay Shako and Centre Administrator, Mr. Dev Hira, listen during a guided tour of the old maternity wing of the hospital.
These two visits followed closely on the heels of the President's visit to the Maternity Ward at the Georgetown Public Hospital Corporation (GPHC) on Christmas Day. During that visit, the President saw first-hand some of the challenges facing both nurses and patients and promised improved conditions.
Meanwhile, Minister of Public Health, Dr. Norton, said while the tour of these facilities has highlighted various challenges that will be addressed, one of the aims of the visit was to look at opportunities to build capacity, in maternity care. The Minister noted that it is unfortunate that at both facilities there is capacity for vibrant maternity units but this potential has not been developed.
Speaking on overall challenges the Minister noted that is critically important that the issue of nursing shortage be addressed. He added that plans are in train to provide better conditions for nurses as well as patients in the maternity ward at the GPHC.
"They are hardworking nurses, I think they like their work and they all seem enthusiastic, but we must give them the material and facilities that they need to work," Dr. Norton said. According to him, while expansion works are ongoing at the GPHC's Maternity Ward, the Government also plans to bring the maternity wards outside of the city up to standard.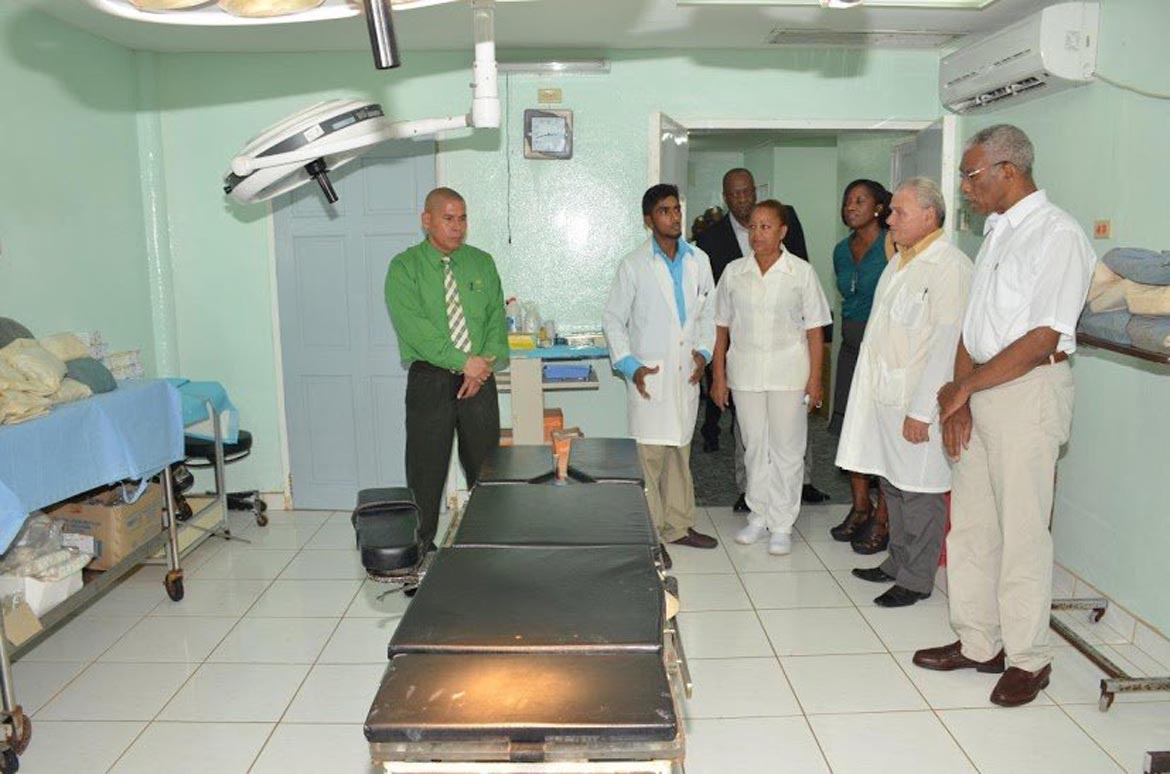 Dr. Michael Pereira, GMO, Medical Superintendent, Obstetrics/Gynaecologist (second from left) takes President David Granger and his team on a guided tour of the main operating theatre at Diamond Diagnostic Centre, during today's visit.