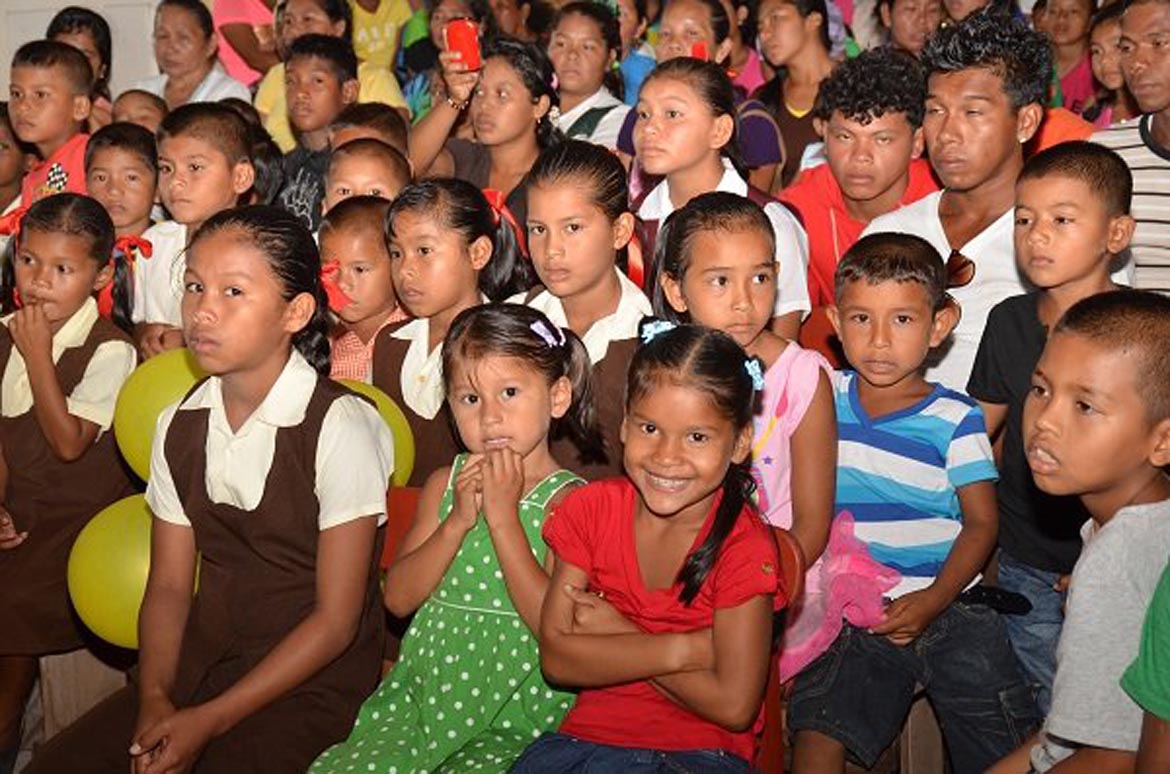 Georgetown, Guyana – (December 23, 2015) President David Granger, even as he took Government's 'toy drive' to the Pomeroon in Region Two, told residents of Baracaro and other surrounding villages in the Akawini Creek and at Friendship in the Pomeroon River, that he believes in one Guyana and is focused on fostering deeper national unity across the nation.
Sharing Christmas gifts to about 600 children from the two communities, the President, who was accompanied by Minister of Social Cohesion, Amna Ally and Minister within the Ministry of Public Infrastructure, Annette Ferguson, said that even as Guyana's 50th Independence Anniversary approaches, it is time Guyana unites.
The President, who was speaking at Friendship at the time, said that what takes him to the community is, "my love for you and my desire to create greater national unity, deeper national unity. This is one country and I don't believe in 'bush' and 'town'. I believe in one country; one Guyana."
Beautiful faces of Akawini. Children gathered at the Akawini Primary School Annex to meet President Granger and receive their Christmas gifts.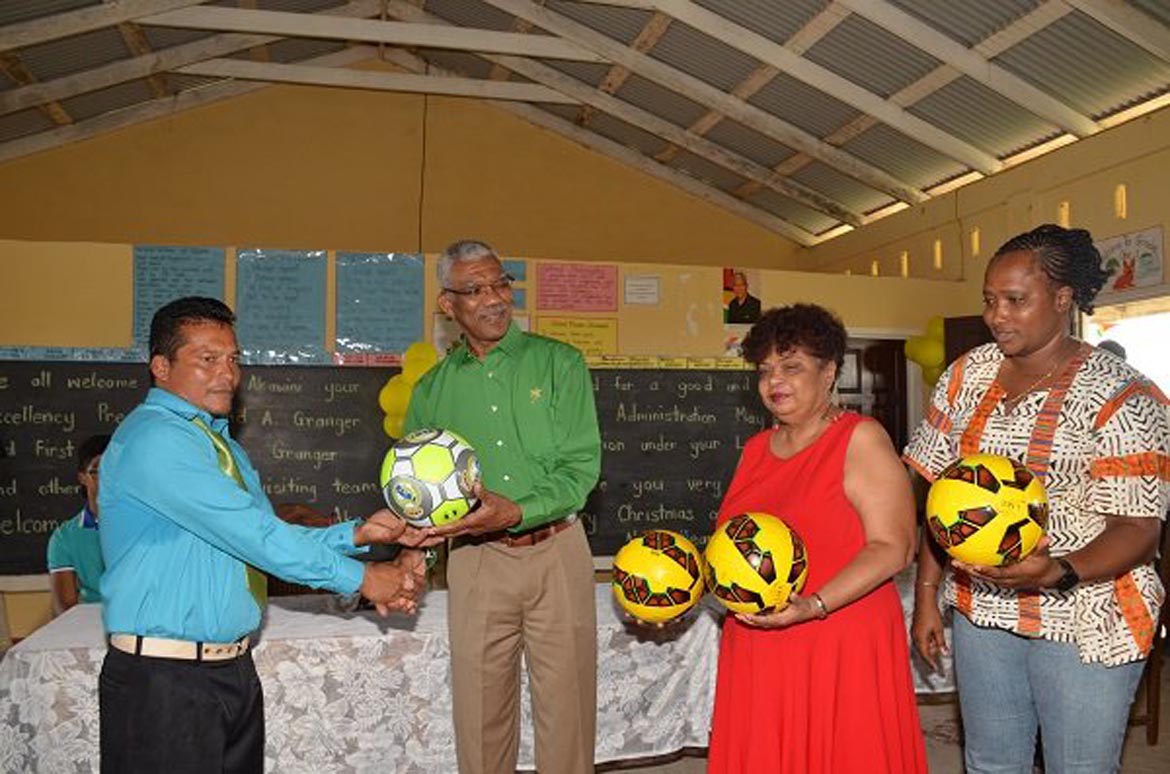 President David Granger, Minister of Social Cohesion Amna Ally and Minister within the Ministry of Public Infrastructure, Annette Ferguson, handing over footballs to the Toshao of Akawini, David Wilson for use by the community.
The national 'toy drive' was, today, rolled out first at Akawini. President Granger told the residents there that his administration will continue to focus on ensuring that not only is the coastland linked to the hinterland, but that all residents have access to the resources of the country.
"You are entitled to the same quality if education, the same quality of transportation, the same quality of development and that is why after I became President… I know that I am leader of the PNC [People's National Congress Reform]. I know that I am leader of APNU [A Partnership for National Unity]. I know I am leader of the Coalition but I am President of all Guyana and that includes Akawini," he said.
Referencing the birth of the Three Bs' programme, which was conceived during a visit to the Pomeroon and seeks to provide transportation for children across the country to get to school, the President said that visiting communities allows him to hear, understand and respond to the needs of ordinary Guyanese.
The Head of State said, "When I heard stories about how difficult it was for the children of the Pomeroon to go to school at Charity that is when I made up my mind. That is the type of President you have; somebody who responds to the needs of the ordinary villagers of this country… if I did not come here I would not have known of the difficulties you face. So coming here is an education for me and when I understand the difficulties that you face I will go back and try to solve those difficulties."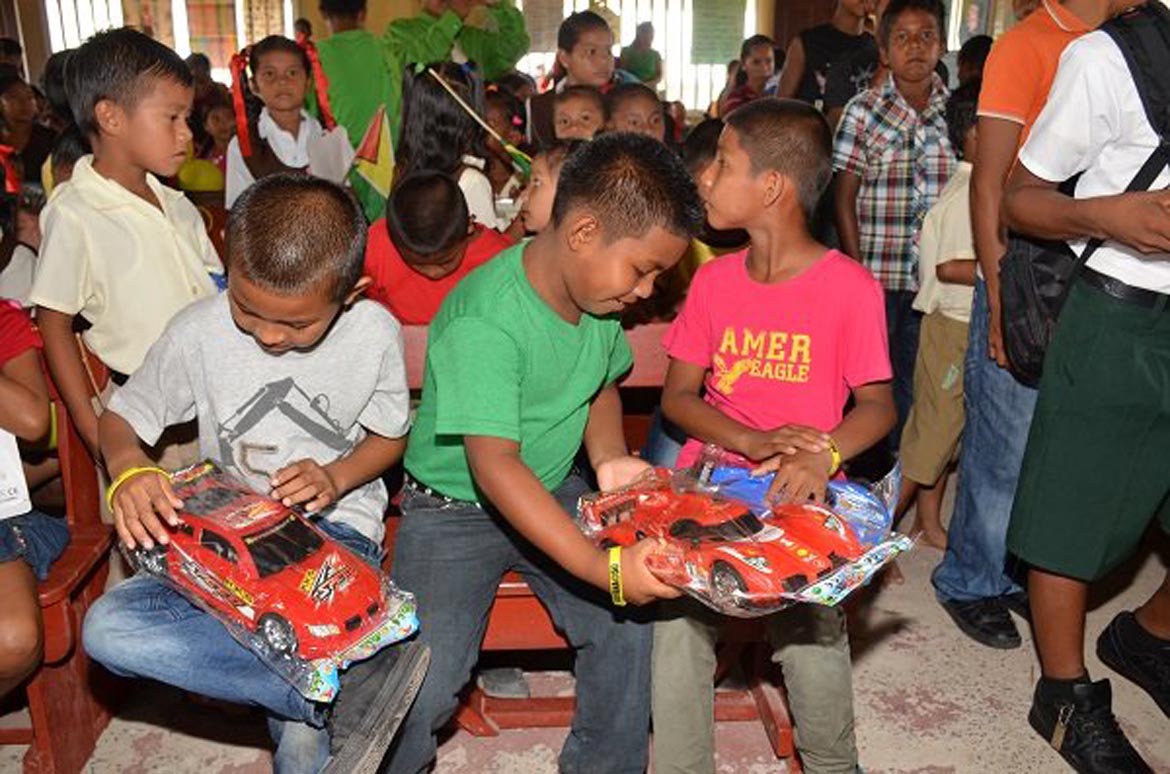 Little boys excitedly examining their new toys at Akawini today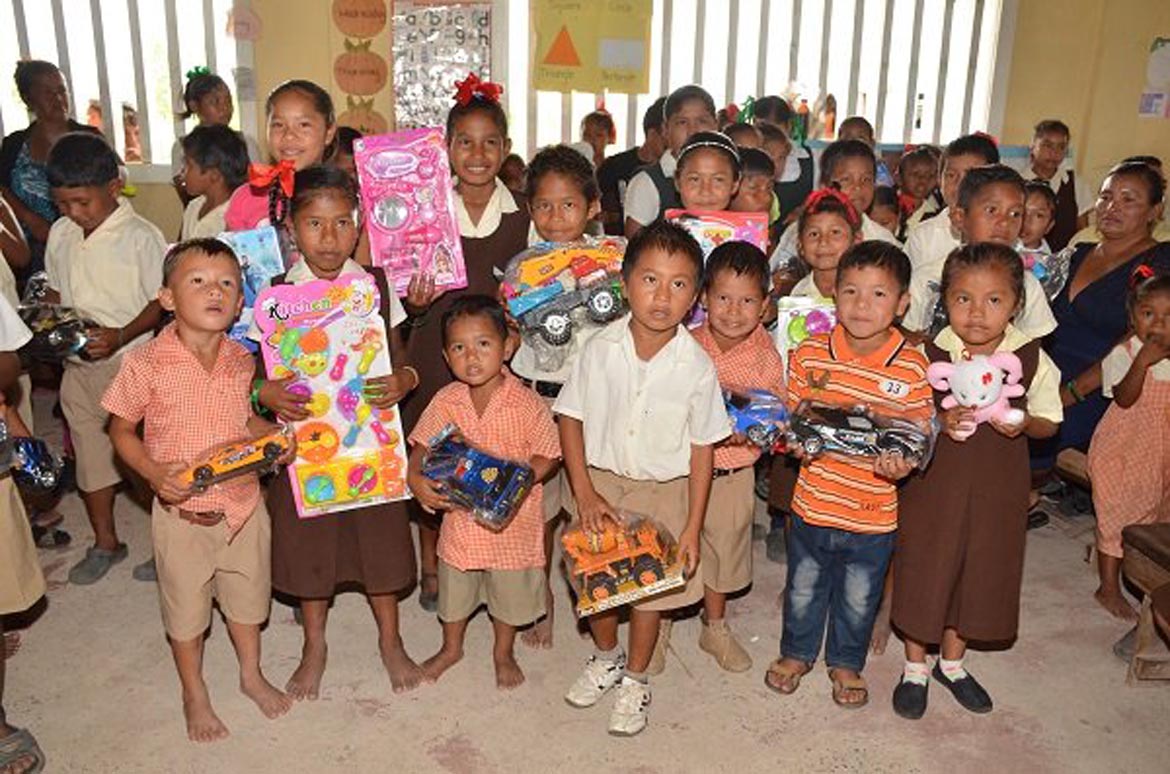 Children in Akawini showing off their gifts
The President also used the opportunity to set a lofty but worthwhile goal of 100 percent school attendance across Guyana. He said, "The country is not rich but we will see how best we can make sure that every single child in this country gets to school… if they need footwear, we will get… if you need transportation we will do our best, if you need books we will do our best, if you need something to eat we will do our best."
Toshao David Wilson at Akawini, in brief remarks, noted that no President has visited that community in more than 23 years. He said, "For the past 23 years we never had this opportunity to have the President of this country sitting among us. We have a President that is very humble… we have a President that is very loving. We have a President that is caring and is willing to travel the length and breadth of Guyana to reach the First Peoples of this country."
At Friendship, the President was again welcomed warmly, with residents echoing similar sentiments. So great was the outpouring at that village that he jokingly declared that the village should be renamed 'Loveship'.
Government has received support for the 'toy drive' from private sector and non-governmental organisations and the Region Two activity was supported by Caring for Others (Guyana) Incorporated, an international NGO. The Guyana Representative of the organisation, Shabakie Fernandes, said that their goal is to help people in need live with dignity and thought that it would be best to partner with Government, as they are able to clearly identify community needs.
The organisation, which also supported the Region 10 'toy drive', is expected to support similar exercises in regions 1, 8, 7 and 9 through the Ministry of Communities.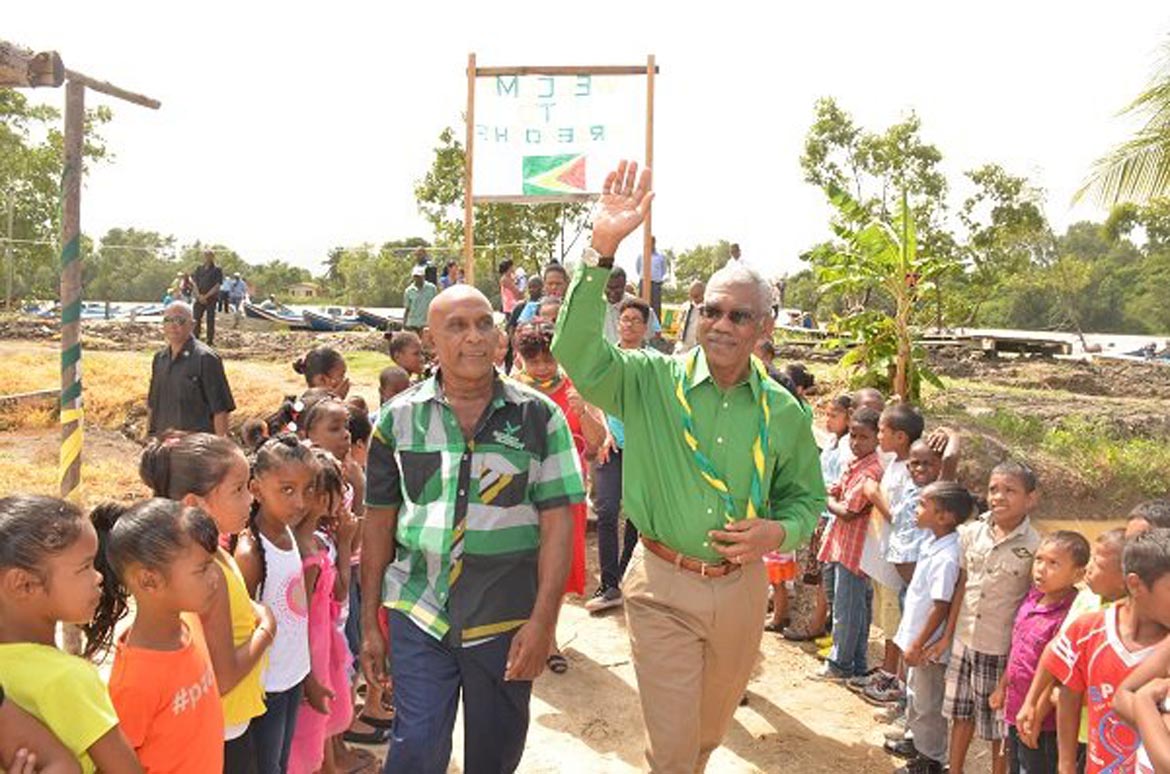 President David Granger arriving at Friendship in the Pomeroon, today.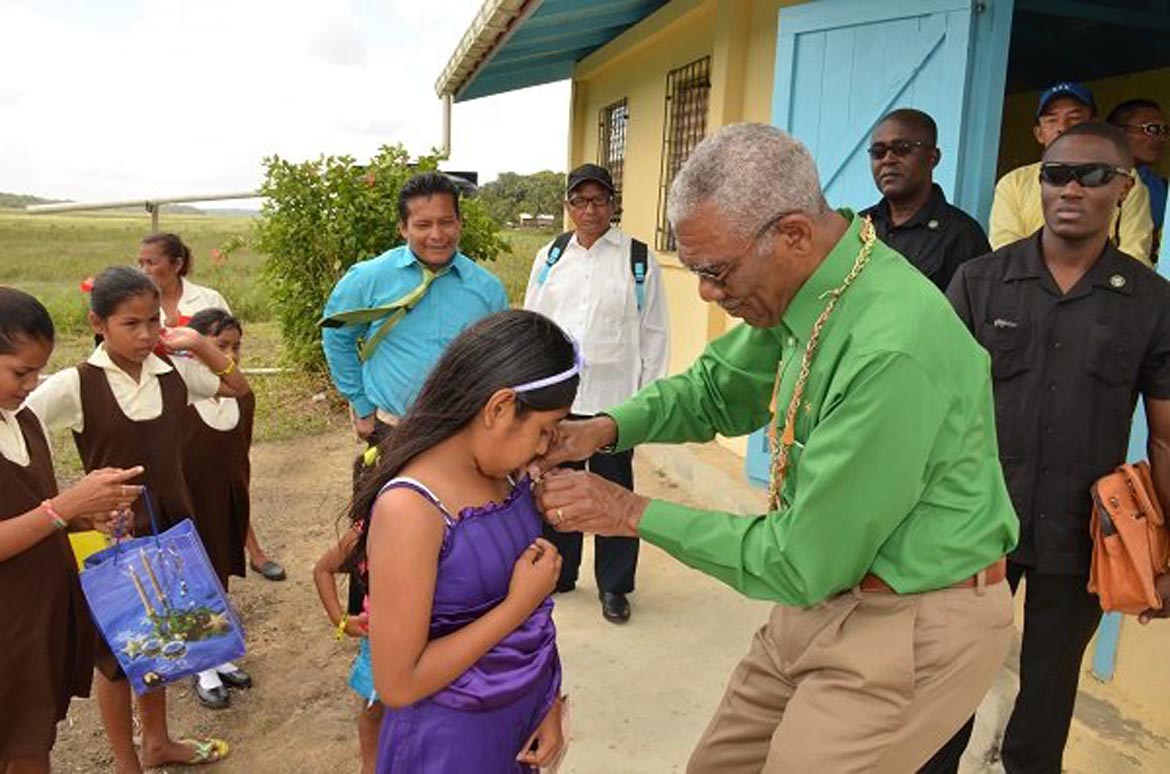 A little girl receives a pin from the President of Guyana after placing a garland on his neck at Akawini today.