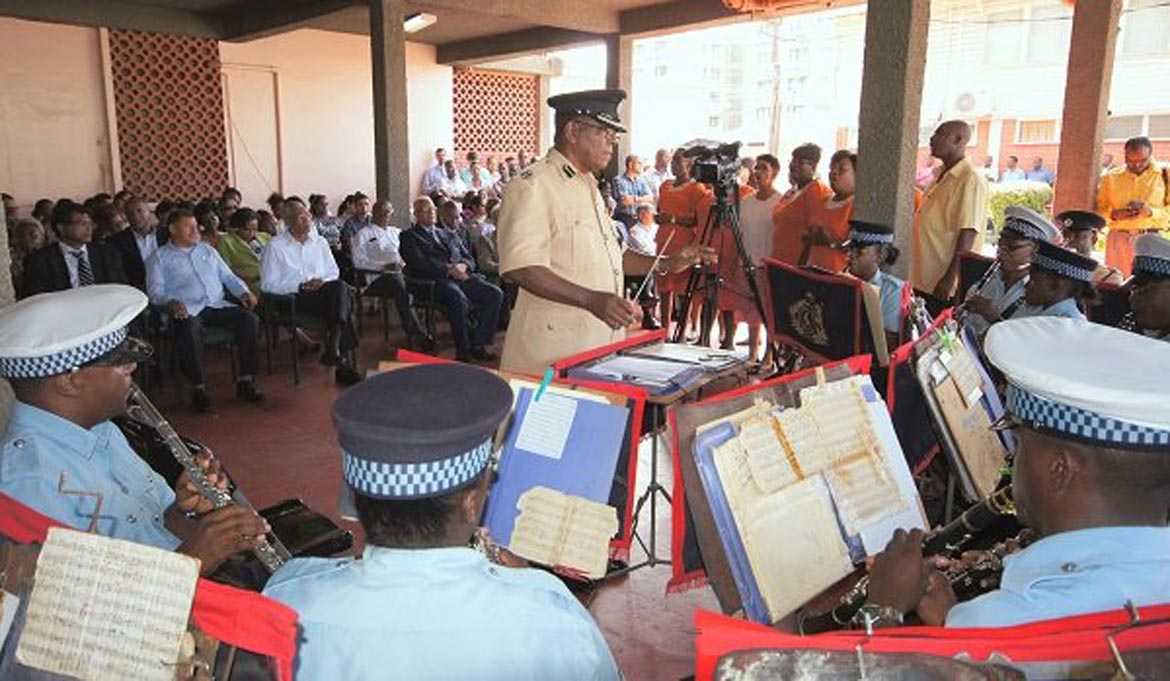 Georgetown, Guyana – (December, 22 2015) The Guyana Police Force Band and the Joint Services Choir, under the baton of Director of Music and Culture, Assistant Commissioner Mr. Cecil Bovell, DSM, on Tuesday, serenaded President David Granger, Minister of Indigenous People's Affairs and Third Vice President, Mr. Sydney Allicock, the members of Cabinet and the staff of the Ministry of the Presidency.
Those in attendance included staff of the Prime Minister's Office; however the Prime Minister was not there as he is currently heading the Guyana delegation at the 49th Heads of States Summit of MERCOSUR being held in Asuncion, Paraguay.
Before entertaining the gathering, Commissioner Bovell noted his delight at being able to spread Christmas cheer through music, not only to the Staff of the Ministry, though it was the first time having the Prime Minister's Office involved.
The Joint Services Choir belts out Christmas carols as Director of Music and Culture, Assistant Commissioner Mr. Cecil Bovell leads them and the Guyana Police Force Band.
Also on the occasion President Granger extended gratitude to the Guyana Police Band for the entertainment and commended them on their performance. He further said he believed that such talent should be displayed for the rest of the country to see and hear, and that communities countrywide should work towards forming their own cultural bands. President Granger then extended best wishes for the season to the band, his Cabinet and members of staff.
The musical interlude, which featured both contemporary and traditional Christmas carols, was well received by the audience. The Band treated the audience to a spirited rendition of local Christmas favourite "Ding Dong Merrily on High" followed by "Deck the Halls" and "Silver Bells."
Mr. Bovell then invited budding band instructors, Inspectors, Mr. Travis Griffith and Mr. Matthew Joseph to take the baton, who then lead with melodious renditions of "Church Bells are Ringing" and "Oh Holy Night", respectively.
The Director took back the reigns and upped the tempo of the session by adding a heavy steel pan sound to "I Saw Mummy Kissing Santa Claus", which featured a solo by saxophonist, Inspector Todd and followed with "We Wish You a Merry Christmas" adding to both a unique Guyanese sound.
Meanwhile, two long-serving staff members who have both dedicated over 30 years to the then Office of the President, now Ministry of the Presidency, were honoured for their years of service. Ms. Norma Austin, who joined the Public Service Sector in 1983, will be retiring at the end of December; and Mr. Alvin Seaforth, were both presented with tokens of appreciation.
President Granger thanked both workers for their dedication to the public service and fondly recalled Ms Austin greeting him whenever she saw him on his morning walks along Homestretch Avenue.