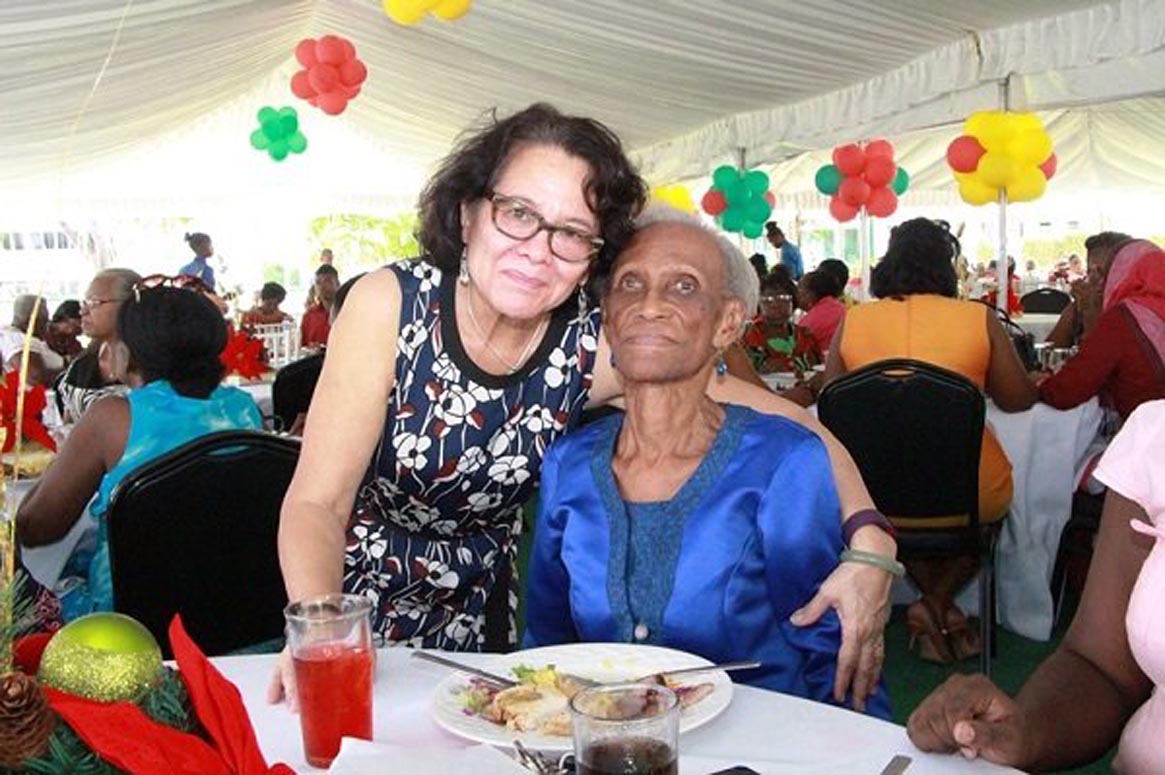 Georgetown, Guyana – (December 18, 2015) First Lady, Mrs. Sandra Granger, today, hosted a Luncheon on the lawns of State House, to honour over 200 senior citizens from various homes across Georgetown.
President Granger, who joined his wife at the Luncheon, in brief remarks, thanked the senior citizens for their contributions over the years, while noting that the country's 50th anniversary was approaching and they like him must remember that feeling of pride they felt at the birth of the nation.
"I would like to thank you for everything you have done this year. It has been a very important year in Guyanese history and I am sure you all share the joy of Christmas. Being here is a part of that sharing. Next year we celebrate our 50th anniversary and those like me, who are over 50 would know how it felt 49 years ago and we want to ensure that next year is not just a big party but a time of healing, a time of coming together, a time of sharing… and maybe we can enjoy that second independence. We had some challenges but we hope that we can overcome those challenges and show what our sons and daughters can be," President Granger said.
Mrs. Sandra Granger with one of the special invitees at today's Luncheon.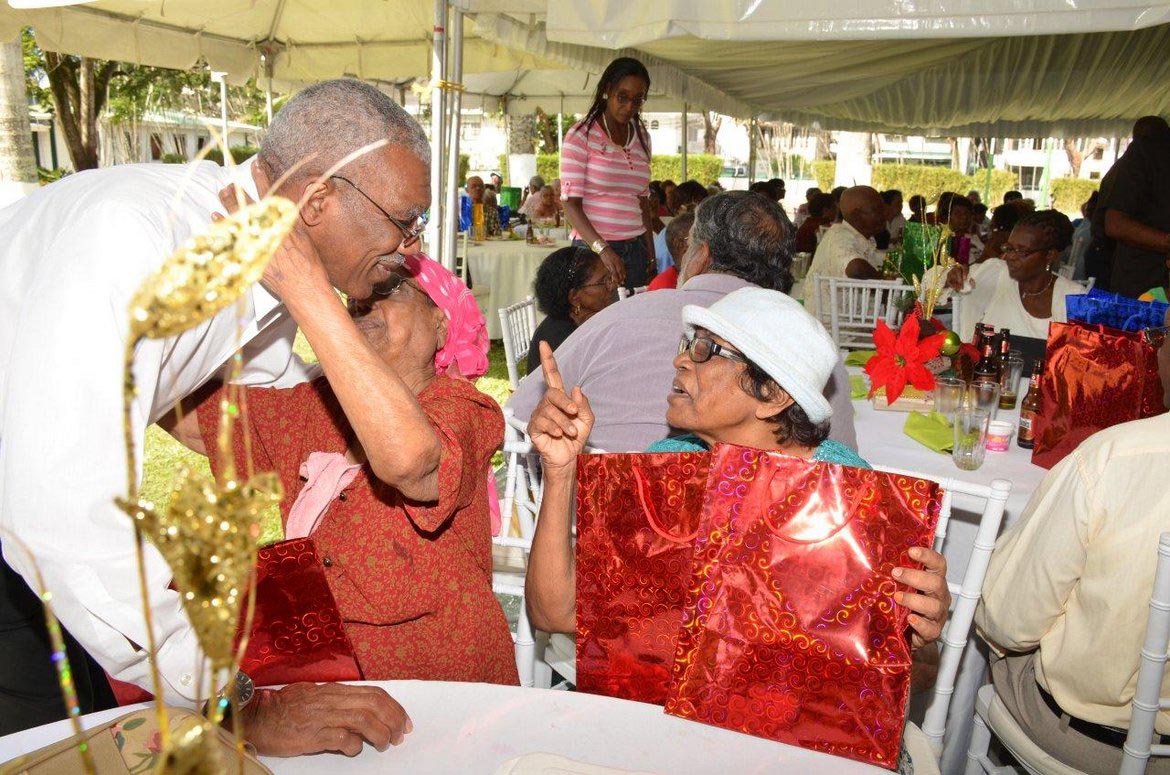 President Granger receives a hug from this senior citizen
In an invited comment, the First Lady said that the aim of the exercise was to make the seniors feel special since most of them are from Homes across the town.
"It's Christmas, the season of sharing and giving. I think we need to strengthen the habit of honouring our seniors and I think one of the least things we can do at this time of the year is to honour them and since its Christmas, share a meal with them. So that's the aim of it; pure and simple. To give them a day out of their respective homes, bring them out and have them enjoy a good afternoon, with good food and good music," Mrs. Granger said.
Among the homes which were invited and present are the Uncle Eddie's Home, Archer's Home, Dharma Sala, St. Joseph's Home for the Elderly and the Palms Geriatric Home. The First Lady said that the Regional Democratic Councils in Regions Three, Four, Five, Six and Ten were also asked to send senior citizens from their regions to be a part of the event.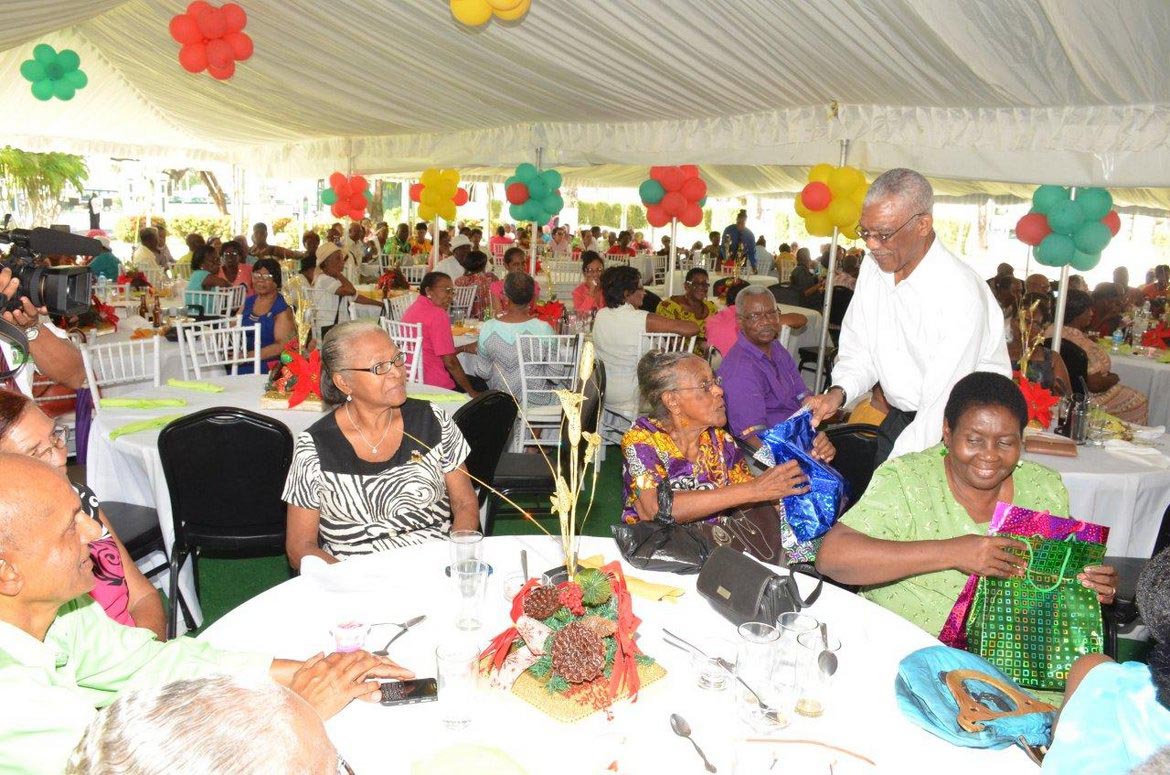 His Excellency, President Granger shares a token with one of the invitees at today's lunch, which was held on the Lawns of State House.
In the meantime, the First Lady said that she will be using her office to ensure that more focus is placed on the vulnerable group in the coming months.
"We want to ensure that our citizens are not left out. We hope that throughout the year we can plan other things for them, like take them around the country and the city so that they can have a different view outside of their homes and so on," the First Lady said.
Claris January, a 92 year old resident of the St. Joseph's Home, was quite elated that she had been invited to have lunch with the First Lady at the Lawns of State House.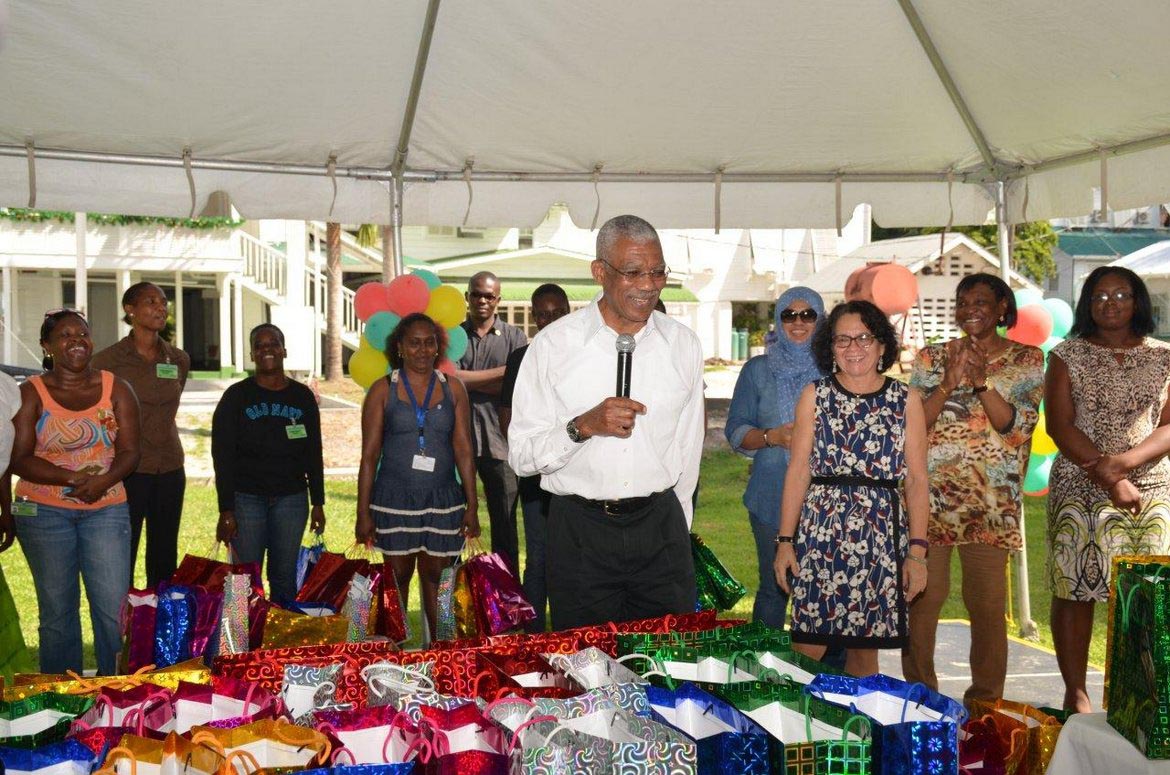 President Granger and First Lady, Sandra Granger sharing a light moment at the Luncheon today.
"I am so happy to be here. So glad! I feel happy that the First Lady has invited me to have lunch here at her home. I am happy to be by the President's home you know," the jovial woman said. Another resident, Morris, said that he was happy that the senior citizens were being remembered. "We are always neglected by today someone is showing us that they care you know, and so I am really happy to here at the First Lady's lunch," he noted.
After the lunch, the senior citizens were treated with tokens, which were handed out by the President.