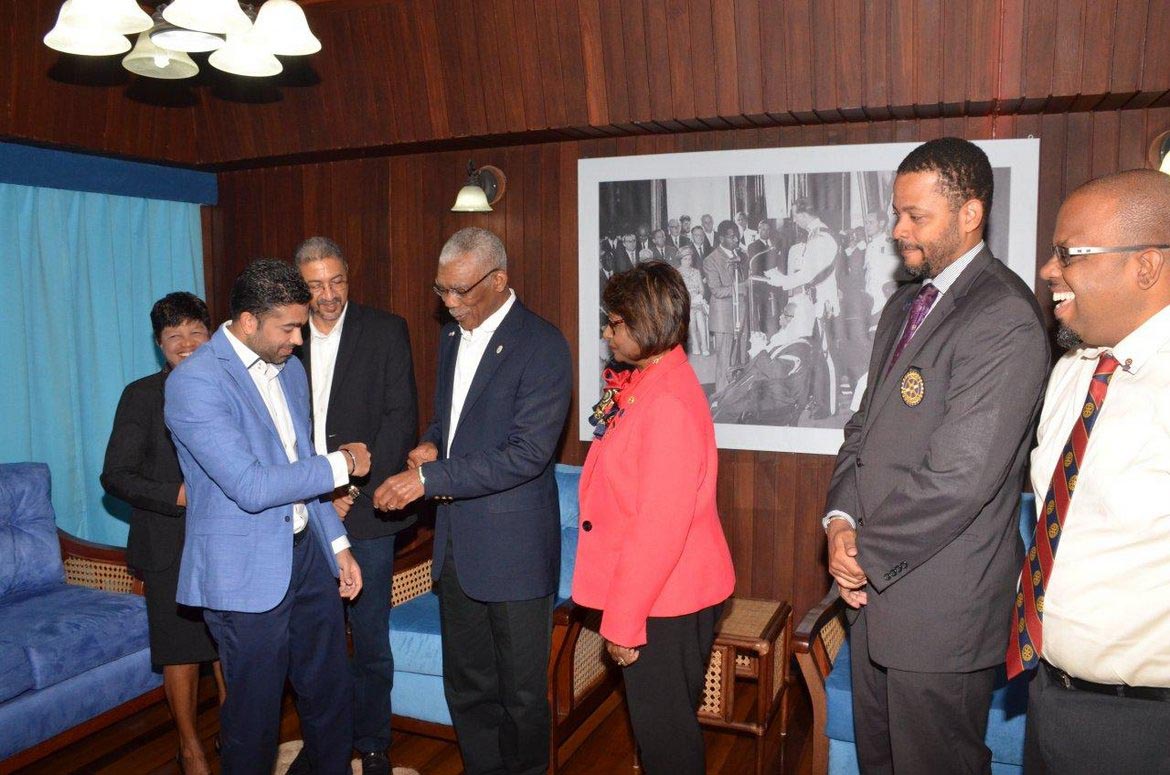 Georgetown, Guyana – (December 17, 2015) The Rotary Club of Georgetown, earlier today, inducted President David Granger as an honorary member of the Club during a courtesy call, at the Ministry of the Presidency.
The group was led by Club President, Mrs. Elizabeth Cox; Vice President, Mr. Clyde De Haas; Rotary Foundation Director, Mr. Pearson Burch-Smith; President-elect 2016-2017, Ms. Lisa Foster; past President Mr. Ronald Burch-Smith; Club member, Colonel Christine King; and Club Secretary Mr. Ralph Persaud.
The Club's President said the aim of the meeting was to garner the Administration's support of their humanitarian efforts.
"I know that having spoken to him, I know he is very excited about literacy and that is one of our areas…because we feel if you have an educated population they will be taken out of poverty faster," Mrs. Cox said. Members also used the opportunity to brief the President on the Club's work and enquired how best they can aid the government in its ongoing efforts to improve literacy throughout the country.
Coming out of the meeting, Mrs. Cox said the Club is pleased with the outcome as the sentiments expressed by President Granger indicate the Administration's willingness to support the efforts of the Club.
Also during the meeting, President Granger was presented with a token from, Mr. Ralph Persaud, the Club's Secretary. The Rotary Club of Georgetown Guyana was first constituted on May 20, 1959. Dr B.B.G Nehaul the then Government Pathologist and Bacteriologist of British Guiana, who conceived the idea of establishing a service club in Guyana, chose the Rotary.
President David Granger and Rotary Club of Georgetown Secretary, Mr. Ralph Persaud compare cricket bands, while the other members of the Club look on.