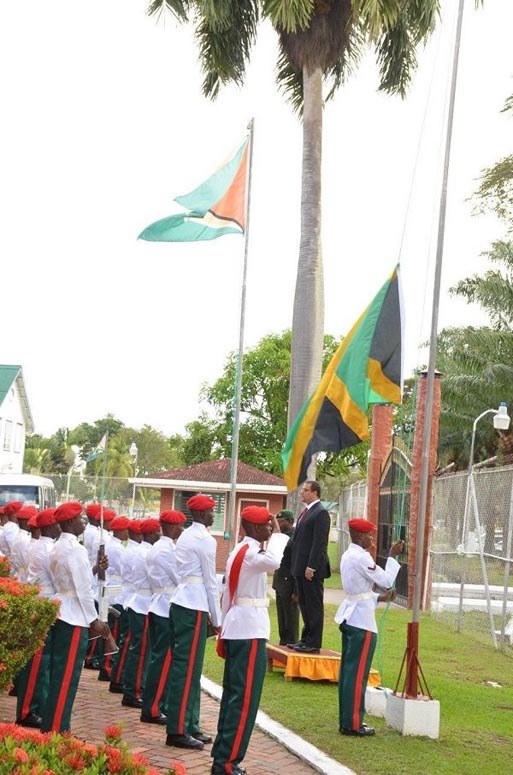 Georgetown, Guyana – (December 16, 2015) President David Granger today accredited Mr. David Prendergast as the new non-resident High Commissioner of Jamaica to the Cooperative Republic of Guyana, at a simple ceremony held in the Credentials Room of the Ministry of the Presidency.
Mr. Prendergast previously served as Jamaica's High Commissioner in Trinidad and Tobago.
In brief remarks, after presenting his Letters of Credence to the President, the new High Commissioner said that Guyana and Jamaica have shared a special bond of friendship over the 46 years that the two countries have had diplomatic ties. The two countries have worked together at the bilateral, regional and multilateral levels and have collaborated as members of CARICOM, he said.
"I wish to reiterate Jamaica's steadfast commitment to working with the Government of Guyana in deepening the ties that bind us. Jamaica stands ready to strengthen our bilateral and regional cooperation by continuing to explore issues of common interest that will redound to the benefit of all our peoples," Mr. Prendergast said.
Similar sentiments were expressed by President Granger who assured the new High Commissioner of his Government's full support during his tour of duty. He said that both Guyana and Jamaica have recognised the value of regional integration in overcoming some of the disadvantages and limitations that small states face in the pursuit of national development.
"Our two countries, along with other like-minded states, actively pursue the vision of a unified and prosperous Caribbean region through the establishment of the Caribbean Community. Guyana remains steadfast in our belief that the path to greater prosperity of the Caribbean lies in closer integration within the region," the President said.
He added that the common values to which Guyanese and Jamaicans adhere are those of democracy, respect for fundamental human rights, sustainable development and the preservation of territorial integrity.
"These values have, over the years, served as a common bond between our nations. Our unique Caribbean Community provide a valuable foundation for the long and lasting relationship which exists between our two countries at the bilateral level and the regional and international levels," the President said.
Guyana and Jamaica first established diplomatic relations in 1969, three years after Guyana gained its independence from Britain.
Jamaica High Commissioner, Mr. David Prendergast taking a salute from ranks of the Guyana Defence Force upon his arrival at the Ministry of the Presidency this morning.