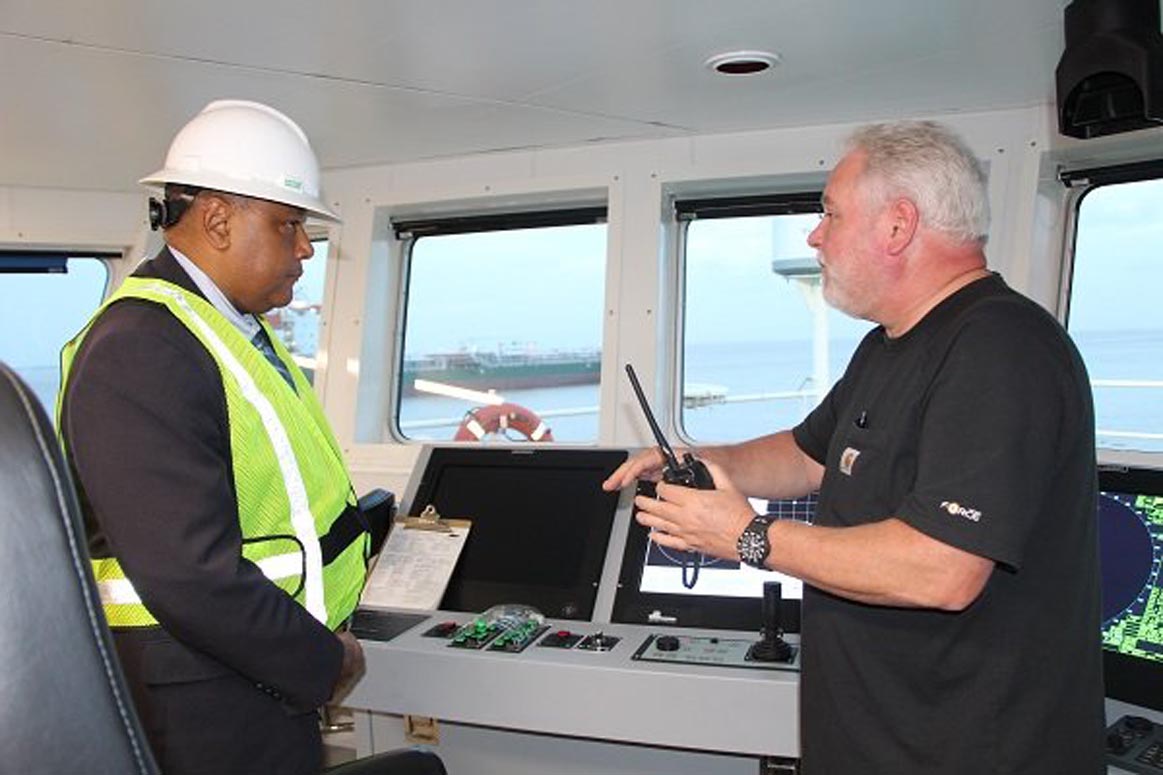 Georgetown, Guyana – (December 15, 2015) Minister of Governance, with responsibility for Natural Resources and the Environment, Mr. Raphael Trotman, today, visited the Fugro Americas, a multi-purpose vessel designed to conduct high resolution geophysical surveys and sea floor mapping, which has been contracted by oil giant ExxonMobil, to commence works in the Stabroek Block, where the company found a significant amount of oil earlier this year.
The 193 foot-long vessel, which is permanently mobilised for rapid deployment to locations throughout North and South America to conduct geophysical surveys, arrived in Guyana on Monday and will depart the John Fernandes Wharf tomorrow, heading to the Stabroek Block where it will be in operation until March 2016.
Minister Trotman was given a tour of the facilities and informed about the technology that is being used to conduct the surveys.
Connie Landry Jr., Project Manager for Fugro Geoservices Incorporated, who was on board to facilitate the tour, said the company has been contracted by ExxonMobil to conduct works in the area where it has discovered oil so that it can plan its developmental agenda.
"We are here at Exxon's request to do a geophysical and geo technical survey of their leased area in the Liza Block and so we are going to use geo physical equipment, mostly the AUV system to collect imagery, sub bottom data, so that Exxon can determine exactly what kind of structures they are going to build to develop that particular location. We are going to provide the information about the service so that they can determine what kind of structures and how they are going to anchor their structures for the development of that area," he said.
Meanwhile, Patrick Lee, Civil, Structural and Artic Geotechnical Engineer, Exxon Development Company, said the tour was organised to showcase the equipment, personnel and expertise that are being brought on board for the developmental campaign that the company was looking at.
"It is primary to further develop the potential offshore Liza," Lee said, noting that this is a sign that ExxonMobil was serious about investing in Guyana. "We would not be looking at these activities if we were not. The fact that we are putting so much resource into this shows our commitment to Guyana," he said.
It was only in September at a meeting with the Minister that Vice President of Exploration, Mr. Erik Oswald, said that the company remains committed to its work in Guyana and is looking forward to the next investment, which should be able to take shape as early as January 2016.
"All that work is underway right now. When the technical work is done, the others will be done. And the idea is, if we have a lot of success, we will bring additional rigs," Mr. Oswald had said.
The oil and gas exploration began in Guyana on March 5, 2015, with drilling offshore in the Stabroek Block. Just two months later, on May 20, the company announced that its engagement in Guyana was proving successful, as its exploration drill ship, the Deepwater Champion, had found a deposit of a 'significant' evidence of oil in the Block, about 120 nautical miles offshore Guyana.
Minister of Governance Mr. Raphael Trotman pays keen attention as the Captain of the Fugro Americas explains the vessel's capabilities.