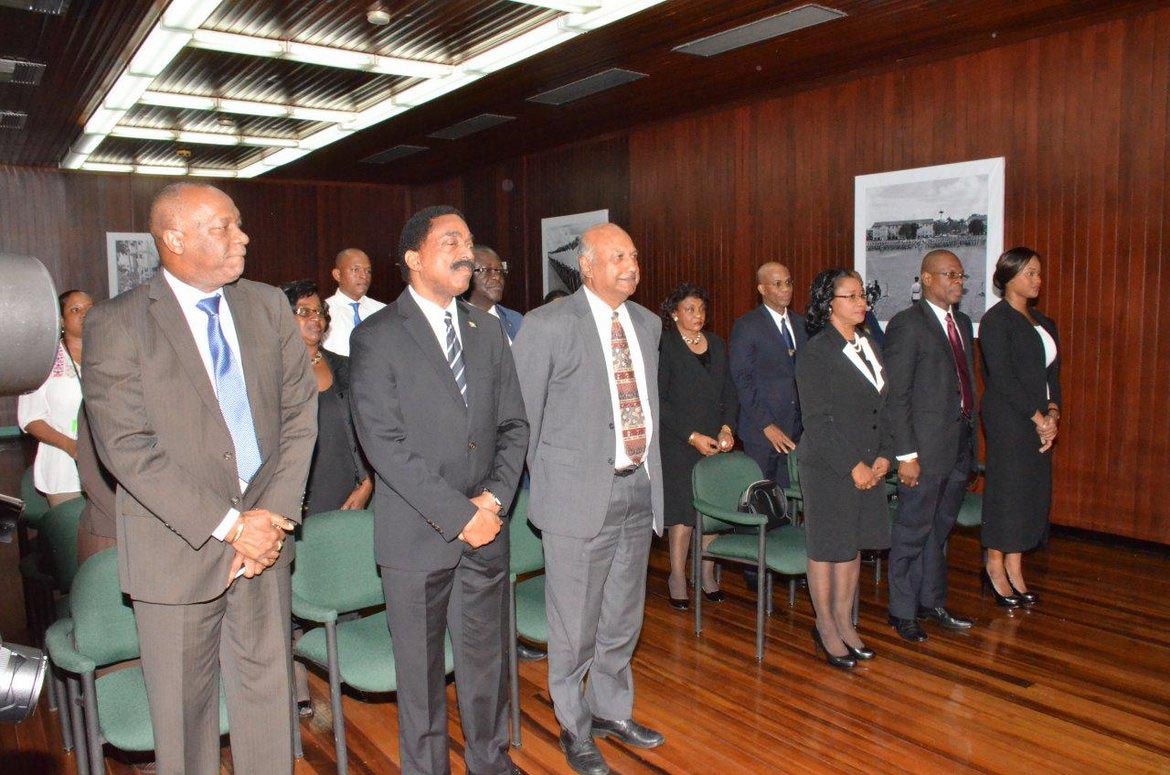 Georgetown, Guyana – (December 16, 2015) President David Granger administered the Oath of Office to Justice Yonette Cummings-Edwards who was earlier today sworn-in to perform the functions as Chief Justice, in a simple ceremony hosted at the Ministry of the Presidency. She replaces Justice Ian Chang whose pre-retirement leave commenced yesterday.
In a brief comment after she was sworn-in, Madam Justice Cummings-Edwards said that she is elated, honoured and humbled to be appointed to one of the highest judicial offices in the country. Foremost on her list of priorities as Acting Chief Justice, she said, is the issue of the backlog of cases and other critical matters affecting the smooth functioning of the judiciary. While noting that the issue of backlogged cases is not unique to Guyana, it must be handled consistently and with all hands on board, she said.
"It is my view that it is a team effort and we can do it," the new Chief Justice said.
Minister of State, Mr. Joseph Harmon; Attorney General and Minister of Legal Affairs, Mr. Basil Williams and Chancellor of the Judiciary, Justice Carl Singh (first row from L-R) at the swearing-in ceremony of new Chief Justice (Ag) Madam Justice Yonette Cummings-Edwards (first row fourth from left).
Madam Justice Cummings-Edwards, who began her law career in 1988, was nominated by the Government as the most qualified candidate for the position. Last week, in keeping with constitutional requirements, President Granger held a consultation with Opposition Leader, Mr. Bharrat Jagdeo to discuss the appointment of a new Chief Justice.
An Appeal Court judge for many years, Madam Justice Cummings-Edwards is the second woman to be appointed to the position of Chief Justice. Madam Justice Desiree Bernard was Guyana's first female Chief Justice.
President David Granger with new acting Chief Justice, Madam Yonette Cummings-Edwards and her family; daughter Miss Yana-Marisa Edwards (first, left) and her husband Dr Morris Edwards is at extreme right