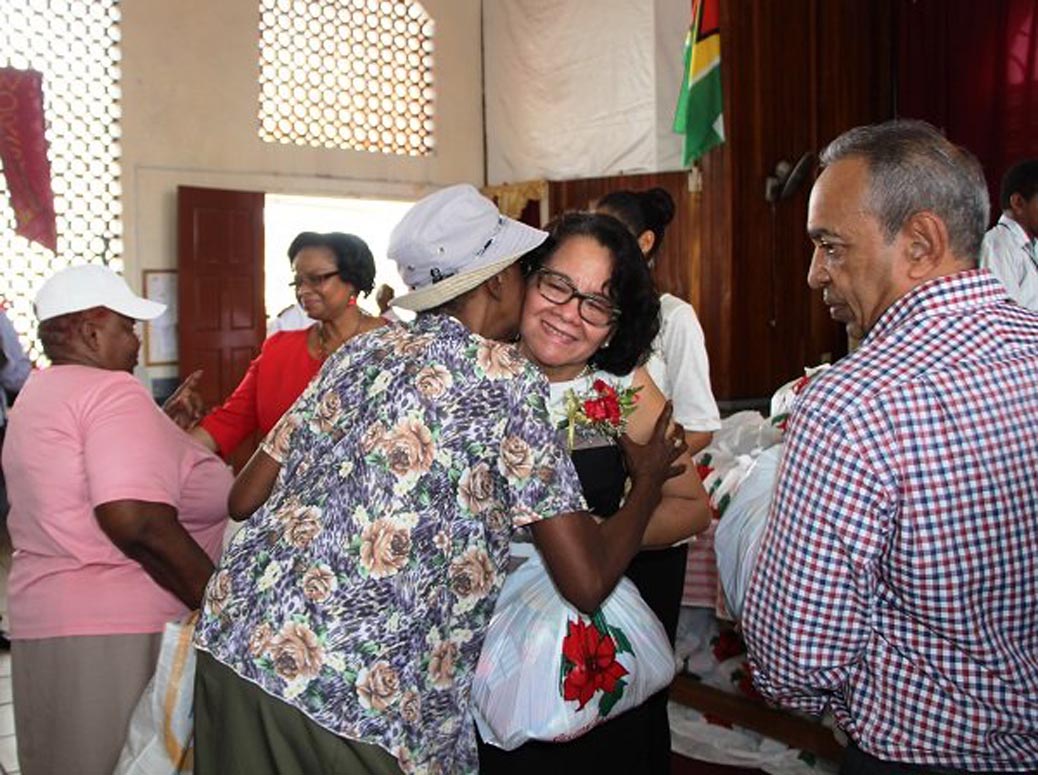 Georgetown, Guyana – (December 16, 2015) First Lady, Mrs. Sandra Granger, today, teamed up with the Salvation Army and Minister of Social Protection, Mrs. Volda Lawrence to bring cheer to over 300 senior citizens with the distribution of Christmas food hampers.
The annual event saw more than 1500 food hampers handed out this morning at the Salvation Army's Building on Alexander Street, Georgetown.
Minister of Social Protection, Mrs. Volda Lawrence, in her brief address at the gathering said the Government places great value on senior citizens and will ensure that provisions are made for them, in pursuit of a good life for all Guyanese.
First Lady, Mrs. Sandra Granger receives a warm embrace from one of the senior citizens who benefited from a hamper during the Salvation Army's Christmas Hamper Distribution today. Minister of Social Protection, Mrs. Volda Lawrence (background, left) and Mr. Edward Boyer, Chairman of the Salvation Army Advisory Board (first, right) also contributed to the function.
"The Ministry of Social Protection is committed to improving the lives of our senior citizens. We cherish and value your contribution and wish to assure you that we will not renege on our promise of a better life. We will continue to work in close collaboration so that you can enjoy improved conditions. Things may seem to move slower than we intended but be assured, you are our top priority and we are working to ensure that substantial increases are provided. The Government recognises that the needs of our senior citizens must be addressed and is at this time making better provisions for housing, pensions and healthcare," Minister Lawrence said.
Meanwhile, the First Lady extended gratitude to the Salvation Army for organising the activity for the senior citizens and less fortunate persons, even as she pointed out that the organization has always played a major role in helping the needy. Noting that senior citizens are precious and deserved to be honoured for their contributions over the years, she pledged to collaborate with the Ministry of Social Protection to plan and implement projects and activities that can engage them.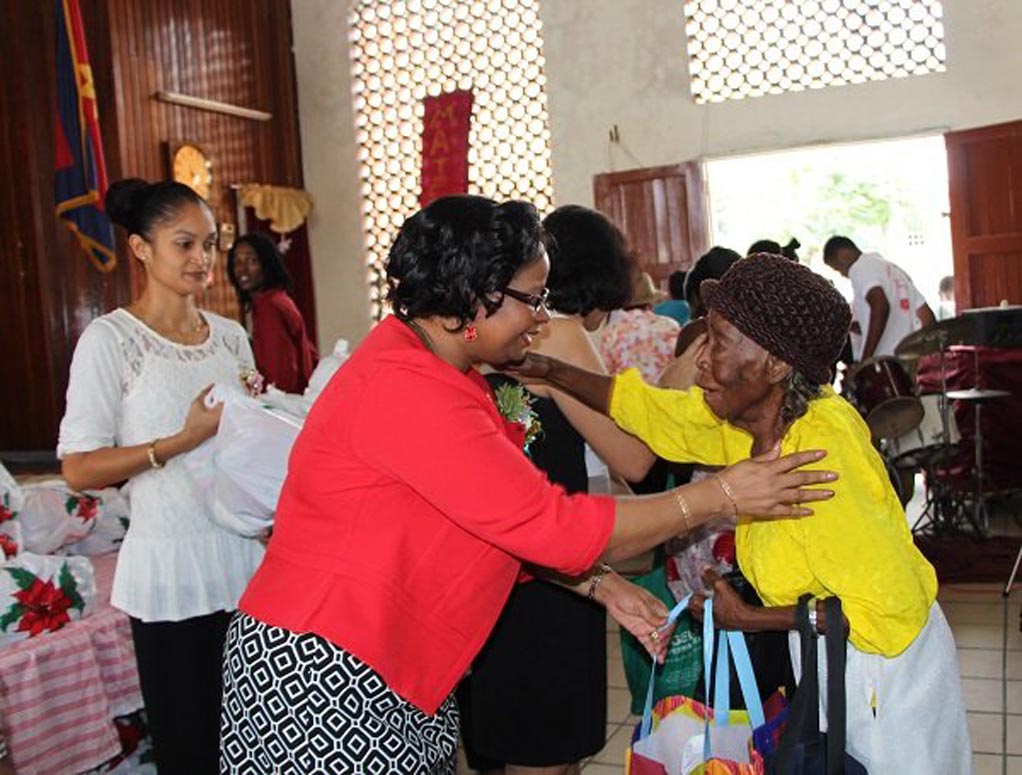 Minister of Social Protection, Mrs. Volda Lawrence shares a warm embrace with one of the recipients of the Salvation Army's Christmas hamper.
"I do not hold public office so I cannot promise you anything, but I bear you in mind and I will work with Minister Lawrence, who has been supporting my projects such as the Care for the Elderly Workshop, and if she continues to be generous to me, we will work together to provide better things for you senior citizens," Mrs. Granger said.
Mr. Edward Boyer, Chairman of the Advisory Board of the Salvation Army, said that the donations were made possible through donations made to their 'kettles' which are placed at strategic locations around the town.
On November 13, President David Granger, had made a personal donation of $100,000 to the organisation when the Kettle Appeal was officially launched.
The Salvation Army has had a presence in Guyana for the past 120 years, extending its reach to the most vulnerable sections of society with not only its charitable work, but also with a strong drug rehabilitation programme for substance abuse victims.