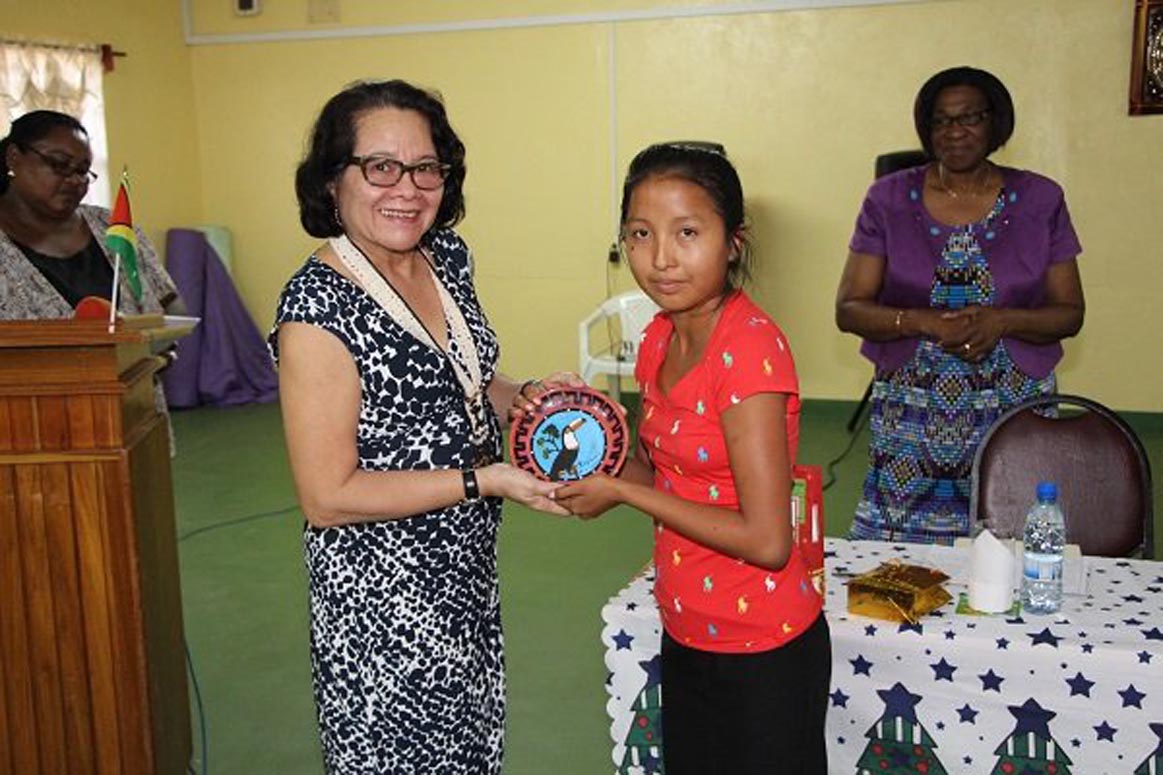 Georgetown, Guyana – (December 12, 2015) Thirty-two Rupununi women are now much more business-savvy after completing a five-day 'Self-Reliance and Success in Business Workshop', held under the auspices of the Office of the First Lady, at the Indigenous Peoples Conference Hall in Lethem, Region Nine.
The workshop, which is the third of its kind, aims to inspire and empower ordinary Guyanese women to tap into their entrepreneurial potential and become successful business owners. It commenced on Monday at the Indigenous Peoples Conference Hall.
Speaking at the graduation ceremony yesterday, First Lady Mrs. Sandra Granger said she is pleased with the level of interest shown by the participants and assured them that this is not a one-off intervention. "We will continue to explore other ways to help you as funding becomes available because we believe that once women progress, nations progress," the First Lady said.
First Lady Mrs. Sandra Granger smiles as Edwina Realine presents her with a token of appreciation on behalf of the 32 participants of the workshop.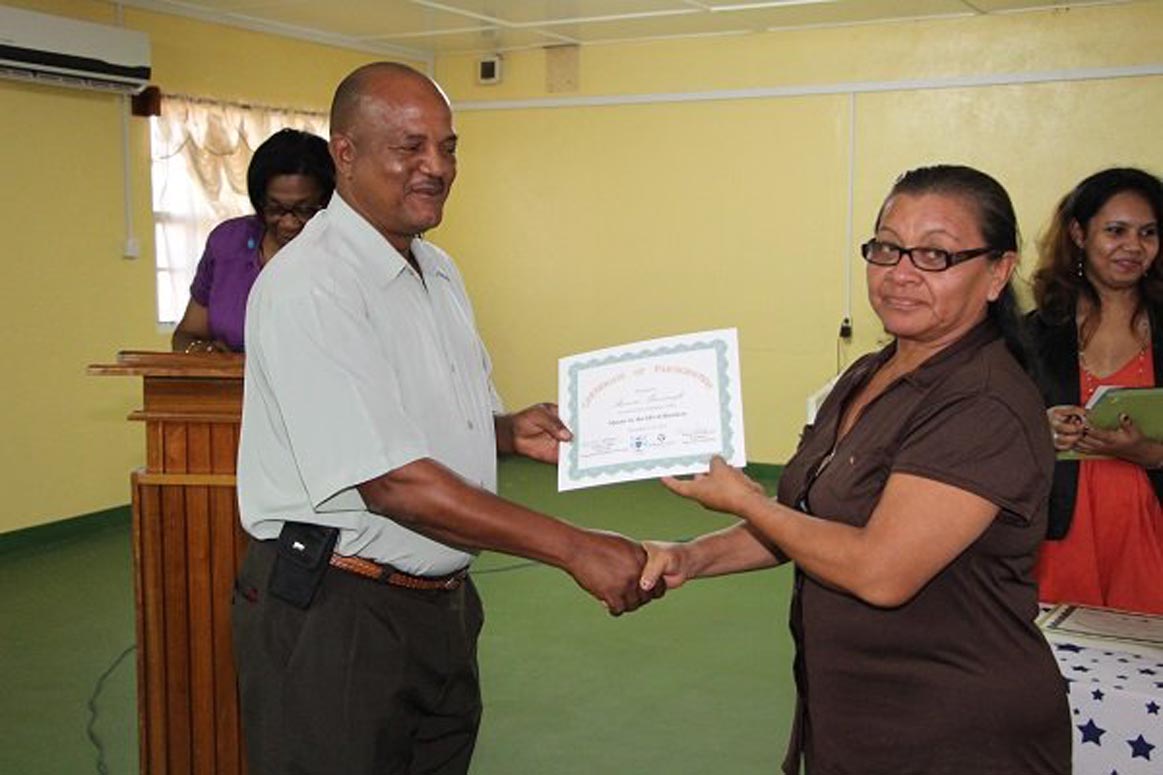 Regional Executive Officer, Carl Parker, presents a certificate to Theresa Mansingh at the closing ceremony of the 'Self-Reliance and Success in Business' workshop, held at the Indigenous Peoples Conference Hall in Lethem.
The First Lady and her team were catering for a minimum of 20 participants as was done in Good Hope and Linden, but due to the overwhelming response by women of all the sub-districts in the Region, the team worked to facilitate the additional 12, making this the largest batch thus far.
Facilitator of the Workshop, Mr. Wayne Barrow, from the firm Interweave Solutions, explained that the participants have been taught the pros and cons of developing a comprehensive business plan with which they can approach micro-financing agencies, such as the Small Business Bureau, to acquire loans to start up or expand their businesses.
Grace Albert, a participant from Wowetta Village, is part of a women's group that cultivates cassava and produces a number of cassava products including chips and cassareep. After participating in the workshop, she has now mapped out her business plan with short, medium and long-term goals for her group, as well as for her own personal business venture, a grocery shop.
Albert said the group is looking to increase cassava production and will try to get their products on shelves in supermarkets across the country. She explained that women venturing out into businesses not only support their families, but also contribute to the maintenance of food security in her community.
"We would like to partner with the Ministries of Agriculture and Indigenous Peoples' Affairs to do more agro-processing… This workshop was really good, I learnt a great lot, which I will take back to Wowetta to improve our business," Albert said.
Similar sentiments were expressed by Imacuelata Casimero from Aishalton Village, who said that she gained significant insight into the preparation of a budget and importance of promoting the services and products she offers. Casimero and the other participants from Aishalton have chosen to execute a project to benefit the entire community; that is to improve the supply of potable water by January 2016. This falls under the community development aspect of the two-pronged workshop.
Meanwhile, Wendella Rohlehr, who makes a living by walking and selling Brazilian cosmetic products, plans to use the knowledge she gained at the training to expand her current operations, firstly by registering her business and then garner funds to purchase a vehicle so that she could keep up with her competitors. In the long-term, she plans to build a shop in one of the prime commercial locations in Lethem.
Shirley Melville, one of the most prominent female business owners in Lethem, was invited to deliver the graduation charge and to impart some words of wisdom from own experiences. She called the First Lady's initiative "timely" and spoke of the importance of discipline and the willingness to embrace change in order to succeed in the business environment.
"You cannot spend what you don't have and you must know the difference between want and need as self-employed persons," Melville said. She also urged the participants to make customer service paramount in whatever area they choose to venture into, since a strong clientele is necessary for any business to survive.
"We can do it, we are masters at budgeting…at the end of the day, regardless of status, religion or race, we all have one thing in common; that is we are all women and as women it is a great feeling to make your own money," Melville said.
The workshop was funded by the Ministry of Social Protection with support from the Ministry of Indigenous Peoples' Affairs. The participants were drawn from communities such as: Aranaputa, Annai, Aishalton, St. Ignatius, Tiger Pond, Karasabai, Culvert City, Parishara, Wowetta, Tabatinga and Lethem.
In early November, 33 persons from the East Coast Demerara and Linden completed the programme. The First Lady plans to take it to Regions Two, Three, Five, Six, Seven and Eight next year.