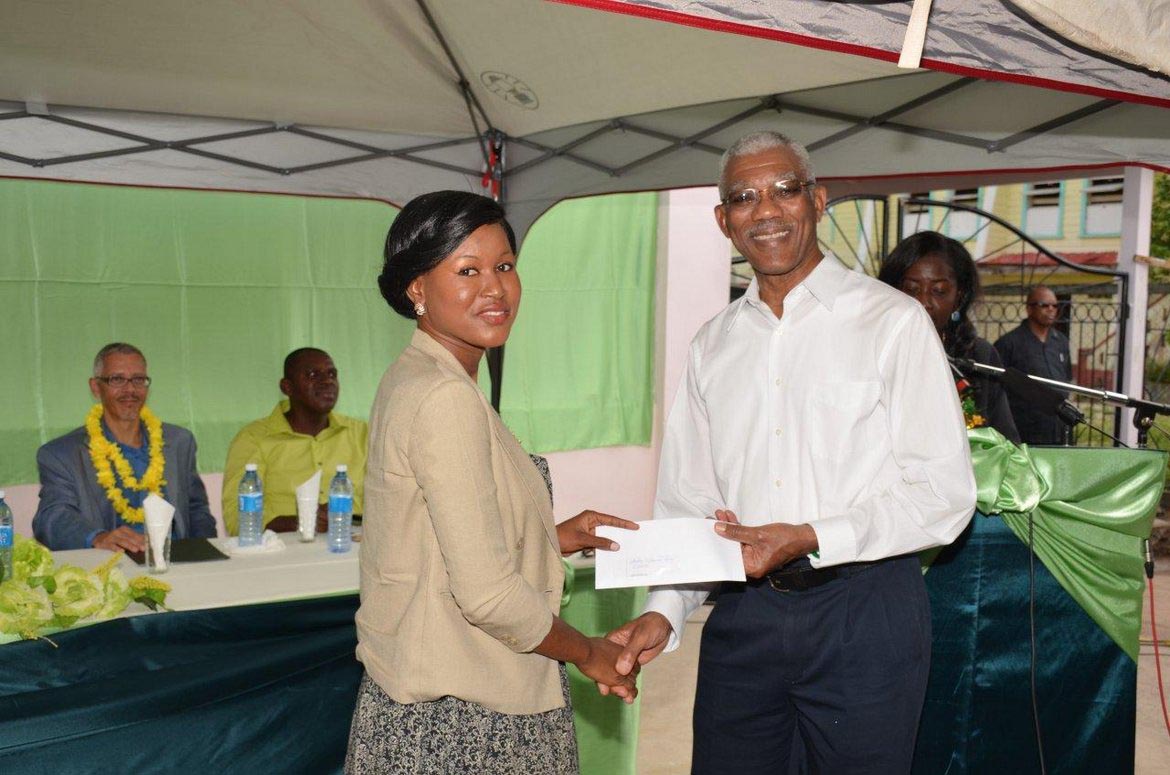 Georgetown, Guyana – (December 10, 2015) President David Granger announced, what he called the Linden Action Plan, as he urged residents of Linden, Region Ten, to rebuild their economy on the four pillars of investment, information, infrastructure and innovation. The President made this announcement as 40 entrepreneurs received their loan approval letters from the Linden Enterprise Network (LEN), during the launch of the micro credit programme today at the newly refurbished Region 10 Business Centre.
The ceremony was also attended by Minister of Business, Dominic Gaskin, Minister of Communities, Ronald Bulkan, Members of Parliament and regional officials. The President congratulated the team at LEN for sticking it out during a difficult period, and pledged that his administration will ensure that the institution remains viable.
"We want to ensure that credit is available to LEN. We want to make sure that Linden becomes the womb for entrepreneurs and young persons who are going into enterprise. We see a role for micro credit and for small enterprises," he said.
President David Granger presents Ms. Duanne Perry with her loan approval letter at the recommissioning of the Linden Enterprise Network earlier today.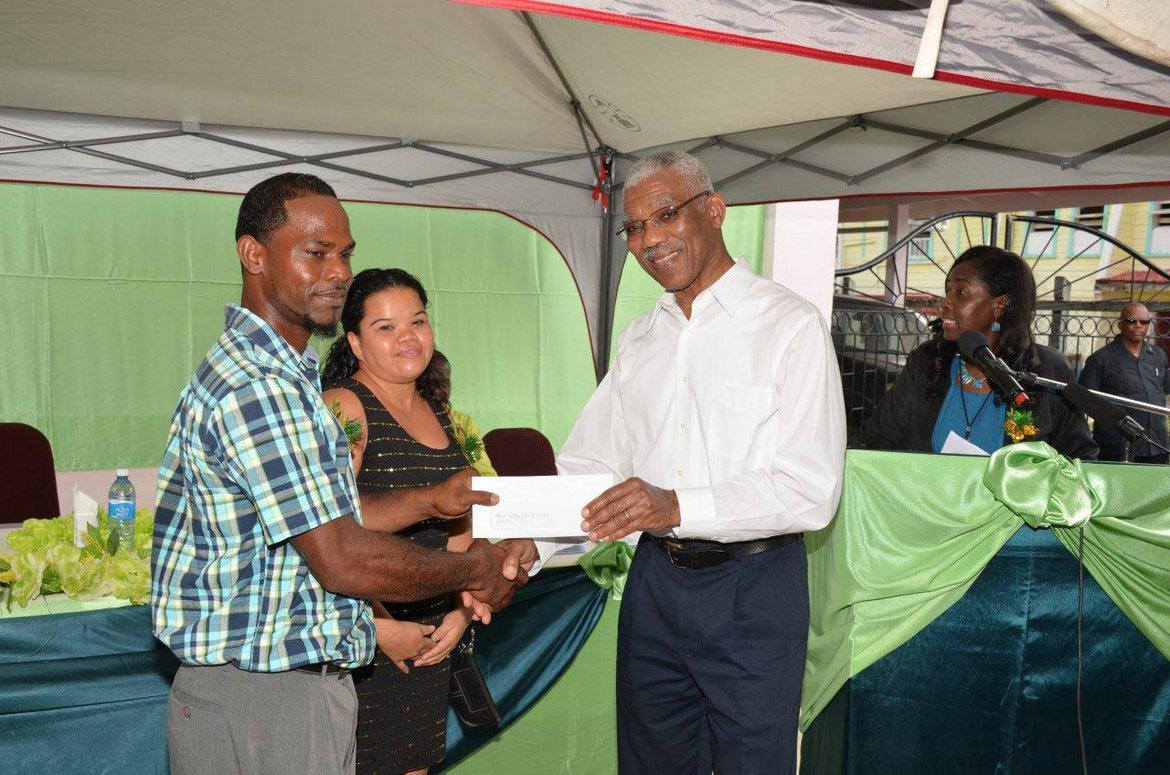 President David Granger presents Ms. Ruella Waldron and Mr. Robert Gittens with their approval letter for a loan to expand their business.
The President also attended a key stakeholders luncheon at Watooka House where he stressed the role Lindeners must play in the development of their town. While the government will play its role, President Granger called for Lindeners to develop a spirit of cooperation. "The time for confrontation has passed. We now have to go into an era of cooperation…the success of linden, the success of the Upper Demerara-Berbice Region will depend on our ability to combine our energies and to use our god given resources and to improve the lives of our households and our children," he said. The President, therefore, called on residents of the community to inculcate an attitude of cooperation, and to build institutions that foster cooperation.
Announcing the Linden Action Plan at the LEN launch, the Head of State said the first pillar it must be built on is investment. "You have to have capital… micro credit can transform this community and this region. It can lift people out of poverty. It can establish and boost small businesses and it can create jobs for young people," the President said. It is for this reason, he added, that micro credit investments are important since many persons are not able to meet the requirements of some commercial banks.
The second pillar on which Government will focus its efforts for the development of Linden is Information. Noting that the world is in the fast paced, information age, the President said telecommunication and information technology is not optional, but rather, obligatory. "You cannot embark on enterprise without information, you may have good ideas but unless you have information about the market and production you will not be able to succeed," he told the large gathering.
The President added that it is equally important that entrepreneurs are up to date with market demands. "You cannot proceed in business without access to information technology. It is not optional. It is vital. It is a necessity after getting your loan. You can best do this if you have access to information, you have to communicate with your market and your market will communicate with you," President Granger said.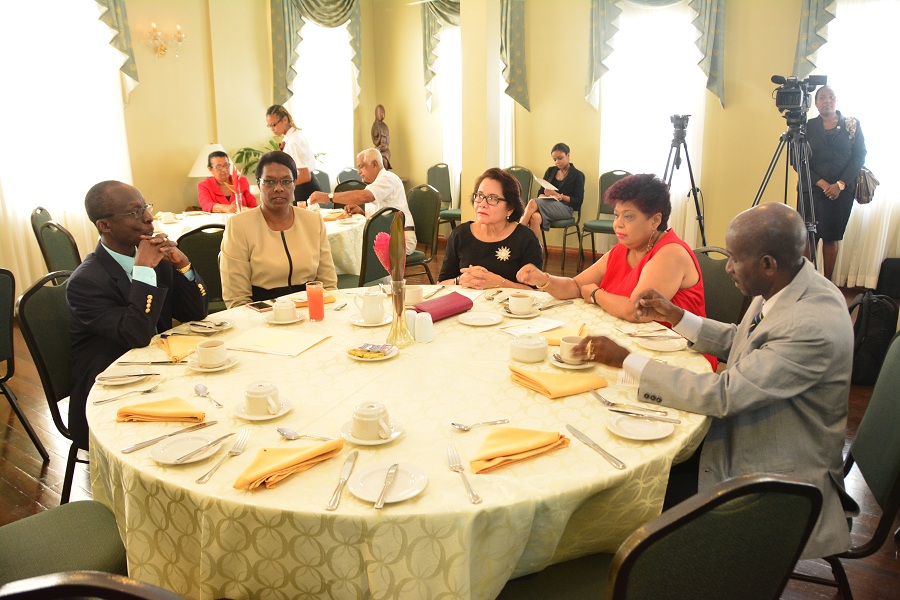 Newly installed LEN Board member, Klenzil Grenville, makes a point as he takes President David Granger on a guided tour of the refurbished Linden Enterprise Network building.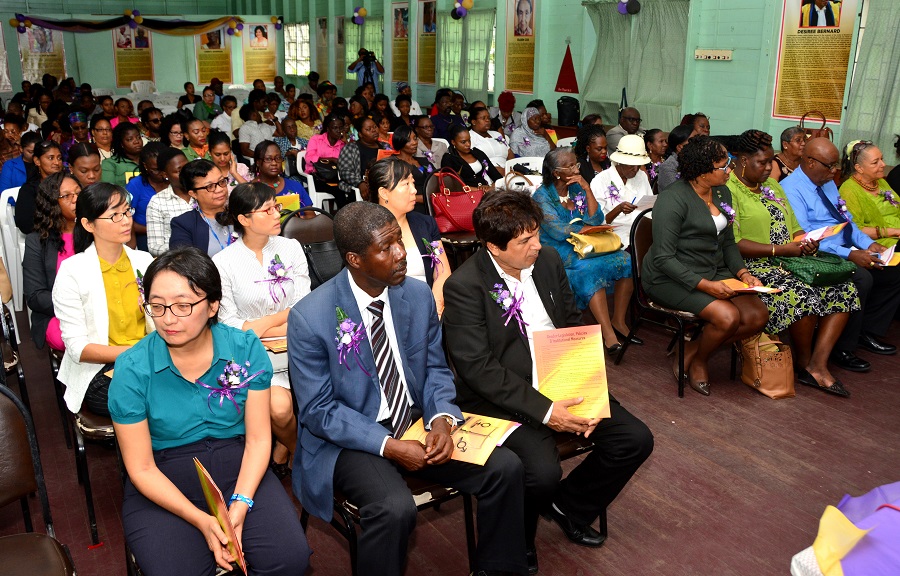 President David Granger addresses a rapt audience at the recommissioning of the Linden Enterprise Network.
Acknowledging the need for solid infrastructural development and innovation in every modern town, President Granger called on residents to work with Government to build to support the development of innovative enterprises. "Proper infrastructure not only facilitates faster travelling time, but it also increases business opportunities. Region Ten is also a major gateway to several other key regions as such there is need for its own aerodrome", he said.
The final pillar on which Linden's development, according to the President, is innovation. "Come up with something different. You have to be innovative. You have to look and see what others are doing and do something different. Linden can be a hub for those new enterprises," the President said.
Also on the occasion, Minister of Business, Dominic Gaskin underscored the importance of investments for micro businesses. "The need to finance investments is a universal one, faced by businesses of all sizes. Businesses operating on different scales do, however, have different financing requirements, and solutions that financing needs of larger scale businesses do not always address the needs of smaller businesses", he said.
Notably, Minister Gaskin pointed out that LEN has also been designed to provide the community with the support it needs for a thriving small and micro enterprise sector that can aid in the unemployment issue. "It is expected that the $100 M invested by the government in this programme for the year 2015 would kick start a number of sustainable business activities that will be role model for this community and show case Linden as a place where business can prosper," the Minister said. He, however, noted that the success of LEN will depend heavily on how well the programme is managed and implemented and how prudent the recipients are in term of sticking to their obligation to repay.
Meanwhile, Ms. Valerie Patterson, Chief Executive Officer at LEN and Member of Parliament, who chaired the event spoke of the need for LEN in Linden and how it was birthed.
"Job creation was always the focus of LEAP/LEAF and that focus continues with LEN, because we recognise that [the] unemployment rate in our region was very high," Ms. Patterson said. However, when LEAP closed its office, she said, there was a need for a facility to continue business development services, inclusive of investment promotion and micro credit services. Even with a commercial bank and the New Building Society in central Linden, the community's demands far outweighed its resources and, further, many entrepreneurs were not able to meet the requirements of these institutions.
Ms. Patterson also said that over the last few years of LEN's operations, its functions were stymied. "After LEN became operational, we became only operational. We couldn't reach the objective of giving credit to the people of Region ten. After five years we had the installation of the Board…we had a scenario where the workers were working and did not know if they would have salary at the end of the month…that situation has changed. From September of 2015 they didn't have to ask when and if they will get pay," Patterson said.
In 2015 National Budget, LEN received an allocation of $155M to operate. With this allocation, the institution was able to add to its staff complement to better serve the community, and the much-needed amenities in the building were restored.
Similar sentiments were expressed by Board Member Orrin Gordon, who also commended the administration to returning dignity to the institution and the people of Region Ten. Gordon said that for too long Region Ten has been starved of much needed resources and today's event is testimony that the new administration has the Region at heart. "I expect that this programme is going to work wonders. This programme had one of the best portfolios in Guyana for a lending institution," Gordon said. Given its history, Gordon said he is confident that with the resources and new team, LEN will be successful.
With the lending powered restored to the institution, 40 persons from the region are now able to expand their businesses or start up new ones. When the Ministry of the Presidency caught up with some of the loan recipients they heaped praise on the APNU/AFC Government for pouring resources into LEN.
Ms. Duanne Perry, who is a first time borrower, said she will be opening an ice-cream and confectionery shop. "I'm excited. I'm happy that the Government would have chosen to involve young people in their process of progress," she said.
Another first time borrower, Ms. Dawn Chase who has an existing business, said she intends to use her loan to extend her salon. "With the expanding I will be able to hire people, so in that way I can help with the high unemployment situation in Linden," Chase said.
LEN has also installed a new Board to oversee its operations. The Board members are Klenzil Grenville, chairman; Basil Jaipaul, Orrin Gordon, Horrace James and Ms. Vanessa Kissoon. Following the ceremony, the President joined the Board Members and other stakeholders for a luncheon, at the Watooka House.