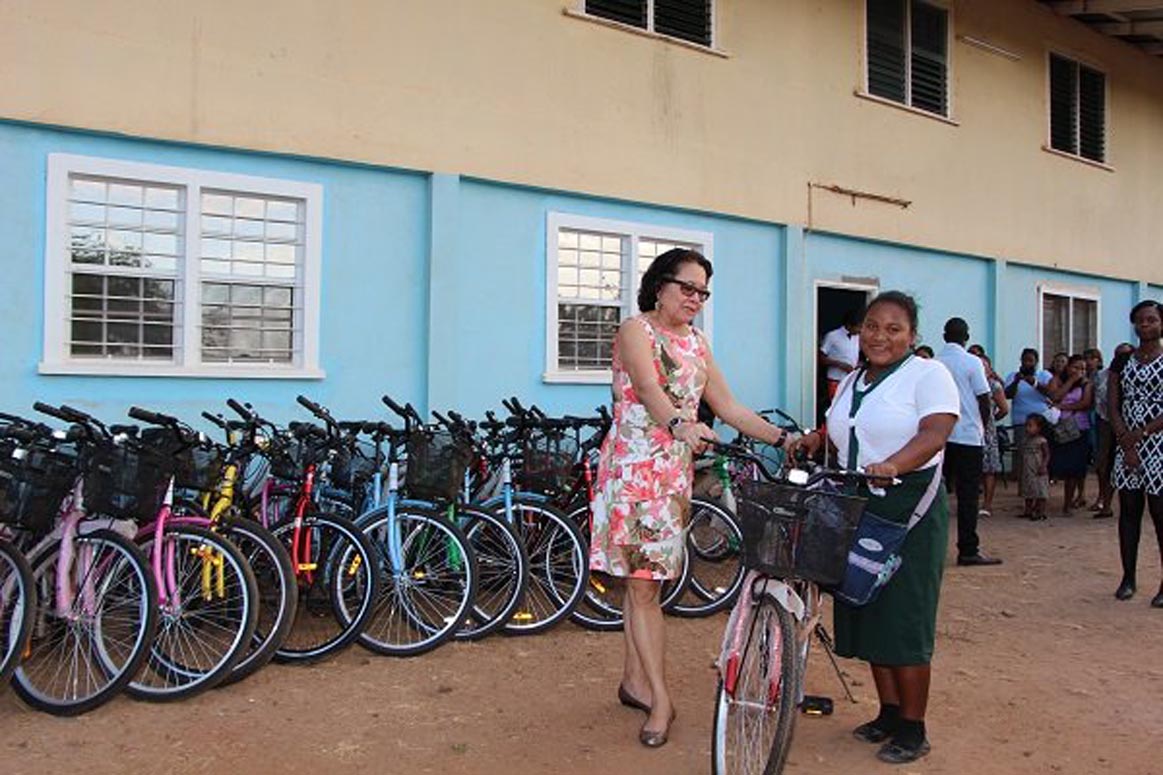 Georgetown, Guyana – (December 10, 2015) As part of President David Granger's 'Three Bs' (Boats, Busses, and Bicycles) initiative, Minister of Social Cohesion, Amna Ally, today, presented 52 bicycles to the students of the St. Ignatius Secondary School in an effort to ensure transportation difficulties do not stand in the way of school attendance. The handing over ceremony was held at the Indigenous Peoples Conference Hall in Lethem, Region Nine.
The issue of school attendance and punctuality was raised with Minister Ally during her trip to the region in October. A former professional educator, the minister is committed to ensuring that systems are in place to allow equal access to education for all of Guyana's children, regardless of their geographic location.
"Education is a fundamental requirement to develop human capital and achieving a socially cohesive society. When persons are excluded from acquiring formal education and skills training, they are immediately placed at a disadvantage and cannot contribute to achieving an acceptable standard of living," Minister Ally said.
She informed that her Ministry received significant support from the business community to acquire the bicycles for students to get to and from school, particularly those travelling from the farthest distances. The Minister said that this is not merely a hand out; noting that the Government holds firmly to the view that by providing these bicycles, the children of the region will be able to acquire that which is necessary for them to make a difference in their lives.
First Lady Mrs Sandra Granger presents a bicycle to a smiling Leticia Williams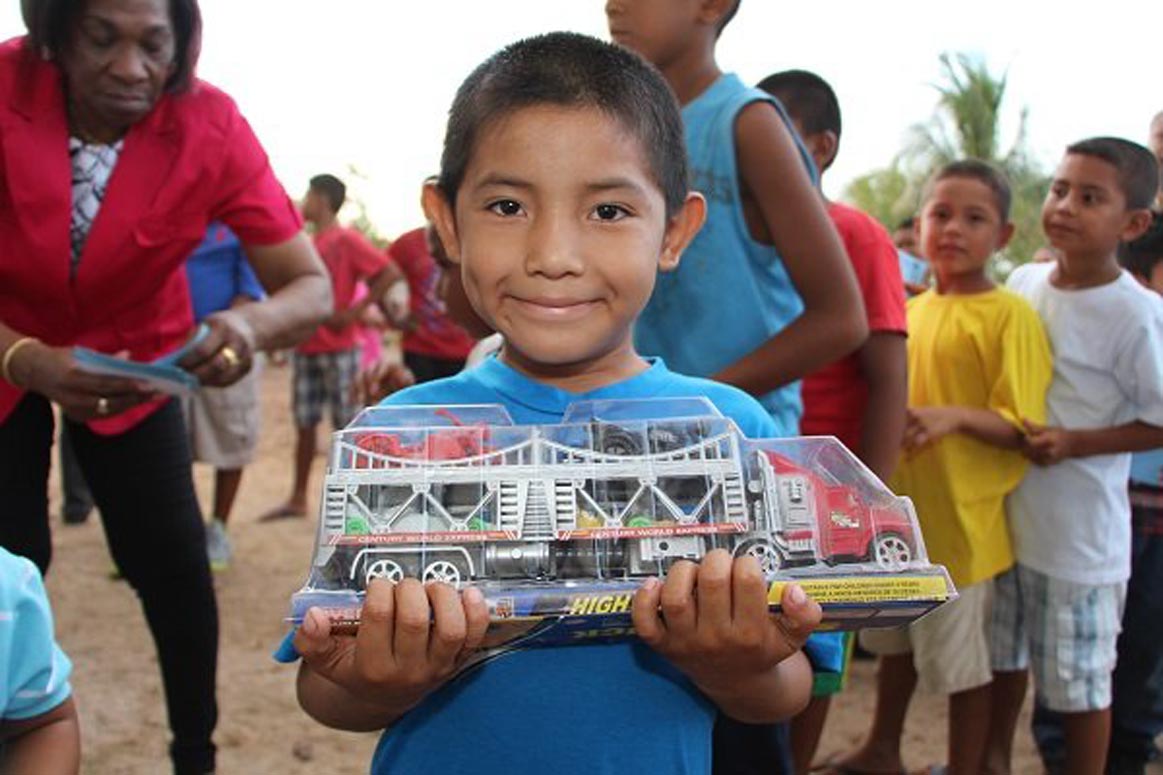 A little boy beams as he displays his new toy truck.
"This is about taking steps to foster empowerment and foster cohesion…I am going to be listening out for success stories about school attendance, punctuality and performance. This would give us a sense of how this project is working and we would know to what extent it could be expanded here and in other communities," Minister Ally said.
On the celebration of his 70th birthday, President Granger made an appeal for transportation to assist students, particularly from hinterland and riverine communities, to get to school. Since then, the response from corporate citizens has been overwhelming. The first school boat was donated by GAICO Construction and General Services Incorporated and the second from Alfro Alphonso from Region Two. CGX Energy donated the third for students in the Upper Pomeroon and earlier this week, Aurora Gold /Guyana Goldfields donated the fourth boat for the children of Moraikobai, Region Five.
Minister Ally said that one of President Granger's main goals is to ensure that children in outlying communities are not marginalised in any way. She also spoke of the 10-point plan for the development of hinterland communities noting that her Ministry is determined to make sterling contributions to ensure that the plan is effectively implemented. The plan focuses on hinterland poverty reduction, energy and development, employment, youth development, tourism, and education.
In this regard, the Ministry is set to roll out a series of micro projects and livelihood improvement initiatives shortly.
In addition to the bicycles, the Minister and First Lady Mrs Sandra Granger also distributed a large quantity of toys to the younger children and two bolts of fabric to the Lethem Women's Group.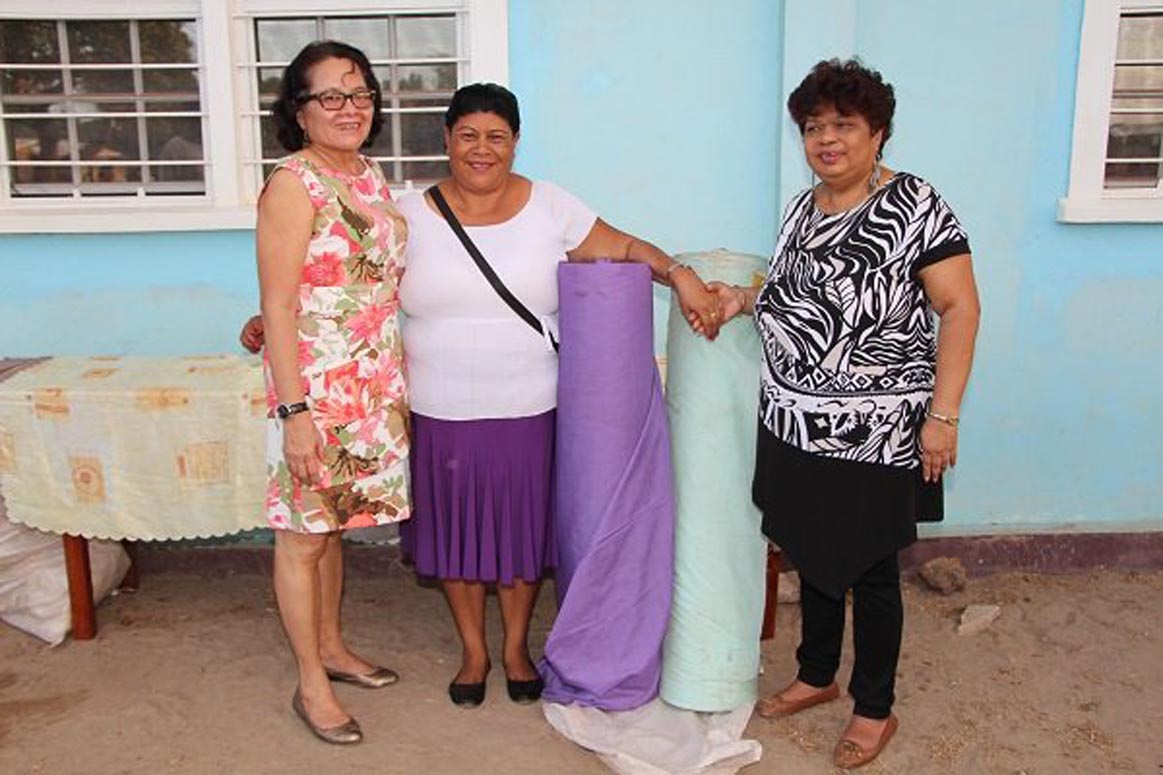 First Lady Mrs. Sandra Granger and Minister of Social Cohesion, Amna Ally presented Dionysia Niewenkerk from the Lethem Women's group with two bolts of fabric