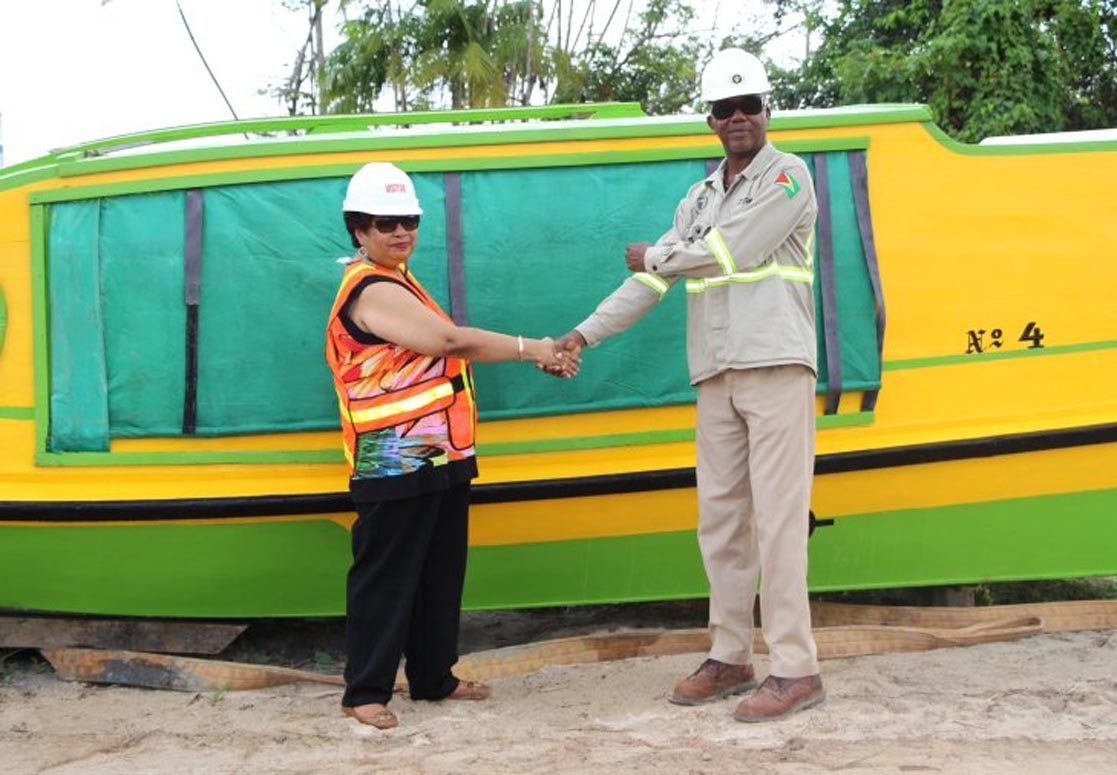 Georgetown, Guyana – (December 9, 2015) Minister of Social Cohesion, Amna Ally, today received another boat to ferry children to school in Moraikobai, Mahaicony River, Region Five.
Minister Ally received the boat on behalf of the Government and the President of Guyana, at a simple presentation ceremony held at the Guyana Goldfields Incorporated/Aurora Gold Project Buck Hall, Essequibo Coast location this morning. President Granger will commission the boat on Wednesday in Moraikobai.
In handing over the boat, Logistics Manager of the Buck Hall operations, Kenrick Glasgow said that the commitment to gift the President a boat for his 'Buses, Boats and Bicycles' or 'three Bs' programme, aimed at ensuring that all the children of Guyana are able to get to school, was made the same day that the company poured its first gold bar.
"This is a present from the people of Guyana Gold Fields for the children of Moraikobai in the Mahaicony River. It is indeed a pleasure and an honour to give this gift for the children so that they can go to school," Glasgow said.
Minister Ally, in accepting the gift, said the government and country is grateful for the boat as it will ensure that children's access to education in that community is made easier.
"I am happy to be here and to receive this gift. I would like to thank Guyana Gold Fields for this effort that they have made to the people and children of Guyana and more particularly the recipients of this boat. The President has a passion for education and the Ministry of Social Cohesion is working in tandem with him to ensure that we can bridge the gaps that exist in our country; that is poverty and equality and so on, which all hinder and hamper [the]development of our country," Minister Ally said.
She related that this will be the fourth boat which will be commissioned by the President as corporate Guyana has responded to the President's call for action on education; recognising that education is the key to the nation's development.
At the commissioning of the third boat in Upper Pomeroon last month, President Granger had said that the idea for the 'three Bs' programme was birthed in the Pomeroon when a resident told him that he was forced to pay $5000.00 per week to get his children to school.
Minister Ally has been playing an integral role in the private-public partnership to support the 'three Bs' programme.
Minister of Social Cohesion, Amna Ally,shakes hands with Kenrick Glasgow, Logistics Manager at Guyana Goldfields Inc/Aurora Gold Project as she receives a boat the company donated to President David Granger's "three Bs' programme to benefit school children.