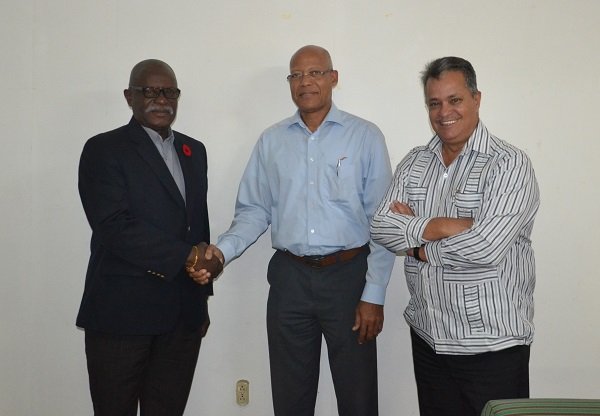 Georgetown, Guyana – (December 5, 2015) President David Granger called on men to respect women's equality as he outlined, what he called, the three pillars of gender relations, this afternoon, at the National Association of the Adventist Men's Ministry 2015 Men's Conference, which was held in the main auditorium of the Sophia Exhibition Centre.
"Christian men have to respect women as being equal in dignity. Christian men must get away from the notion that women must be submissive or subordinate… women must be respected, they must be loved, they must be revered," he said.
Adding that there is no form of reasoning that can diminish respect for gender equality, the President said that these virtues must be learnt in the homes and then practised in the wider society. Further, the Head of State said respect should go beyond gender and include race and religion.
President David Granger flanked by some of the men honoured today by the National Association of Adventist Men's Ministry for their longstanding service and dedication.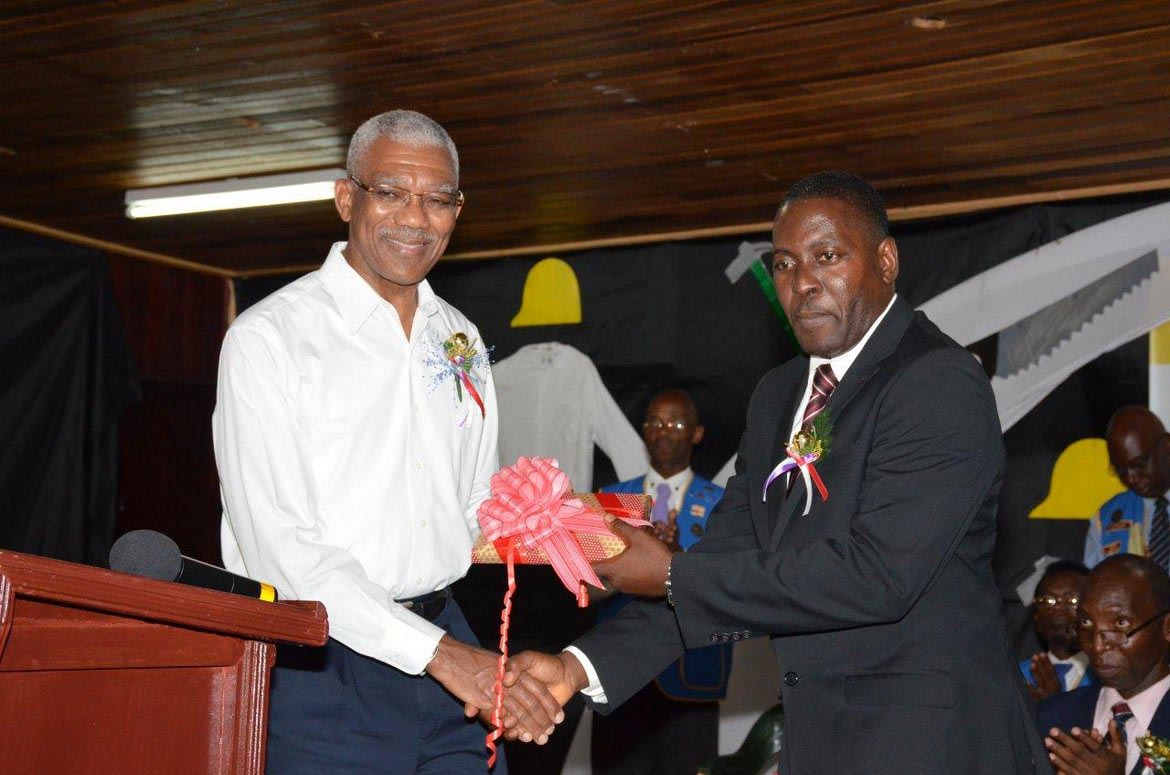 President David Granger shares a warm handshake with Pastor Exton Clark as he receives a token of appreciation for his participation in the National Association of Adventist Men's Ministry 2015 Men's Conference.
"We have to build respect in all of our religions and I do believe that in Islam, in Christianity and in Hinduism, respect for human life is paramount, that respect of the equality of a man is not something only in our constitution, but is something in the Bible, and must be in our hearts as well," he said.
Another equally important pillar of manhood posited by the President is the ability to make responsible choices. "Sometimes, depending on our upbringing, we make decisions that are conditioned by non-rational motives… these choices have to be responsible Christian choices. Go back to the Bible and learn from the life of Christ," he said.
More often than not, the President said, people fail to realise that their choices have consequences that can be to their detriment. "We have to make a choice as fathers. Listen to the advice that you were given to make sure that your child goes to school, stays in school and graduates", he said.
The third pillar that is necessary in today's world is "resolution", President Granger said, noting that in today's challenging society, it is easy to walk away from responsibility. "You must have responsibility for every child you bring into this world, and the churches must insist, society must insist, we must abolish forever the expression 'single parent household'… The love of a mother and the lessons of a father are critical to a child's wellbeing", he said.
Expanding on the importance of the role of the father, President Granger added, "There are many things a child has to learn from a father and if that father is absent, the child may very well grow up without those lessons; The lessons of responsibility, the lessons of discipline, the lessons of orderliness."
Calling the Men's Conference timely, the President said it is an important platform for defining a new model of manhood in a changing society. "When people speak of gender issues, they speak largely of and to women, and the Church today is speaking of and to men because men are part of the problem. So I'm very glad for this initiative," he said. Citing the theme for the conference, "Equipping men for today's challenges", the President underscored the importance of understanding the way a man thinks and how he views his masculinity. He posited that the event is a continuous journey of educating and equipping men to work in a more harmonious environment.
He added that while generations have inherited conventions and practices for centuries, in the 21st Century, respect for women is indispensable as they make up half of the world's population. The Church must then ensure that there are no inequalities.
"Our societies are undergoing rapid changes at all levels…and these changes have made an impact on the role of women. Women now have greater opportunities," he said. According to the President, there is a new norm where women are rising to the highest echelons of office in society.
"Their (women) successes have challenged [the] traditional dominance of men, and sometimes, men have become resentful and try to hold back the tide or even turn back the tide. So, we need to prepare for the future. We need to get our sons accustomed to regarding girl children not only as objects of affection, but as objects of respect and we need to get our girls to respect themselves," the President said.
Referencing the two recent acts of terrorism in Paris, France and San Bernardino, California, President Granger said men have an important leadership role to play in ensuring that extremism does not take hold in Guyana.
"We, as Christians, need to be aware of the occurrences that are taking place in the world and hold fast to our faith, hold fast to our doctrine, hold fast to our belief in humanity, hold strong to our respect for the views of other people, and not allow ourselves to be drowned in an ocean of extremism," President Granger said.
The President said that as persons with strong beliefs grounded in the Bible, men should not allow the local political climate and culture to be contaminated by extremist views. "We have several problems in Guyana, but religious extremism should find no place in our heart to allow the relations between Guyanese to degenerate to the level that we saw just 70 hours ago in San Bernardino," he told the audience.
With social media playing a role in promoting religious extremism, the President said the church needs to provide guidance to lead members of the society away from that path. "We have to ensure that we as men, as fathers, provide the type of guidance, which will prevent them from taking the path toward extremism," he said.
Meanwhile, at the event, the National Association of Adventist Men's Ministry took the opportunity to honour some longstanding members, who have been serving not only the association but their respective communities. George Union was one of those recognised for providing humanitarian services in and out of the Seventh-day Adventist circle for more than 60 years.
The conference, which began on Friday and will conclude tomorrow, has so far featured presentations on men's health, skill harnessing, empowerment and the importance of responsibility. Dr. Leon C. Wilson, Provost and Vice President for Academic Affairs of the Alabama State University was one of the distinguished guest speakers featured at the event. Wilson is an expert in Social Psychology. He also holds a Master of Arts in Religion and Counselling from Andrews University in Michigan and a Bachelor of Theology from Caribbean Union College, now known as the University of the Southern Caribbean.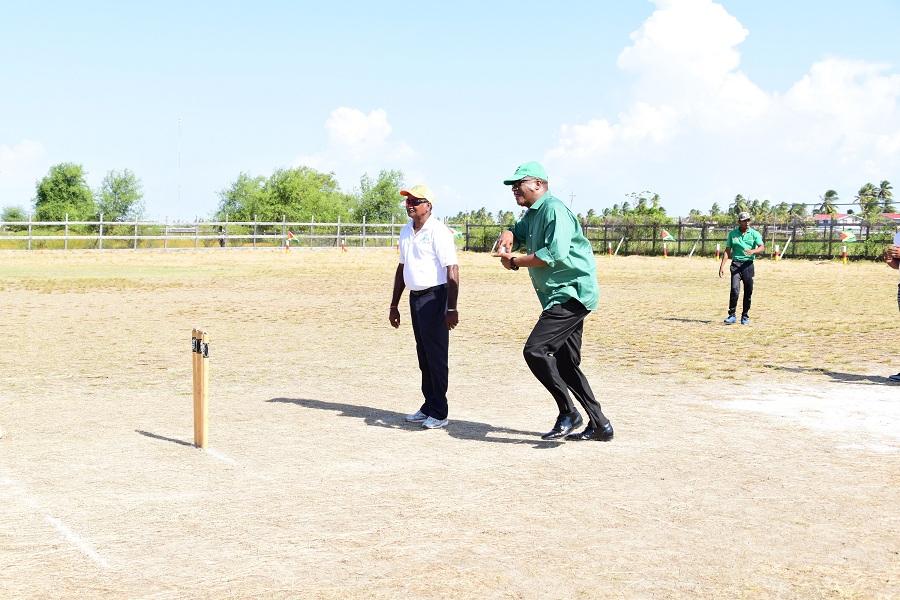 A section of the gathering at the National Association of Adventist Men's Ministry 2015 Men's Conference held in the main auditorium of the Sophia Exhibition Centre.