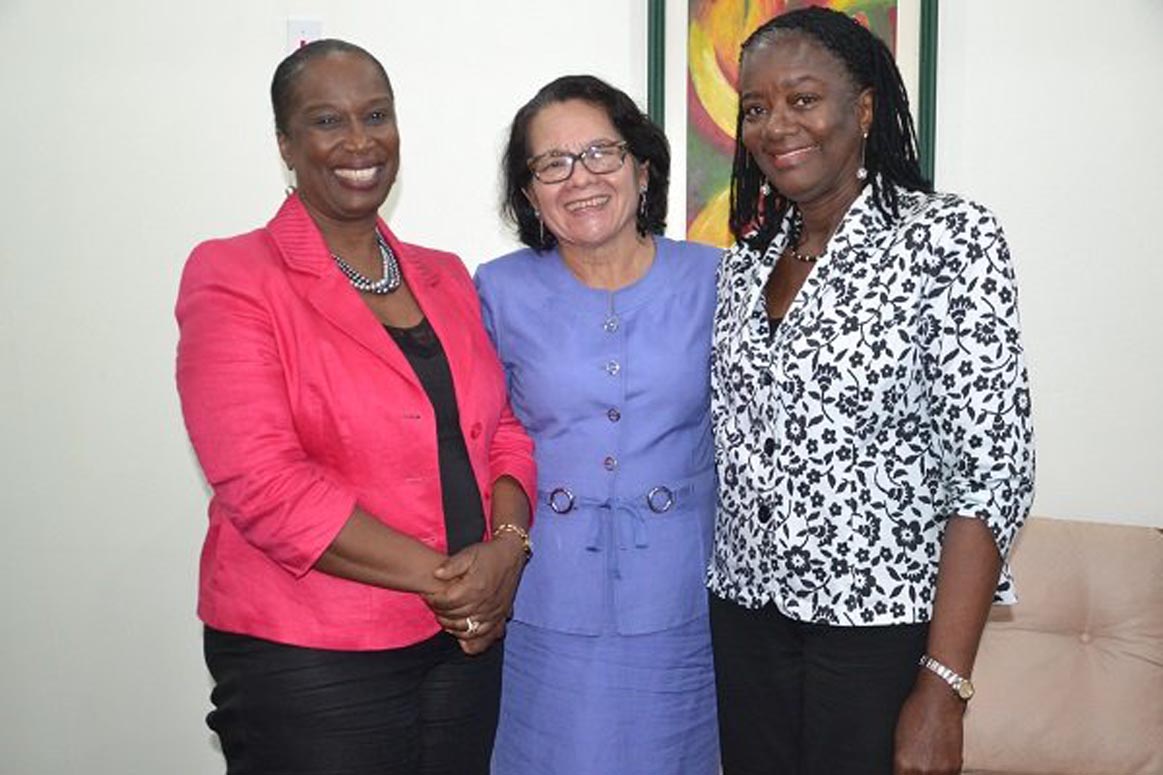 Georgetown, Guyana – (December 4, 2015) First Lady Mrs. Sandra Granger, earlier today, met with Ms. Sheila Roseau, Director and Representative of the United Nations Population Fund (UNFPA) and Ms. Patrice La Fleur, Assistant Representative, to discuss new strategies to reduce teenage pregnancy.
After the meeting, Mrs. Granger said discussions centred on areas of collaboration that will further propel her efforts to reach a wider audience of at-risk groups. More specifically, Mrs. Granger said the UNFPA will be working more closely with her office to address the issue of sexual reproductive health, teenage pregnancy and ensuring that adolescent mothers re-enter the education system. Under the auspices of the First Lady's Office already, some teen mothers have been re-enrolled in the school system, while others have been enrolled in skills training workshops via collaborations with other agencies. However, with aid from the UNFPA, more vulnerable groups can be given support, Mrs Granger said.
Meanwhile, Ms. Roseau told the Ministry of the Presidency that she is encouraged by the work being done by the Office of the First Lady and is eager to strengthen the existing relationship. The UNFPA is utilising the CARICOM Integrated Strategic Framework, which addresses factors that drive adolescent pregnancy in keeping with the overall goal to reduce its occurrence by 20 percent in CARICOM Member States by 2020.
In addition, Ms. La Fleur, who is also a member of the Women Across Differences Organisation, said the group is actively involved in tackling these and other issues that affect vulnerable groups across the country. She too commended the First Lady for the work she has been doing over the past few months, since taking up office.
First Lady Mrs. Sandra Granger shares a warm moment with (from left) Ms. Sheila Roseau, Director and Representative of the United Nations Population Fund and Ms. Patrice La Fleur, Assistant Representative of the UNFPA