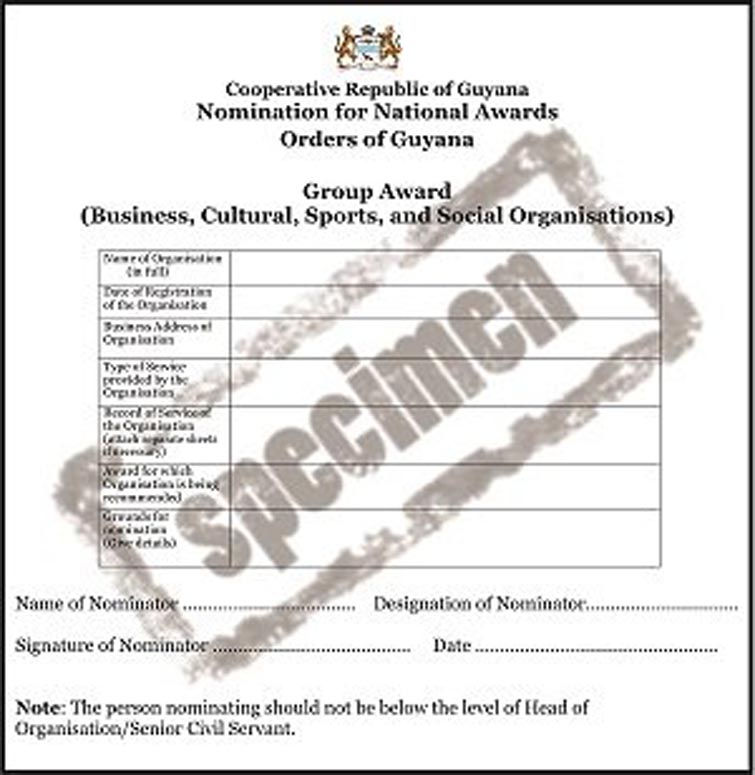 Georgetown, Guyana – (December 3, 2015) The Ministry of the Presidency is reminding the public that the deadline for nominations for group awards is December 15, 2015. These nominations must be made to the Advisory Council for the Orders of Guyana.
Groups that can be nominated may include, but are not limited to, Industry and Commerce, Non-Governmental Organisations, schools, hospitals, religious, cultural and faith-based groups, sports and social organisations. Nominated groups are expected to have demonstrated national commitment and interest, selflessness and success.
The public is therefore invited to use the opportunity to recognise outstanding Guyanese contributors and make their submissions before the deadline.
Nominations should be made on the prescribed form, which can be obtained from the Office of the Chancellor of the Judiciary, in the care of The Court of Appeal, 60 High Street, Kingston, Georgetown. The call for nominations is also being advertised in the press. A specimen of the form is attached to this document.