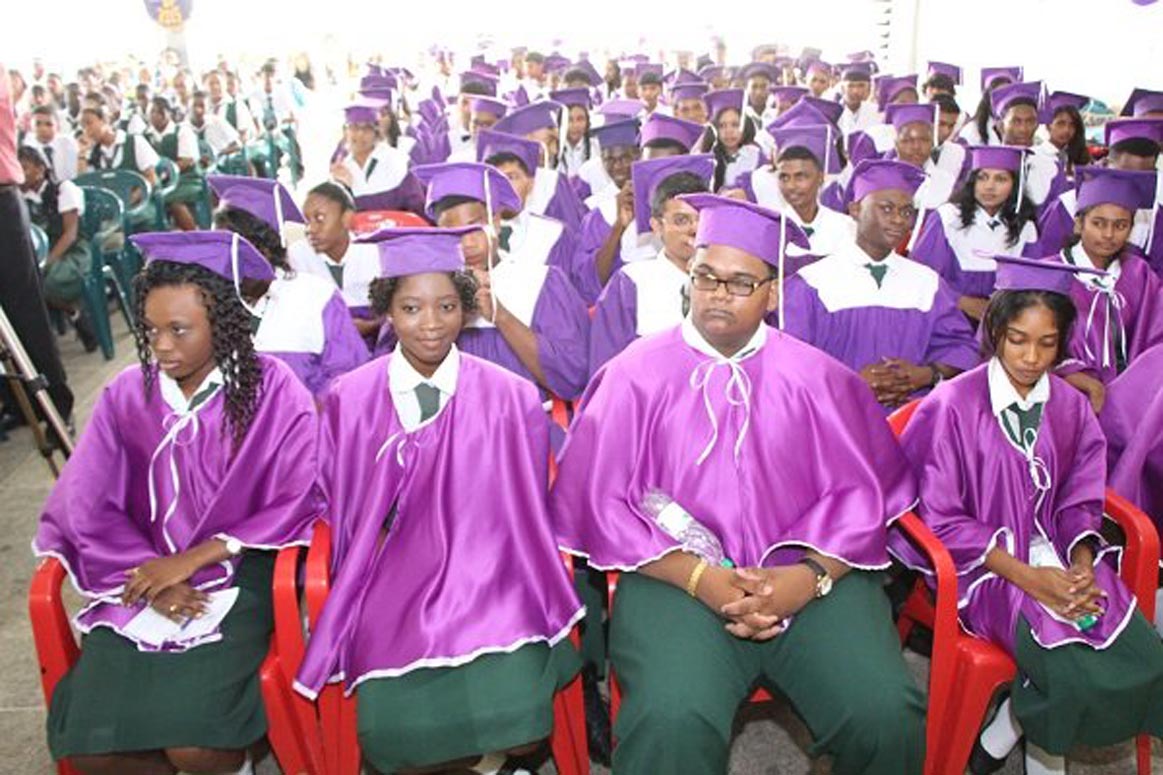 Georgetown, Guyana – (November 27, 2015) – Minister of State Joseph Harmon yesterday delivered the charge to the 2015 graduating class of the West Demerara Secondary School where he emphasized the importance of information and communication technology in today's world. He said that if Guyana and its citizenry are to move into the future, attention must be placed on this critical area.
In this regard, the Government is moving to make wifi available at secondary schools across Guyana and the West Demerara Secondary will be no exception, the minister said.
Minister Harmon, an alumnus of the West Demerara Secondary School, chronicled his years as a student and said the experience and knowledge gained during his years there is what prepared him for his life long career as a lawyer, a politician and a solider.
"Thousands of students graduated from this school and now they serve in various aspects of life…in the Caribbean and further afield," the Minister said.
The West Demerara Secondary school graduating class of 2015
Turning his attention to the teachers, he urged them not to become complacent with this year's grades as there is always room for improvement and there are many more records that can be broken. "We must strive to do better; the potential has always been there. We have proven over the years that we can hold our own in any field" he told the gathering.
He assured that the Government will continue to play its part by providing equal opportunities to schools throughout the country, as every school has the potential to excel. "We as a Government are aiming to make our education system one of the best and the envy of the Caribbean," he said.
Meanwhile, this year's valedictorian Satesh Persaud who gained a total of 12 Grade ones, including eight distinctions said today marks the end of something great and the beginning of greater things to come.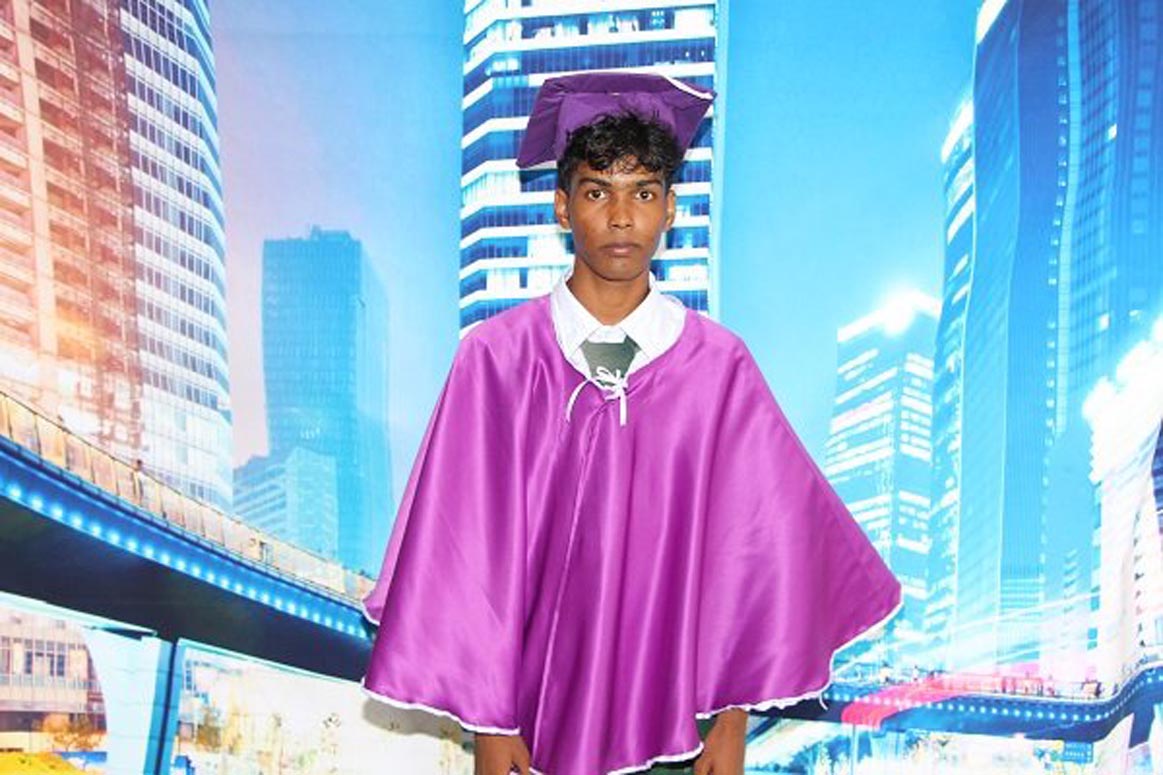 his year's Valedictorian, Satesh Persaud
"Reward yourself because we are undoubtedly one of the West Demerara best graduating class; our five years here was no walk in the park; there were many challenges and obstacles that we had to overcome," Persaud said.
He urged his fellow graduates to venture out into the world with great determination and be fully prepared to make sacrifices. He also used the opportunity to thank his teachers, parents, and others who supported him throughout his secondary school journey.
This year the West Demerara Secondary School, which is celebrating its 50th anniversary, has also broken all Caribbean Secondary Education Certificate (CSEC) records in Mathematics and English having recorded 91.7 percent and 92.4 percent passes respectively.
According to Head Teacher, Harry Narine, the 2015 CSEC class also secured a matriculation pass rate of 85.6 percent and to add to this achievement the school now ranks seventh among all public secondary schools in Guyana.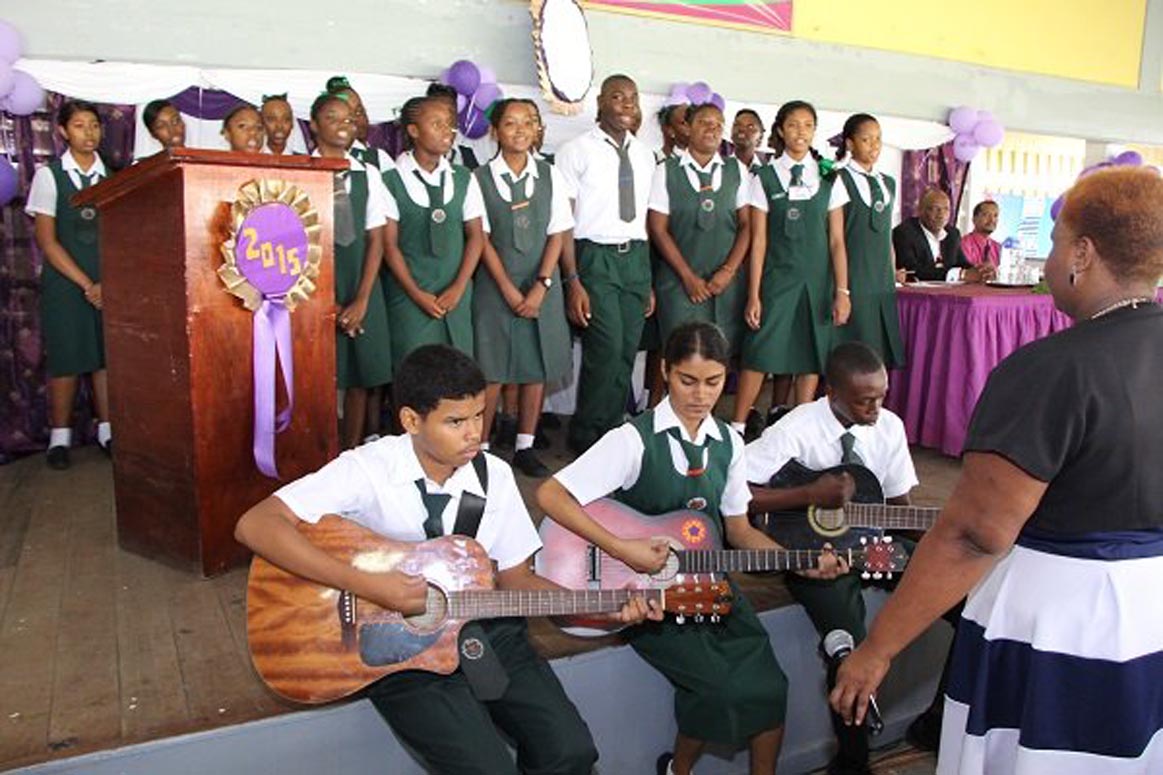 The School's choir performing at the graduation ceremony
Additionally, this is the first time in the school's history that a total of 116 students passed CSEC Mathematics and English with grades one to three. Narine added that it is very gratifying for the school as they would be the first school in Region Three to be accredited to offer the Caribbean Advance Proficiency Examination (CAPE).
Meanwhile earlier in the day, Minister Harmon, on behalf of His Excellency, President David Granger (who is on official duties in Malta at the Commonwealth Heads of Government Meeting), handed over the President's Award for Excellence to the Best Graduating Student of the St. Roses High School. The school's top 2015 student, Shontay Noel received this award as well as a cheque for $50,000.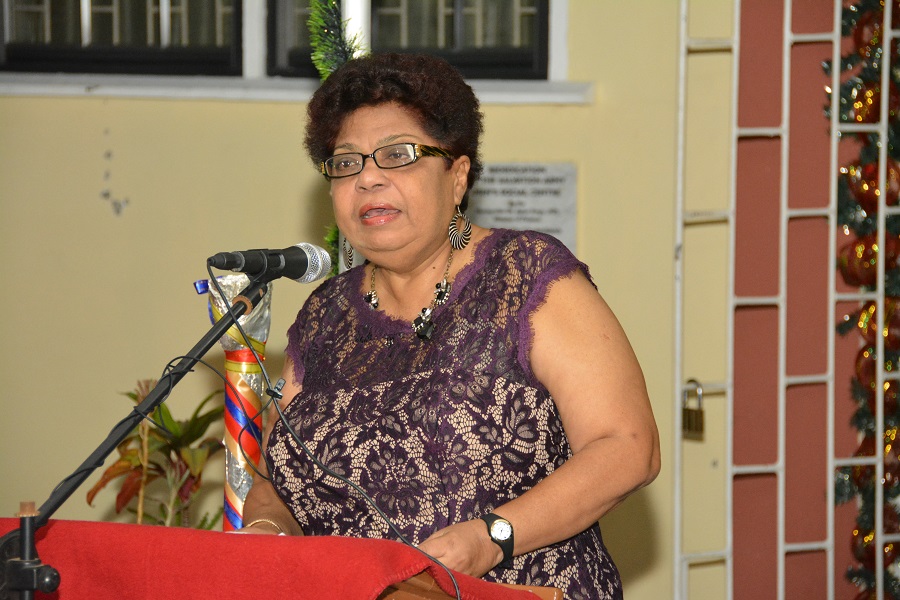 Minister of State, Joseph Harmon handing over a certificate and $50,000 cheque to Shontay Noel on President David Granger's behalf. Noel graduated from the St. Roses High School earlier today. The ceremony was held at the Arthur Chung Convention Centre.