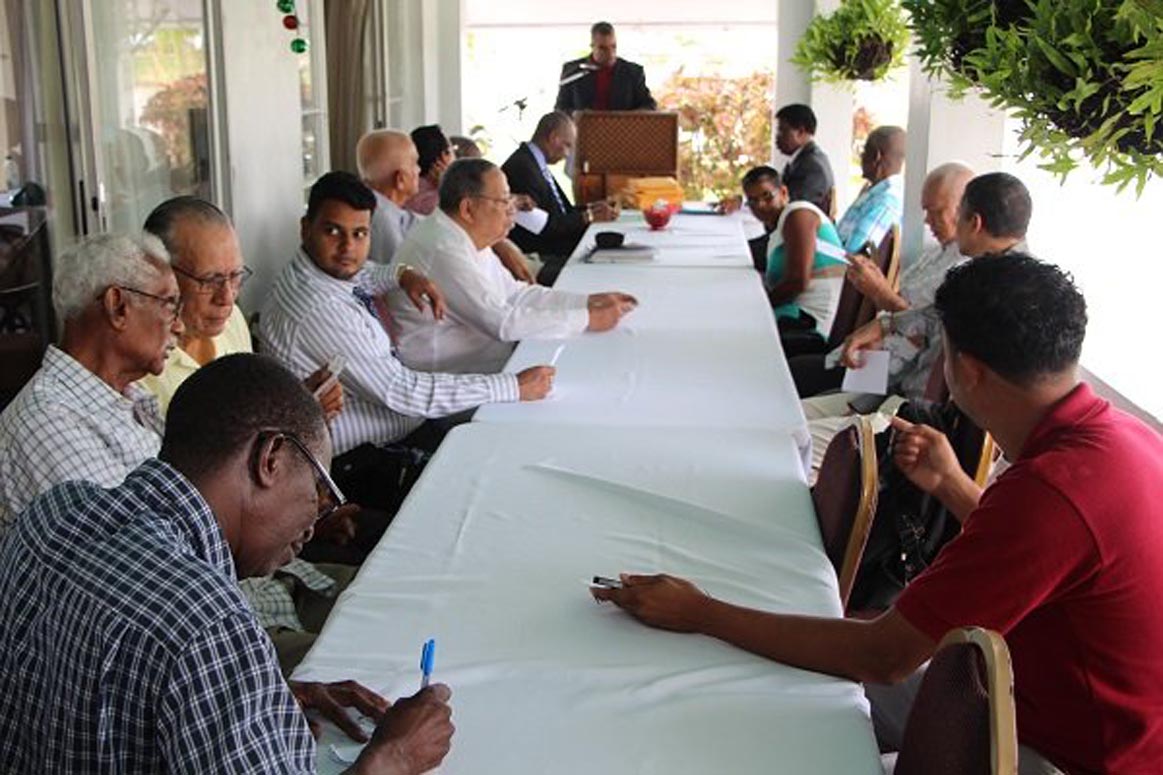 Georgetown, Guyana – (November 25, 2015) The new officers who would be serving on the Guyana Association for Professional Surveyors were today installed by Minister of State, Joseph Harmon. The officers include, President, Eric Monize, Vice President, Ms. Carol James, Treasurer, Tedwyn Roach and Secretary, Mr. Everson Mc Kenzie.
At the installation ceremony held at Herdmanston Lodge, Queenstown, the Association presented some long standing surveyors with awards in honour of their service to Guyana.
Minister Harmon acknowledged the fact that even in today's modern society conflicts continue to arise, relating to lands that are not properly demarcated. "…An inch makes a difference; there is and there will always have to be boundaries defined."
A section of the awardees who were honoured at the luncheon held at the Herdmanston Lodge.
The Minister described surveyors as "measurement specialists"; reiterating that accuracy is a very important trait when practicing in this profession. "You have played an integral part in the formation of settlements across the country, your services are well documented, the country owes you a debt of gratitude," he added.
As the Minister commended the veteran surveyors for their role in the development of Guyana, he noted that their wealth of experience and knowledge is still needed.
"The country will continue to need men like you that is why the passing of knowledge is important. Your talents, experiences and knowledge should be harvested and documented and therefore used as the basis for all land development planning in this country," Minister Harmon said.
He added that the administration will continue to seek guidance from the association and its members as they move forward with land-use policies and strategies which will be used to develop the country. "You will continue to receive the support of the administration and all of the people of Guyana," the Minister assured.
Meanwhile among those honoured at the event were: Mr. James Kranenburg who dedicated some 50 years of his life to being a professional land surveying, George Chuck-A-Sang, Patrick Woolford, and George Matthews.