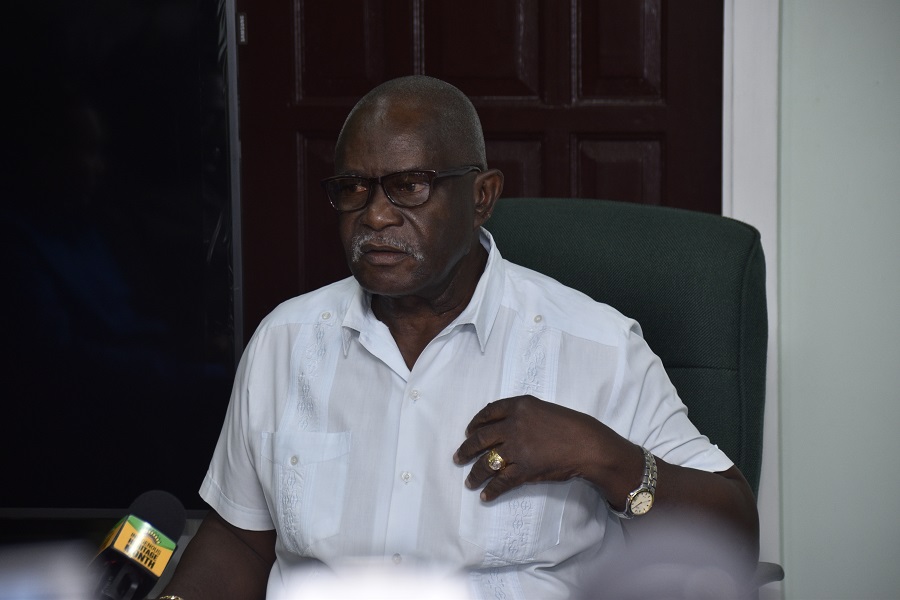 Georgetown, Guyana – (November 19, 2015) Minister of Citizenship, Winston Felix, has uncovered a series of corrupt practices, which had existed in the areas of birth registration and immigration under the former administration.
In an invited comment today, Minister Felix, justified the need for a Ministry of Citizenship, noting that the issues, which have to be fixed are numerous and deserve all the attention and resources available. He stated that the system for making these services available to citizens, corruption was allowed to run rampant under the former administration and it is now his task to clean up the confusion which exists.
Minister Felix also took the opportunity to respond to allegations made by former Minister of Home Affairs under the previous administration, Gail Teixeira, that as Police Commissioner, he had failed to act on reports of fraudulent activities at the General Registrar's Officer (GRO). Minister Felix said that it was an attack on his character and a blatant lie.
"She wants my tarnish my reputation. Nothing can be further from the truth. I do recall that during my time as Commissioner of Police, they were numerous reports of false birth certificates which were being pursued and they were being discovered at a certain foreign mission in Guyana… My recollection of events goes like this; Matters were reported in relation to the passports and birth certificates. Investigations were conducted, it was sent to the [Director of Public Prosecution] DPP in various cases and charges were recommended. They were placed before the courts but it failed because the witnesses who came from the foreign mission failed to attend court and their appearance could not have been enforced because of diplomatic immunity," he explained.
He said this was explained to Teixeira at the time and as such, he is now challenging her to bring forth any evidence, which can prove that "there was a dereliction in me carrying out my duties at that time."
Minister of Citizenship, Hon. Winston Felix
Birth Certificates
In his current capacity as Minister, Felix noted that there is significant work that needs to be done in a number of areas. On the issuance of Birth certificates, Minister Felix disclosed that it has been discovered that the process for late registration of births was entirely disregarded under the former regime, especially in the hinterland regions of the country.
"The late registration had a procedure to follow. The law gives you one year after the birth of the child to apply for a birth certificate. If you appear after that, you have to go through a late registration procedure, which includes producing health records, an affidavit, siblings and having people in the area endorsing your claim. That was the standard laid out. What happened is that I've discovered in the hinterland areas, that this process was significantly watered down. There was rapid late registration of the residents in those areas as against those on the coast," Minister Felix disclosed.
He suggested that this may have been done to adjust the list of registered adults, since many of the new registrants were often way past the age of 18.
"For Regions 1, 7, 8 and 9, in 2010, there were 3,588 registrations, 2011- year of elections- 4,659, 2012 there were 3,240, the year 2013 had 2,777 and in 2014, there were 3,510 registrations. So when we heard stories questioning the size of voters list in these areas, in times gone by we can attribute at least part of it to what appears to be a favoured situation for persons needing late registration in these areas. It was open to rampant irregularities," the Minister of Citizenship said.
He said that overtime, foreign missions and embassies here, had been questioning the validity of the birth certificates issued since in some cases, the reproduction of these were done by private entities under the former administration and most times, the original could not have been differentiated from the pseudo document.
To this end, the Minister declared that the government was working on ensuring that these instances are reduced by way of taking full responsibility for the printing.
"That is why we are now seeking to ensure that we have complete control over the production of birth certificates. In the past, certain entities printed the certificates and you could not tell the fake one from the genuine one because apparently they would assume that it came from the same press. So we are trying to ensure that as much as possible, we will be removing private entities from the production. We have put out a Tender for the digitising of our records from as far back as 1869 and once we complete that, then we will be able to print birth certificates, using paper that is not easily accessible," he said.
Minister Felix further added that upon assumption of office, he received numbers complaints of corruption at the GRO where it is alleged that staff members were facilitating dishonest requests.
"That system is being cleaned up and properly monitored and supervised to reduce the instances of corrupt practices to take place. Outside of those, birth certificates are in demand and what we are doing is to make the office less available to the public by having applications made through the post office. The more crowded it becomes, is the more demands for dishonest practices you would have," the Minister of Citizenship related.
While noting that no evidence has yet surfaced on any visa racketeering or any such related activities, Minister Felix pointed out that possible avenues for such behaviors have been identified. "And I can assure that if we found any such activity taking place, we would take action," he declared.
In the case of naturalisation, Minister Felix noted that some changes can be expected in this category since he believes Guyanese citizenship was being handed out too freely under the former administration.
"Guyanese citizenship is just granted like that. Our government will introduce some sort of test under naturalisation. I think before any applicant is granted citizenship, they must pass a written examination, be able to speak English, they must understand and appreciate our history. Our culture must be appreciated and I would think that is the direction we should move in very shortly," he outlined.
Immigration Policy
Alluding to the recent cases of illegal entries at the Cheddi Jagan International Airport (CJIA), Minister Felix said that the Government will not condone non-adherence to the country's laws and regulations and as such, will be implementing stringent measures.
"We have always had a law on Immigration but over the years, there was a breakdown. We are going to enforce the law. We have come and found an untenable situation, which needs remedial actions and we are going to implement those. Under this administration, we will not have those same practices as were there before," the Citizenship Minister declared.
Long Term plans
Declaring that no citizen deserves to stand in a line from morning to noon to acquire a passport, Minister Felix said that there are plans to revamp this processes and this will be implemented within the next five years.
These include achieving 100 percent birth registration, opening online applications for birth certificates and passports, digitising records and a clamp down and eradication of corruption at the GRO. "We inherited it all but we are working to fix it. This Ministry has been set up to give particular focus to areas to which the Minister [of Public Security] may not have total oversight of because of the other issues affecting the internal security of the state. It was essential that these areas be separated so that we don't make the mistakes of the past," he said.