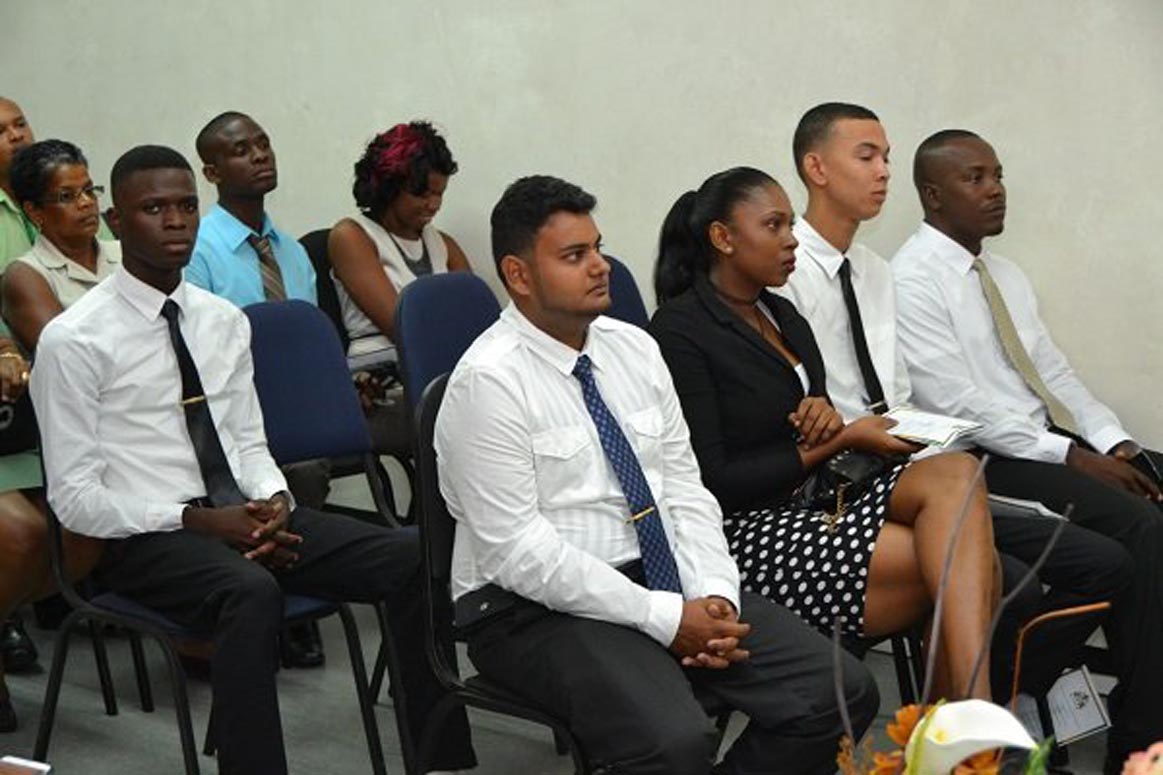 Georgetown, Guyana – (November 16, 2015) As five new Surveyors were recognised for passing the the 2015 Sworn Land and Survey Examination in a simple graduation ceremony, earlier today, they were reminded of the importance of integrity and service with humility as they venture into their new careers. This call to the five, who took their oath of office at the ceremony, came from Minister of State, Joseph Harmon, as he delivered the charge. The Sworn Lands and Survey examination is administered under the Land Surveyors (Profession) Act No. 4 of 2014.
Even as he congratulated the new surveyors, the Minister pointed out that there is a need for a review of this process, as the current 15 percent pass rate for the examination is not acceptable. A total of 32 persons wrote the examination. However, only five passed. Nonetheless, Minister Harmon told the graduates that while they have completed what he deems a "serious process" the real work has now begun. He urged them to ensure that their work adds to the credibility, which citizens expect from Guyana Lands and Surveys Commission.
Speaking of his experiences as a practicing lawyer, Minister Harmon said it is important for surveyors to carry out their duty with a high level of "exactness". "It is important that you do your work right. I have seen the amount of trouble that can be caused if a surveyor fails to do his or her job right," Minister Harmon said.
The graduates were also called upon to observe the Standard Operating Procedures outlined by the Lands and Surveys Commission. "Every time you deviate from that, you create a problem. Understand [the Standard Operating Procedures] and stick to them, as this is the only way the public will have confidence in the service," Minister Harmon added. Equally important, the Minister pointed out, is the need for individuals in this profession to conduct themselves with the highest level of professionalism.
"When you do your work you are professionals, but you have to display a level of humility. We serve the public… Conduct yourselves honorably. Do not accept bribes. People will do that and when they do that they are challenging your integrity and all that you have learnt and you have to rebuke them. You have to show that you respect your oath," Minister Harmon told the graduates.
Meanwhile, this year's Valedictorian, Elton Prashad, who spoke on behalf of his fellow graduates, expressed his gratitude for the patience exhibited by the trainers, leading up to the examination. Prashad said there were times, like many of his fellow graduates, he felt like quitting but the encouragement he received from tutors was always a motivating factor. Prashad also vowed to carry out his duties with credibility and sound professionalism within the framework of the Commission so as to keep the good name of the commission intact.
The five graduates who completed the 2015 Sworn Lands and Surveys examination.