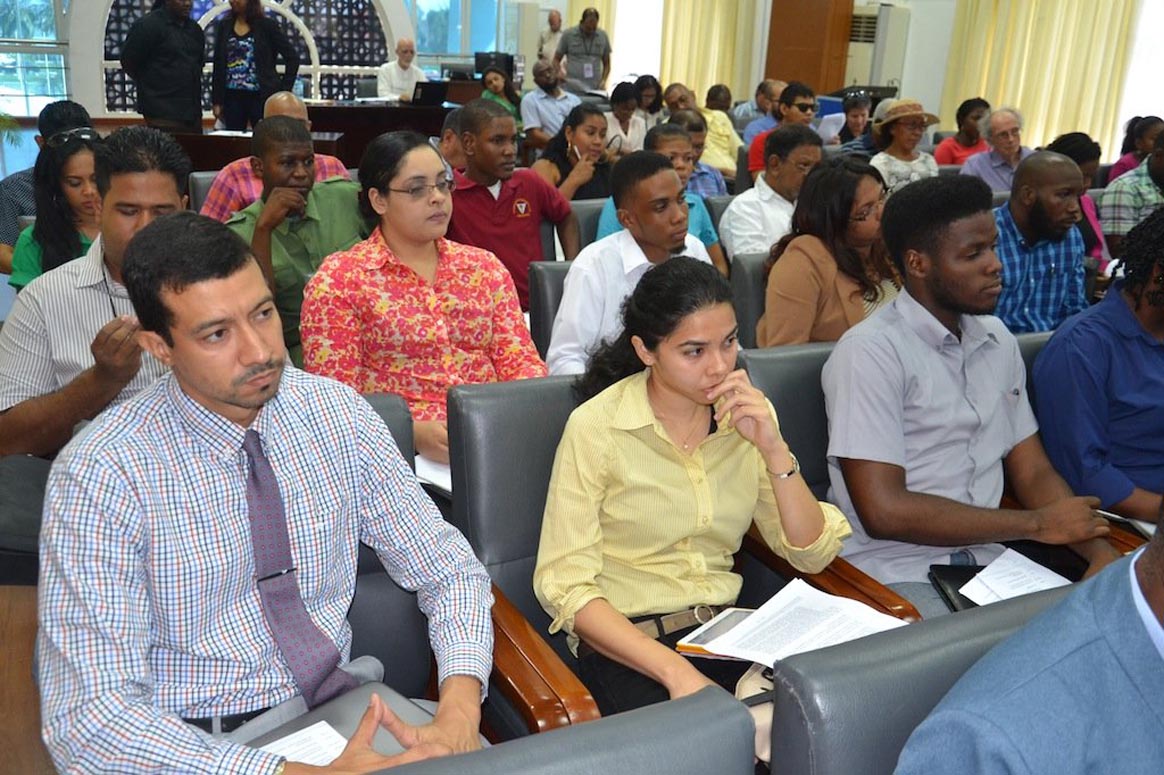 Georgetown, Guyana – (November 14, 2015) The Department of Natural Resources and the Environment, today, hosted another public consultation on the position that Guyana will be advancing at the upcoming annual Conference of Parties (COP 21) climate negotiation to be held in Paris, France, as well as the Intended Nationally Determined Contribution (INDC), which the country will be submitting there. The event was held at the Arthur Chung International Convention Centre (ACCC) at Liliendaal.
The first consultation was held in September and some of the comments and recommendations that arose out of that forum were incorporated in the document. Today's activities were aimed at garnering additional feedback and support for the complete and final position that will be taken to Paris.
In his opening remarks, Minister of Governance, Raphael Trotman said that climate change, environmental protection and impact mitigation must not be treated with a cursory glance, but rather it must be embraced by all stakeholders.
"It is in Guyana's best interest that we stand united and confident in what we have to offer the world and we seek to protect for the generations of Guyanese to come… We are, therefore, gathered today to do justice to our individual and collective responsibility to our environment, our nation's patrimony and world as we consult on Guyana position on climate change and the INDC," the Minister said.
Guyana's delegation to COP 21 in early December will include government officials, civil society, indigenous groups, and youths.
The Minister informed that Guyana is at the end of the first phase of its agreement with Norway and is keenly interested in strengthening this relationship, which is beneficial for all Guyanese. In this regard, the country has already signalled to Norway, its intentions to have discussions on the possibility of extending the existing agreement. The Norwegians have agreed to have these discussions, in a meeting slated to be held on December 8 in Paris.
"The safeguarding of our forest will make a tremendous difference on climate change impact within the next decade. Therefore, there is an urgent need for Guyana and all countries to undertake policies and actions that are sustainable and are respectful of the environment," Minister Trotman said.
Meanwhile, Guyana's Lead Negotiator on climate change issues, Mr. Andrew Bishop, in his presentation, outlined some of the possible setbacks that Guyana could be confronted with at COP 21. He explained that if the deal that is agreed on is weak, Guyana will have to decide whether a bad deal is better than no deal.
A section of the participants at the public consultation at the Arthur Chung Convention Centre
Greenhouse gas emissions have been rising rapidly over the last 200 years compared to the period before that and this has caused a rise in temperatures.
Mr. Bishop explained that the INDC is designed to quantify what each country is prepared to do to reduce emissions. The Guyana INDC is proposing to reduce the greenhouse gas, carbon dioxide by targeting specifically, the forestry and energy sectors. The country will utilise a combination of conservation and sustainable management of its 18.48 million hectares of forests in the fight against the negative effects of climate change.
COP21 will, for the first time in over 20 years of UN negotiations, aim to achieve a legally binding and universal agreement with the aim of keeping global warming below two degrees celsius. However, Guyana's Lead Negotiator is contending that as a vulnerable country, which is dangerously below sea level, 1.5 degrees celsius would be a better target for this country.