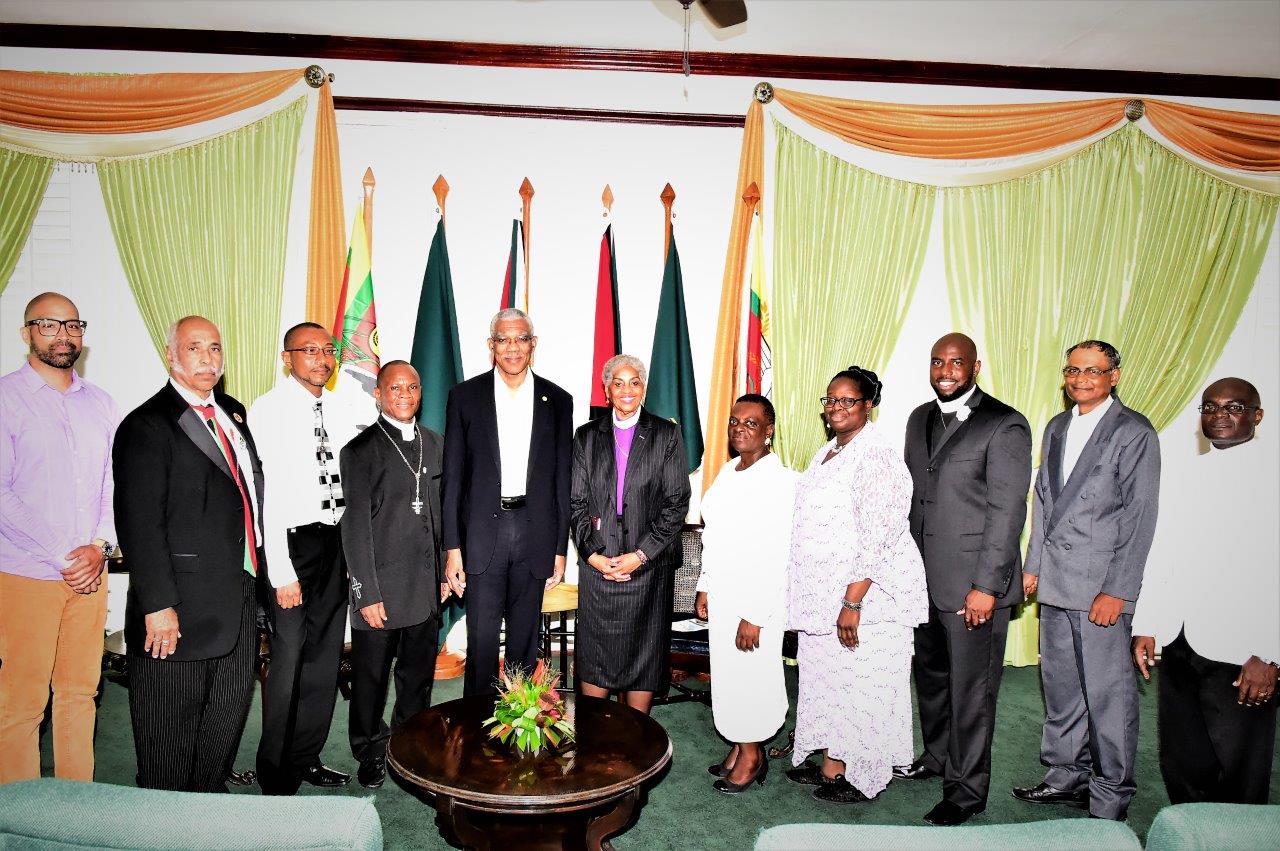 Georgetown, Guyana – (November 8, 2015) On a day set aside by Commonwealth Nations across the world to remember and honour the memory of the brave men and women of the armed forces, who died in the line of duty, President and Commander-in-Chief, Brigadier David Granger announced the return of a fixed annual State subvention for the Guyana Veterans' Legion. This announcement was received with loud applause from a packed room of mainly ex-servicemen and women at a Remembrance Day reception organised by the Legion, at Coghlan House on Carifesta Avenue.
Several cheques were handed over to the organisation inclusive of promised unpaid subventions in the sum of $1.5M, a contribution of $300,000 from the Office of the Prime Minister, $1M from President Granger as patron of the Guyana Veterans' Legion, $1M for the repair and maintenance of Coghlan House and $1M for the National Veterans' Rest Home in Lamaha Springs to offset expenses. This brings the total to $4.8M, which will help to improve the quality of life of veterans.
Heads of Foreign Missions- from left: Chilean Ambassador, Claudio Rachel Rojas, US Ambassador, Perry Holloway, Indian High Commissioner, Venkatachalam Mahalingam, British High Commissioner, Greg Quinn and Canadian High Commissioner, Pierre Giroux
"We do not see this as a reward for past services. We see it as an investment in the future, so that young entrants in the Defence Force must know that they can look forward to a comfortable and dignified retirement," the President said.
In addition to financial assistance, the President outlined several initiatives, which his Government will be implementing to ensure that veterans are given their due. This includes the convening of the National Veterans' Commission on November 21. This Commission will be tasked with examining the conditions under which veterans are living and working and making recommendations for improvements.
A Veterans' Trust will be established to raise funds for the continuing education, training and resettlement of veterans following retirement. It will also seek to procure for veterans land for housing and agricultural purposes.
The Veterans' Department, which has already been established at Base Camp Ayanganna, will be staffed and equipped to ensure that veterans and their families receive their entitlements from the State in a timely fashion. All of these entitlements and benefits will be consolidated with the passage of comprehensive legislation.
President Granger said that the Veterans' Act will ensure that the entitlements of soldiers and their families are guaranteed and secured under law. "The State acknowledges and accepts its obligation to assist our veterans to ensure that they, too, can enjoy a good life. The State will help to open opportunities for veterans when they leave active military service," he said.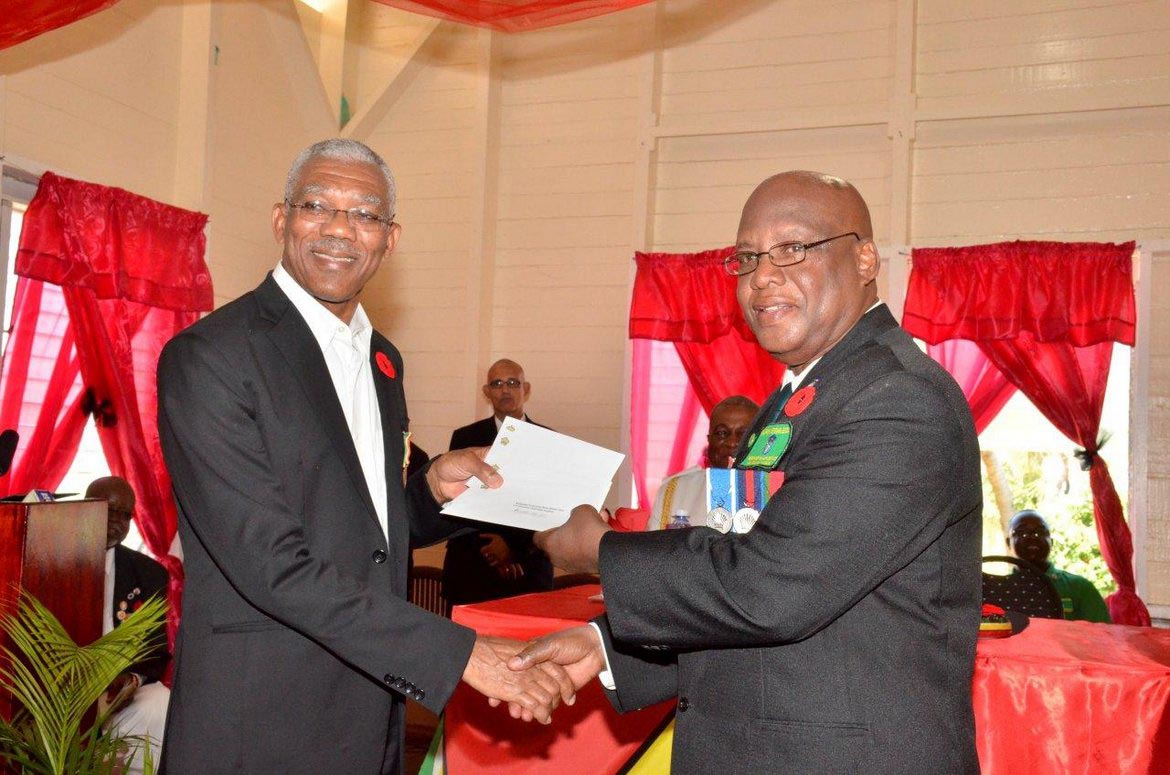 President David Granger handing over cheques in the amount of $4.8M to President of the Guyana Veterans Legion, Lt. Col. (ret'd), George Gomes
President of the Guyana Veterans' Legion, Lt. Col. (ret'd), George Gomes said that the greatest service a person can give to their country is to serve in its military. He said that as the aging process begins to take its toll on surviving veterans, there is need for institutionalised veteran care.
Meanwhile, British High Commissioner, Greg Quinn, who also delivered remarks, said that it is important that countries continue to honour the memories of those who sacrificed their lives so that future generations can live in peace. "They have not and must not have died in vain," he said.
Remembrance Day, also known as Poppy Day, has been observed by Commonwealth Nations since the end of the First World War.