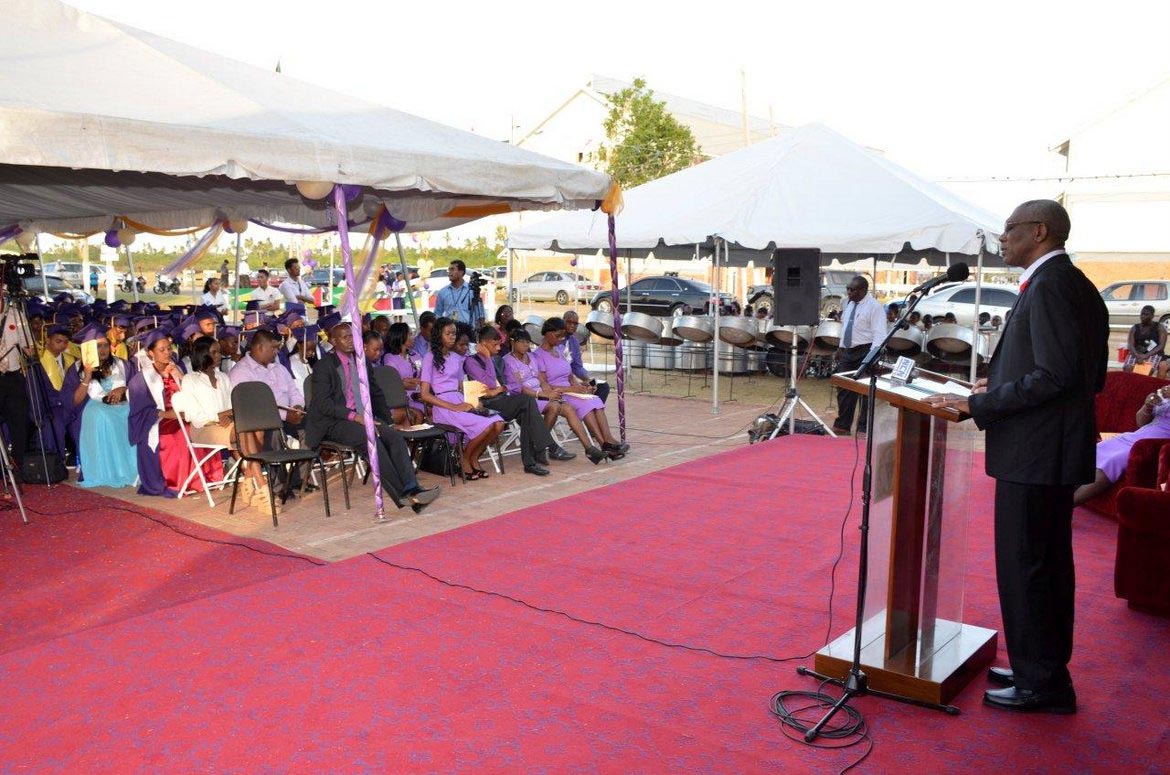 Georgetown, Guyana – (November 05, 2015) "If you want to preserve your independence, you have to be eternally vigilant. Similarly, if you want to protect your careers, your reputation, your future you have to be continuously educated and re-educated." This was the charge given by President David Granger to the 2015 graduating class of President's College, earlier today.
In his remarks, the President spoke of the need for a "second independence", which he says will free citizens from dependency, discrimination, domination and abuse of their rights and freedoms. "This College, by celebrating this rite of graduation of young adults, reaffirms the faith that the founders of this nation …placed on the value of education," the President said.
President David Granger as he addressed the President's College graduating class of 2015, earlier today, where he spoke of the need for a "second independence".
Referencing the advancing communication and technological age, the President called for a stronger focus on science and technology to meet the development needs of Guyana, as well as to ensure that the country keeps up with the rest of the world. He said, "Many small countries like ours, with highly educated societies, have been successful in providing a higher quality of life for their citizens."
In this light, the Head of State iterated the need for a new approach to public education if Guyana is to succeed and compete in this highly technological world. This new approach, he said, must emphasise science, technology, engineering and mathematics, (STEM). "Guyana cannot progress in this modern world without mastering modern communications technology. Global problems; such as combating the adverse effects of climate change and finding cures for epidemic diseases, cancers or viruses, all demand scientific solutions and we have to produce scientists who can solve these problems."
Even as he reflected on Guyana's Independence in 1966, President Granger said that declaration merely replaced the physical images and removed the legal symbols of foreign dependency. That Independence movement, he noted, was incomplete. "It left many citizens in the new state languishing in the shadow of dependency, with its poverty, prejudices and political partisanship. There must be change," the President said.
The graduating class was also reminded that Independence and education are not free. Both, the President said, must be persistently sought after and jealously guarded.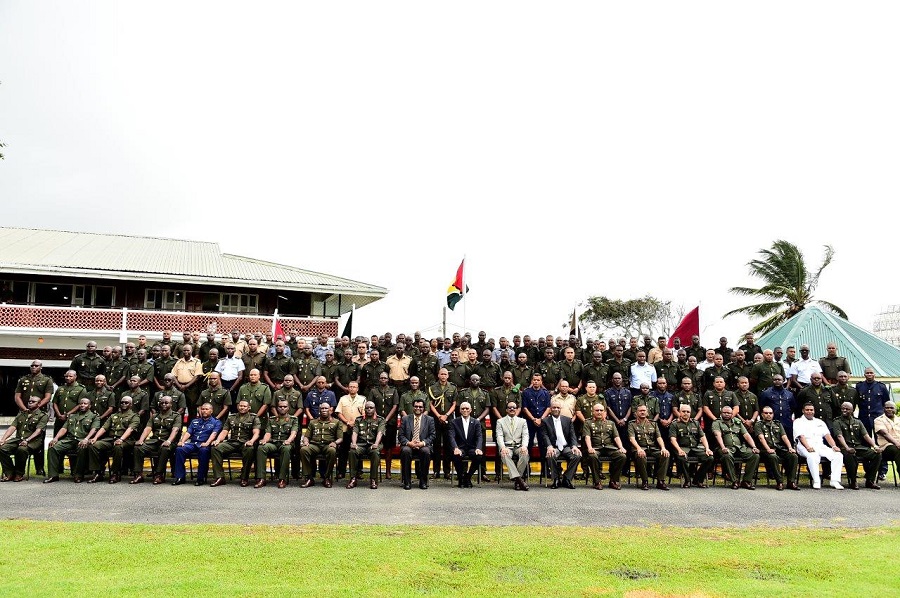 A section of the President's College graduating class of 2015.
While speaking on the new approach, the President said, President's College, like other colleges in Guyana, will be assured that it will remain an institution of excellence. He stressed that no college student anywhere in Guyana should ever again be forced to fetch water to wash, or to fetch wood to cook.
"Wells should never be allowed to run dry. Classrooms and dormitories should not suffer power outages. Play fields must be used for sport, not as cow pastures. Computer and science laboratories and technical workshops must not become junkyards. Libraries must not become museums," the President lamented. These statements were made in light of deteriorating conditions at the college over the past decade.
Meanwhile this year's valedictorian, Ms. Alicia Hartman, speaking on behalf of the graduating class, spoke of how honored she and her fellow students are to have been a part of such a noble learning institution. She said it was at this institution, where she was challenged to appreciate diversity and was instilled with the values of humility and service to all.
"After the past seven years I could firmly state that this institution is exceptional and the experience I gained here is incomparable with that of any other," Alicia said. She added that President's College presented her and other graduates with alternative areas of inquiry, and helped them appreciate the value of education through a unique perspective.
More importantly, Alicia said that it was during her five years at the college that she began to recognise the truth in the quote "be more concerned with your character than your reputation", since one's character is what a person really is, while reputation is merely what others think of you.
Also on the occasion, Mr. Lumumba Angoy, Treasurer of the President's College Alumni Incorporated, while delivering the charge to the students, reminded them that their years at the institution was impacted by the vision of founder and former President of Guyana, Forbes Sampson Burnham, who envisioned that the school would mold the minds of the nation's leaders.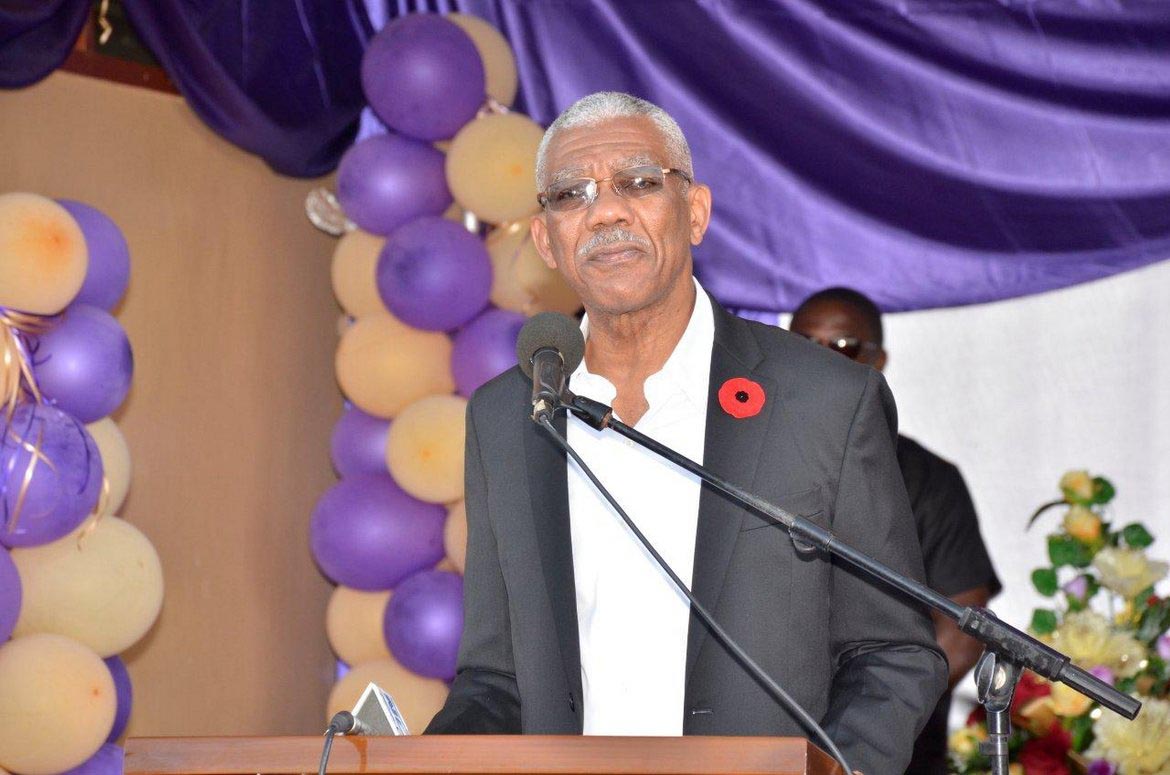 President David Granger delivering his remarks
"You must understand that the high price of your education has created in you high value and whenever a high price precedes high value, high returns are expected," Angoy said.
This year, 30 students graduated, having successfully completed the Caribbean Advance Proficiency Examination (CAPE) and 92 graduated having completed the Caribbean Secondary Education Certificate (CSEC). This year the school secured hundred percent passes at CAPE in Agricultural Science, Art and Design, Biology, Entrepreneurship, Food and Nutrition, Geography and Environmental Science.
This year's top CSEC performers are Nurendra Gopaul who secured ten grade ones, Premeshwar Ramnath who also secured ten grade ones, and Venise David who secured eight grade ones and three grade twos. Nurendra and Premeshwar shared the Best Graduating students' prize.
Notably over the last three years the school's matriculation rate has significantly improved as in 2013 the rate stood at 50.7 %, 2014; 77.9 and 2015, rose to 82.11. These figures reflect the number of students who gained five passes and more, inclusive of mathematics and English at CSEC.