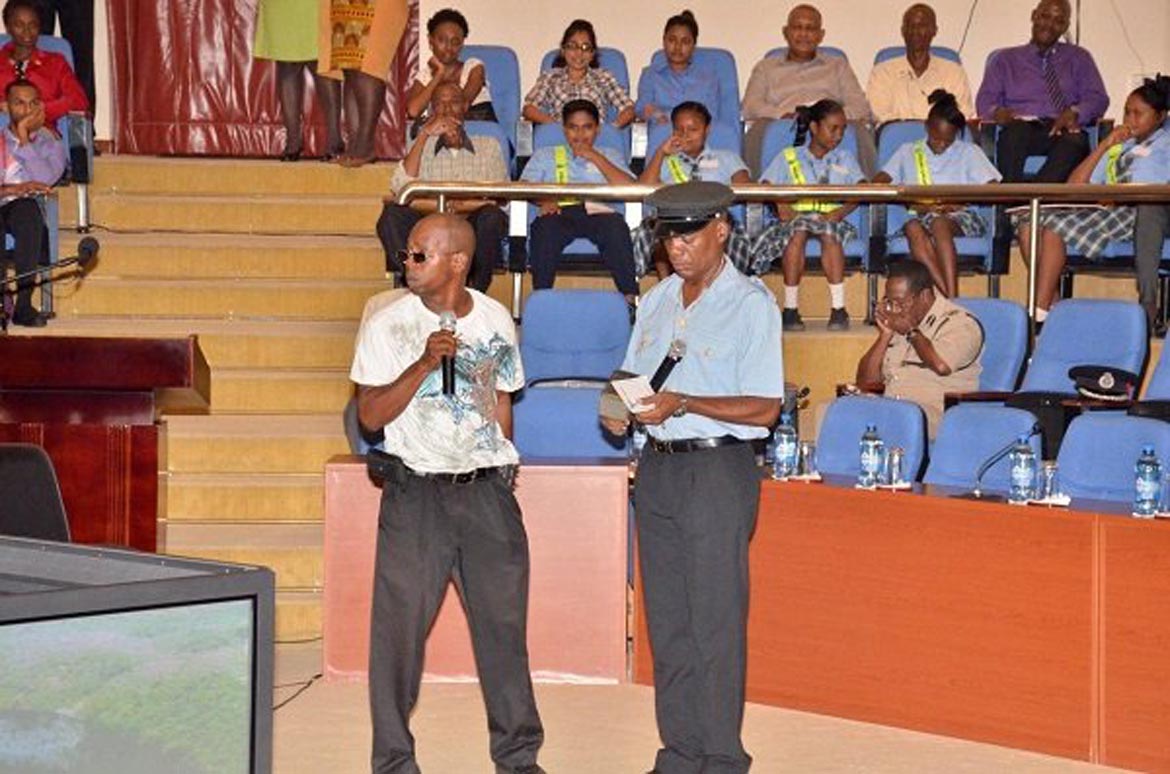 Georgetown, Guyana – (November 4, 2015) President David Granger today outlined a plan of action aimed at reducing road fatalities in Guyana. Additionally, Guyana is committed to contributing to the achievement of the United Nations (UN) Sustainable Development Goal number three, which has as one of its targets halving the number of global deaths and injuries from road accidents by the year 2020. The President said that the time to bring order and sanity to Guyana's roadways has arrived. The Head of State was at the time delivering the feature address at the official launch Road Safety Month 2015 at the Arthur Chung Convention Centre (ACCC), Liliendaal.
An integral aspect of the three-point plan focuses heavily on the enhancement of infrastructure around the country. President Granger said that Guyana has public roads, not highways, with the Linden-Soesdyke highway, to some degree, being the only exception. This means that most of the roads are situated in heavily populated areas. Additionally, encumbrances such as shipping containers, roadside vendors' stands, derelict vehicles and stray animals must be removed from roadways.
Popular comedians, Lyndon "Jumbie" Jones and Henry Rodney performing a skit in keeping with the theme of Road Safety Month
"Traffic lights must be in working order and configured to allow for the smooth and orderly flow of traffic. Our major public roads must have road lighting to improve safety… Our roads must be re-engineered, where possible, to ensure that they are fitted with sidewalks, pavements, pedestrian crossings and in some cases equipped with bicycle and pedestrian lanes. Road markings and signs should be visible. Medians should be built, where possible, to prevent vehicles going to opposite directions ending up in each other's path," President Granger said.
Stricter enforcement of traffic laws is another part of the plan particularly as it relates to loud, distracting music and the use of cellular phones while driving, double and diagonal parking, driving under the influence of alcohol, speeding and overloading of passenger vehicles.
"The even-handed enforcement of our traffic laws will help to promote greater safety on our roads… November should be a month when the nation ponders the more than two thousand of its citizens who died over the past decade and many more who continue to be injured every year," the President said.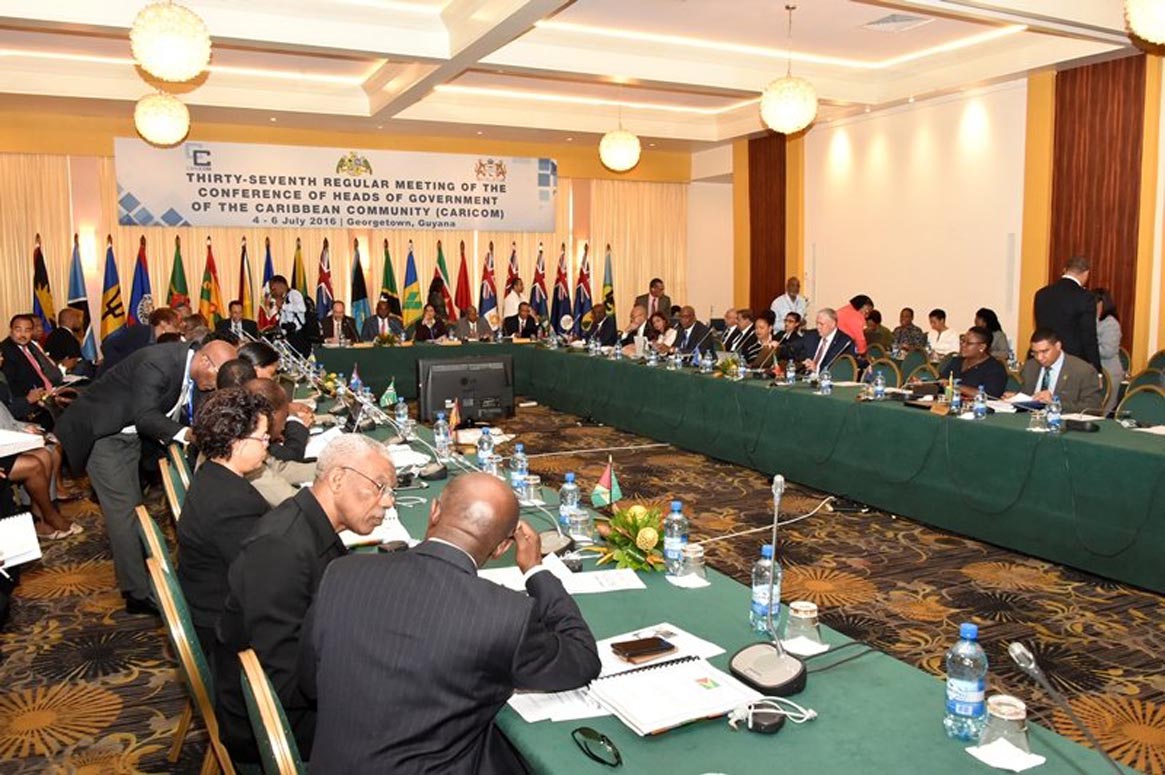 Students of Christ Church Secondary School doing a dramatic piece on the importance of road safety at the launch of Road Safety Month
Education and awareness is the third point, President Granger explained that safe road use must be inculcated in all citizens, especially children. "There is need for greater education to instruct our people, both drivers and passengers, on the dangers of speeding. Our drivers, particularly drivers of mini buses, hire cars and taxis must be re-educated, re-trained and re-certified to enable them to qualify to be responsible for driving vehicles with passengers, as opposed to cargoes, on our roads," he said.
He also emphasised that commercial licences should not be granted unless the applicant has proven their suitability for holding the responsibility for the lives of passengers.
It is estimated that the cost of the medical care of accident victims exceeds more than G$100M per year at the Georgetown Public Hospital Corporation alone. The President said that loss of productivity, loss of earnings of the victims and premature funeral expenses resulting from accidents costs Guyana many more millions annually.
Vice-President and Minister of Public Security, Khemraj Ramjattan, in his remarks, called on citizens to take cognisance of their individual responsibility to ensure safer road use. He said that loss of limbs, lives and property is as a result of the deficit of individual responsibility.
The Ministry has commenced an operation, utilising CCTV cameras, which to date, has captured over 3100 traffic offences. Video clips of these acts of violation are sent to the offending drivers, who are then charged. As a result, over 99 percent of these drivers have accepted a guilty plea and are currently before the courts.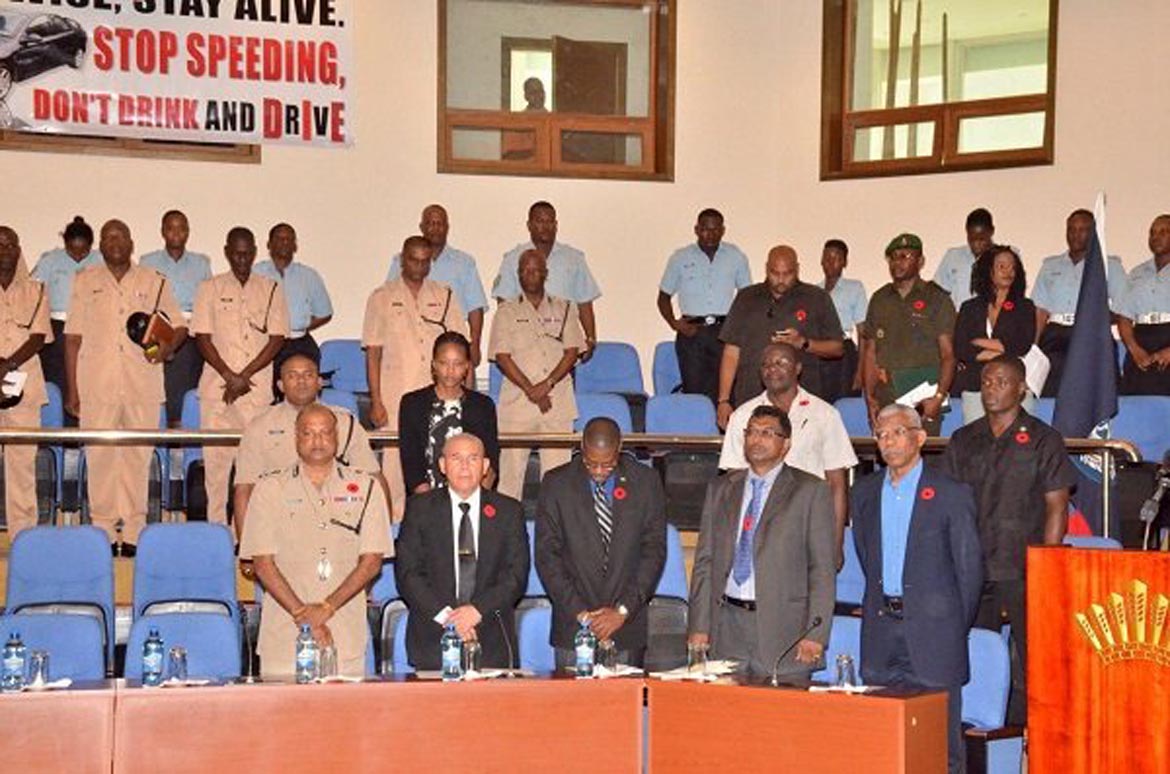 Standing in observance of a moment of silence for all the lives lost in fatal accidents. From R-L- President David Granger, Vice President and Minister of Public Security, Khemraj Ramjattan, Minister of Public Infrastructure, David Patterson, Minister of Public Health, Dr. George Norton and Police Commissioner, Seelall Persaud.
At present, the cameras are only placed in a few streets in the City, but the Government has a long-term plan to ensure that cameras are strategically placed in all parts of Georgetown in the near future.
Minister of Public Infrastructure, David Patterson, explained that there has been a phenomenal increase in the number of motor vehicles on the roadways from 42,329 in 2000 to 110,635 in 2013. This represents an annual average growth rate of seven percent. In addition to animal-drawn carts, peddle cycles, and pedestrians, there has also been a significant increase in the number of motorcycles.
"The increases in vehicular traffic took place with little or no improvement in the capacity of both urban and rural roads along with no improvement in pedestrians and cyclist facilities," Minister Patterson said. He also spoke of the need for empirical evidence that links road accidents to the use of used tyres on vehicles.
Speaking from a health perspective, Minister of Public Health, Dr. George Norton described road fatalities and injuries as a preventable global health problem. He informed that statistics from the World Health Organisation indicated that 1.2 people die annually in road accidents; while 56 million suffers injuries.
He added that the Ministry of Public Health will continue to work closely with the Pan-American Health Organisation and the National Road Safety Council to intensify awareness activities.
The education sector is another major partner in the cluster of agencies that are responsible for advocating safer use of the roadways. Advisor to the Minister of Education, Vincent Alexander in his remarks said that the Ministry will be working to ensure that speed bumps are erected in the vicinity of all schools in Georgetown in the initial phase, while the same will be done across the country in the medium term.
Acting Chairman of the Guyana National Road Safety Council (GNRSC), Frank Pompey, informed that statistics compiled by the Traffic Department revealed that in 2012 there was 102 accidents, which resulted in 117 deaths; 2013-103 accidents-122 deaths; 2014-92 accidents-111 deaths and thus far this year, there have been 84 accidents which resulted in 100 deaths.
Assistant Secretary General of CARICOM, Dr. Douglas Slater, Traffic Chief, Supt. Dion Moore and Dr. William Adu-Krow of PAHO-WHO also spoke at the event.
This year, Road Safety Month is being observed under the theme, "Be Wise, Stay Alive, Stop Speeding, Don't Drink and Drive."