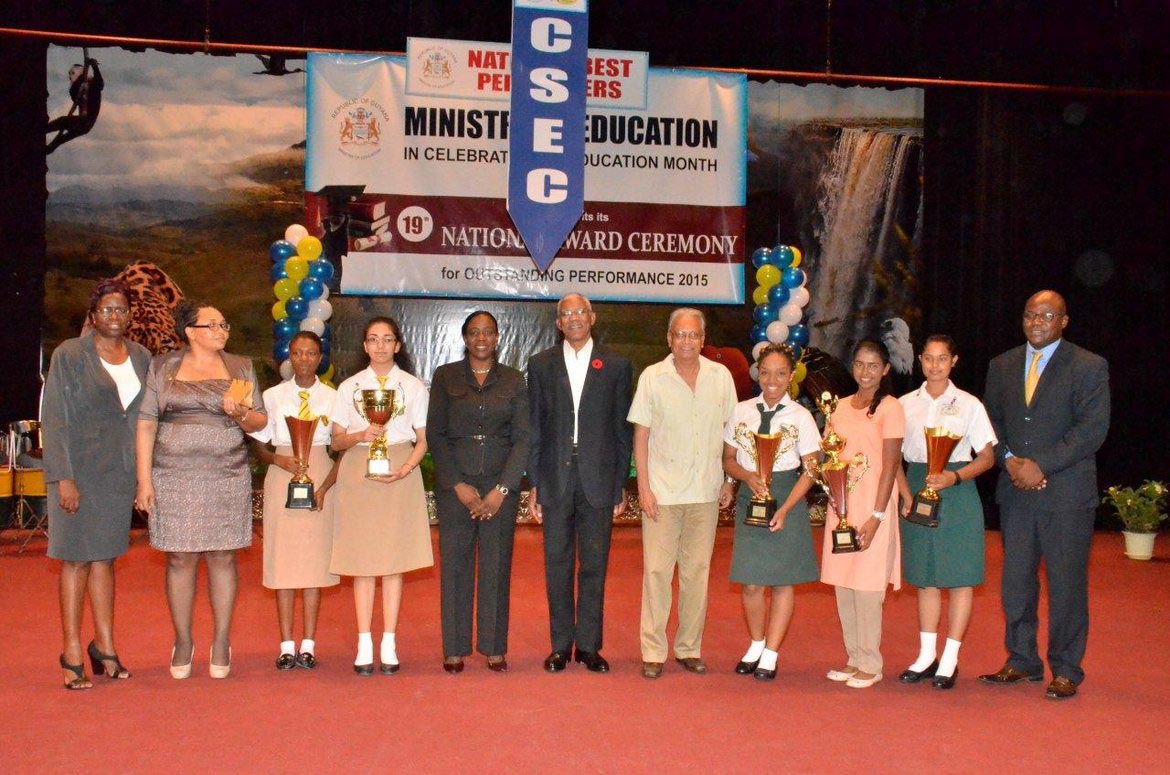 Georgetown, Guyana, (October 29, 2015) – President David Granger, today, underscored the need for a reshaping of the education policies in this country in order to address the decline in the education system and reduce existing disparities. Speaking at the Ministry of Education's 19th annual National Award Ceremony for students who have excelled in 2015, the President announced a national policy that will focus on universal secondary education, university level qualified teachers and well-equipped schools. The event was held at the National Cultural Centre.
While the President congratulated the awardees and noted that excellence must be rewarded, he said that the success of a few should not be the sole defining feature of the secondary school system. Noting that these disparities are reflected in the performance at national examinations, the President said that it would not be accurate to judge the quality of the educational system by the performance of the top one percent of the population, but rather by the performance of students across the country. The President also warned against allowing the development of educational apartheid.
President David Granger and officials from the Education Ministry with this year's top CSEC and CAPE awardees. From left: Permanent Secretary, Ministry of Education, Delma Nedd, Headmistress, Queen's College, Jackie Benn, who collected the award on behalf of Cecil Cox, Joshanna Hopkinson, Shannon Woodroff, Junior Minister of Education, Nicolette Henry, President David Granger, Minister of Education, Dr. Rupert Roopnaraine, Shonta Noel, Victoria Najab, Aliyah Rasheed and Chief Education Officer, Olato Sam
"Our secondary education system is not universal. It is unequal. It is a rebuke to our belief in equality, inclusivity and a meritocracy….we must avoid and avert the danger of children being separated along lines of gender, social class or geographical location," President Granger said.
To address this, Government policy will focus heavily of ensuring every child attends and completes secondary school. However, the quality of the delivery of education is also an important factor.
"Our school children must be guaranteed inclusive quality education. It is necessary to have properly educated teachers so as to ensure that our children have access to quality education. We will, therefore, place great emphasis on the education of teachers. We would like to ensure that, over the next 15 years, all teachers in our school system are university graduates so that our children can benefit from this education. Teachers must also have the tools to do their jobs", the President said.
The President believes that this teachers first approach, combined with the equipping of every secondary school with well-equipped science and computer laboratories, Information and Communications Technology Infrastructure and libraries, will have a transformative impact of the education sector and the country as a whole.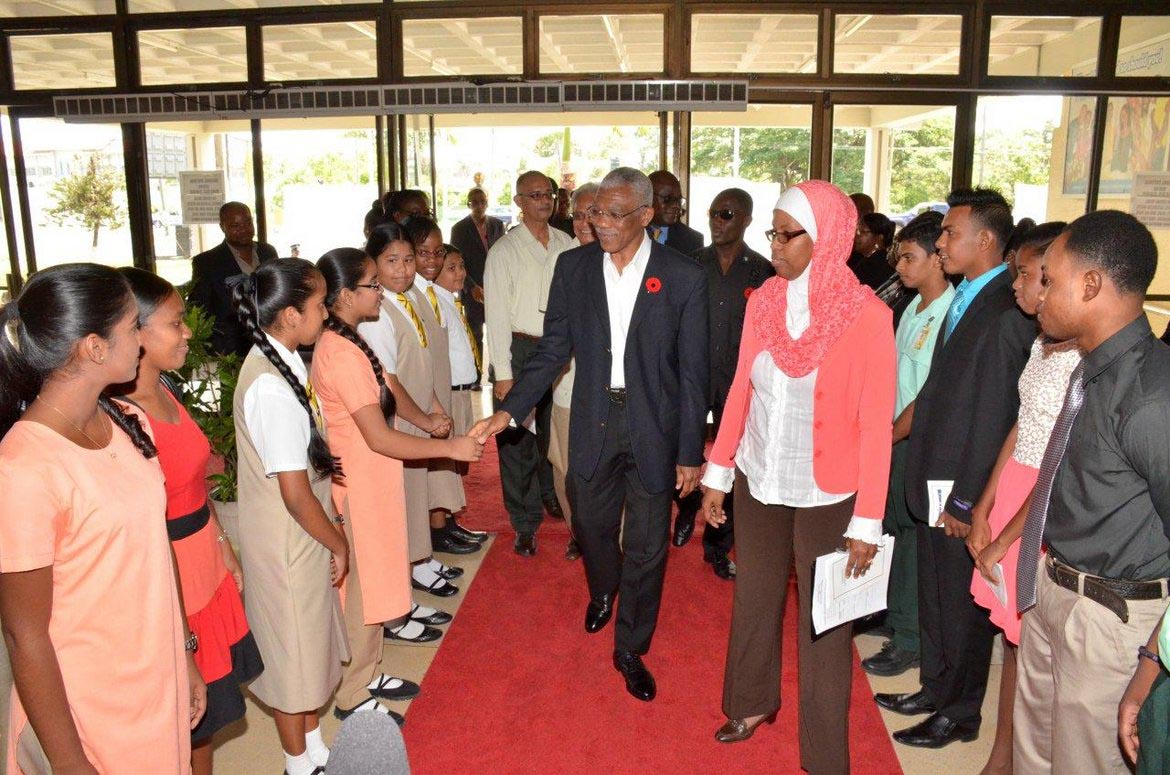 President David Granger being greeted by this year's top performers upon his arrival at the National Cultural Centre

Turning to the awardees he said, "You are products of our educational system. You are exemplars of excellence. You are evidence of the great things, which can be achieved by harnessing the intellectual capabilities of all of our people."
Minister of Education, Dr. Rupert Roopnarine spoke along similar lines with the President. He said that the Government wants to ensure that it produces 21st century Guyanese students. He reminded the academic high-flyers that while their performance are worthy of commendations, this is only the beginning of their journey.
He also spoke of the need for students to receive a well-rounded education which goes beyond classroom lessons. The Minister urged students to get more involved in sporting activities and said that the sports facilities of all schools must be upgraded. Additionally, he called for students to show more interest in music with the formation and training of choirs.
"I hope that by the time our independence anniversary comes around, we would be able to put on a national concert where finalists from the choir competition could perform…examinations are very important…but in the end we want to ensure that the children in our classroom are contented and happy children," Minister Roopnarine said.
Awards were given out to the five top performers at the National Grade Six Assessment (NGSA) level. The recipients are: Soloman Cherai, Shania Eastman, Celine Farinha, Shreya Persaud, and Isabella Hussain.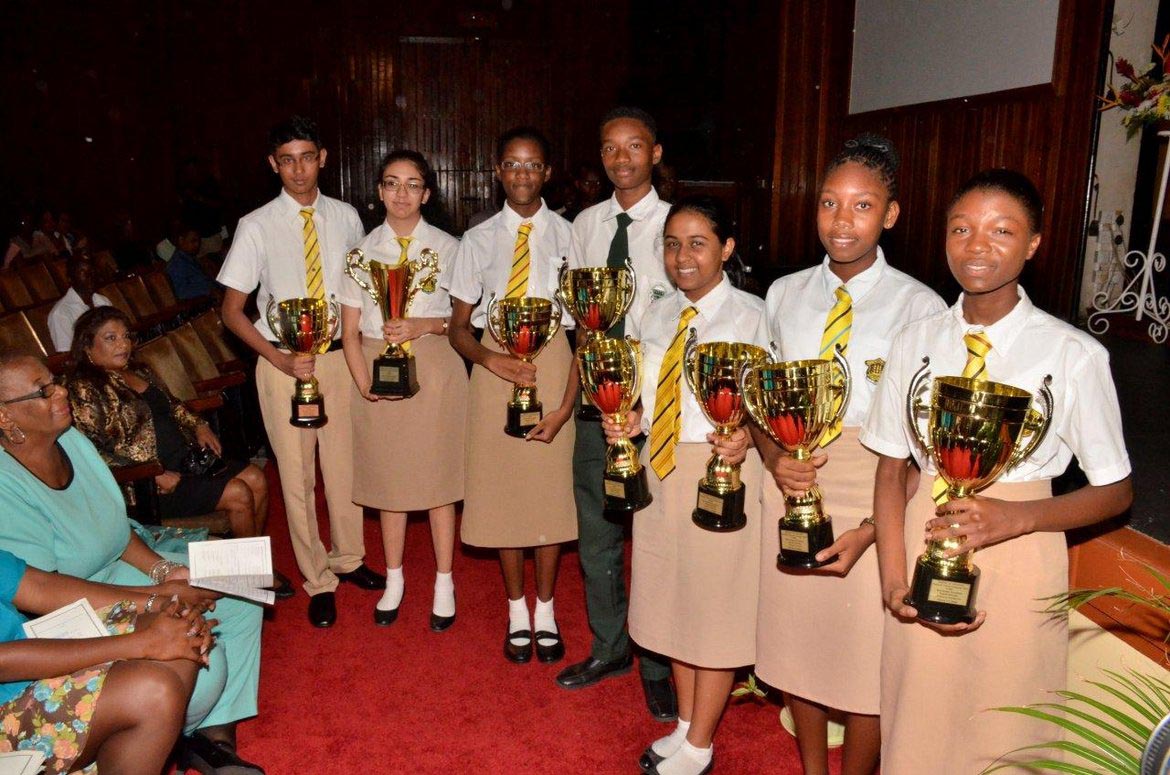 Best senior secondary school performers: Shawn Shewram, Shannon Woodroffe, Paige Carter, Kadesh Daniels, Ashley Anthony, Abigail Somrah, and Joshanna Hopkinson.
Victoria Najab, Vamanand Hiralall and Mohanie Sudama from the Saraswati Vidya Niketan School, Aliyah Rasheed and Jagindra Persaud from Anna Regina Secondary took home the awards for best junior secondary school performers.
The best performers in the senior secondary category include: Joshanna Hopkinson, Ashley Anthony, Abigail Somrah, Paige Carter, Kadesh Daniels, Michael Jagnanan and Shannon Woodroffe from Queen's College and Shawn Sewram from St. Roses High.
Meanwhile, Cecil Cox was named best performer at the Caribbean Advanced Proficiency Examinations (CAPE). Other performers at this level include: Larissa Wiltshire, Sasha Woodroffe and Shonta Noel. Most improved primary school award was copped by Sparta Primary, most improved junior secondary-Fort Wellington and Beterverwagting Secondary schools; and most improved senior secondary was won by Berbice High school.
The first ever Desrey Fox Scholarship Award was presented to Trishel Torres from the Santa Rosa Secondary. Awards were also handed out to the students who copped six of the Caribbean Examination Council's regional awards. These awardees include: Cecil Cox and Shonta Noel for CAPE and Victoria Najab, Joshanna Hopkinson, Shannon Woodroffe and Aliyah Rasheed who were named most outstanding candidates at the CSEC level for 2015.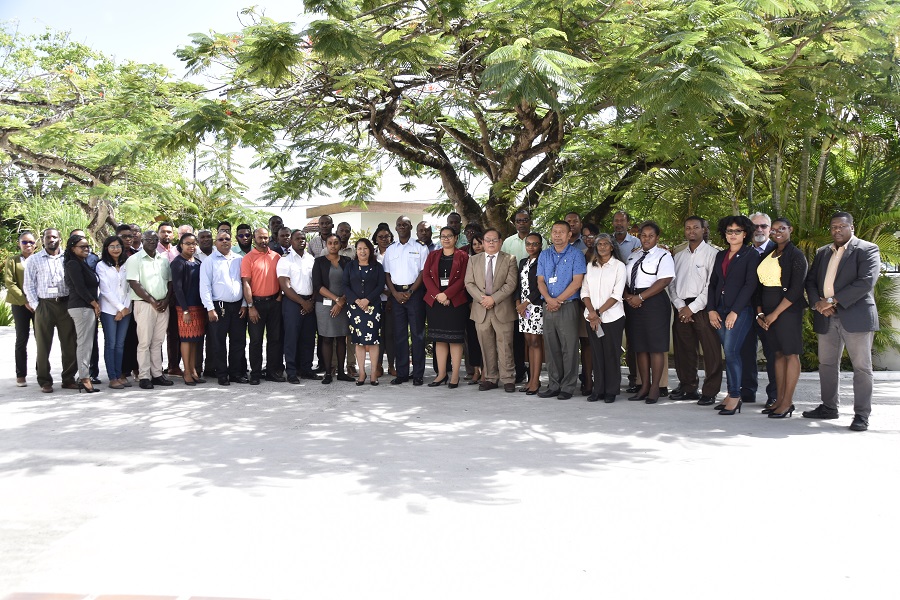 Awardees in the first four rows at the National Cultural Centre

A number of other awards were given out to top performers from the various technical institutes, the Carnegie School of Home Economics and Cyril Potter College of Education.