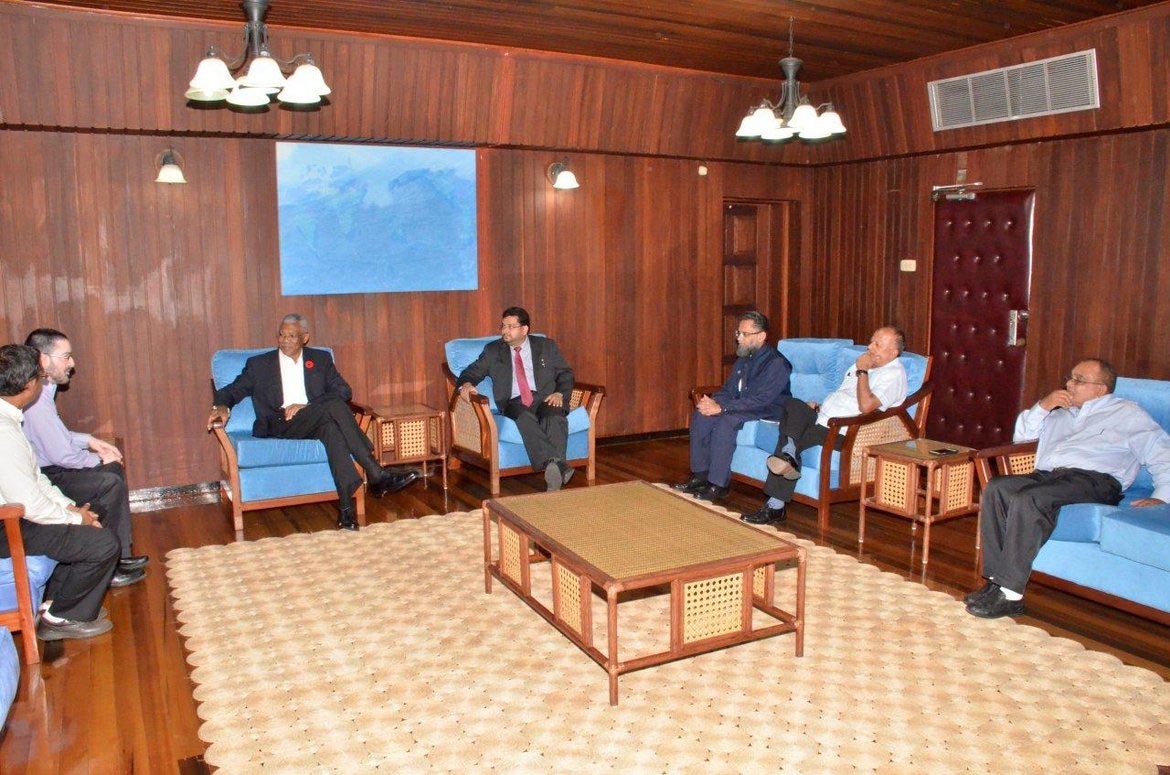 Georgetown, Guyana, (October 29, 2015) – Guyana is looking to expand the list of international financial organisations with which it does business and the Islamic Development Bank (IsDB) is vying to be the newest addition to that list.
Earlier today, President David Granger met with the bank's senior economist, Dr. Salman Syed Ali and its Division Manager of Advisory Services, Yahya Aleem ur Rehman. The officials were accompanied by members of the Central Islamic Organisation (CIOG) Shaik Moen-ul-Hack, Dr. Carl Niamatali, Kads Khan and Fazil Hack. The meeting was held at the Ministry of the Presidency.
During the meeting, the President was updated on the bank's activities in the region and discussions were held on Guyana's potential for financing.
President David Granger in conversation with the visiting delegation at the Ministry of the Presidency
In a brief comment, the bank's Division Manager said, "it was a good discussion. The President was very supportive of the idea. He mentioned that Guyana [has] …identified the priorities of the Government in terms of the infrastructure and the energy sector."
The IsDB is an international financial institution established in 1973 in pursuance of the Declaration of Intent, issued by the Conference of Finance Ministers of Muslim Countries held in Jeddah in the Kingdom of Saudi Arabia, where its headquarters is located.
Its main purpose is to foster the economic development and social progress of member countries and Muslim communities individually, as well as jointly, in accordance with the principles of Islamic law. It comprises of five arms: the bank itself, the Islamic Research and Training Institute, a private sector body, a trade-finance and cooperation body and an insurance arm.