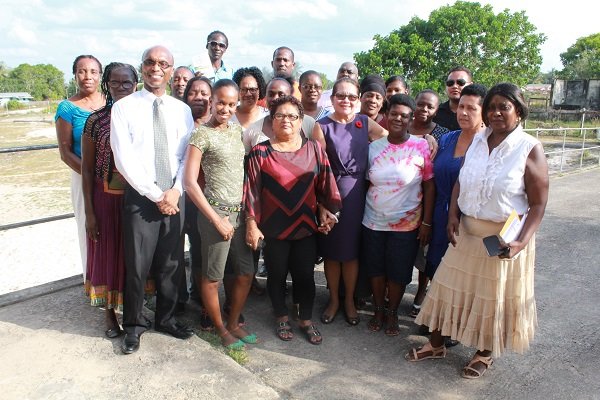 Georgetown, Guyana – (October 29, 2015) A group of women from communities in Region Ten community today wrapped up a four day "Self Reliance and Success in Business" workshop which was rolled out under the auspices of the Office of the First Lady, Mrs. Sandra Granger. The First Lady who was present at the launch last week in Linden, today returned to the mining town at the Blueberry Hill Secondary School where the closing ceremony was held for the participants.
In her brief remarks to the participants she lauded them for staying the course as she committed to offering further assistance to the group in an effort to help them realise their true business potential. "We hope to see you as success stories and hope you can help and guide others, and in that way help to give back to your communities," the First Lady told the Participants.
The First Lady was very encouraged by commitment and keen interest shown by the participants in the workshop. She said she is pleased that they have chosen to clean their surroundings as their community project. The Participants were also urged to become active players in their respective villages and to work along with the regional and local authorities in an effort to build and strengthen their communities.
Meanwhile one of the participants, Montayne Solomon, lauded the initiatives, stating that the community has been starved of such programmes. "This is platform to extend our knowledge and to go forward in our business ventures, and your initiative was well received," Solomon told the First Lady.
First Lady Mrs. Sandra Granger and participants who completed the "Self Reliance and Success in Business"workshop which ended today, at Blueberry Hill, Wismar Linden.
The workshop, which was opened on October 20 last, was facilitated by Wayne Barrow of Interweave Solutions, which is a Non-Governmental Organisation that helps local organisations and congregations to develop and create self-reliance by providing them with the necessary training to implement and promote their own business plans.
The aim of these workshops is to empower women and teach them to manage and sustain their small entrepreneurial ventures. Over the coming days the participants will be guided through a model that focuses on three key life areas; business, home and community.
As outlined by the facilitator, when the strengths of these three spheres come together, every circle is made stronger through education, and this will enable people achieve the social and economic self-reliance essential to growth and development. The first workshop was held at Good Hope, East Coast Demerara with a total of fifteen persons. A graduation ceremony will be held next week at State House for all the successful participants.