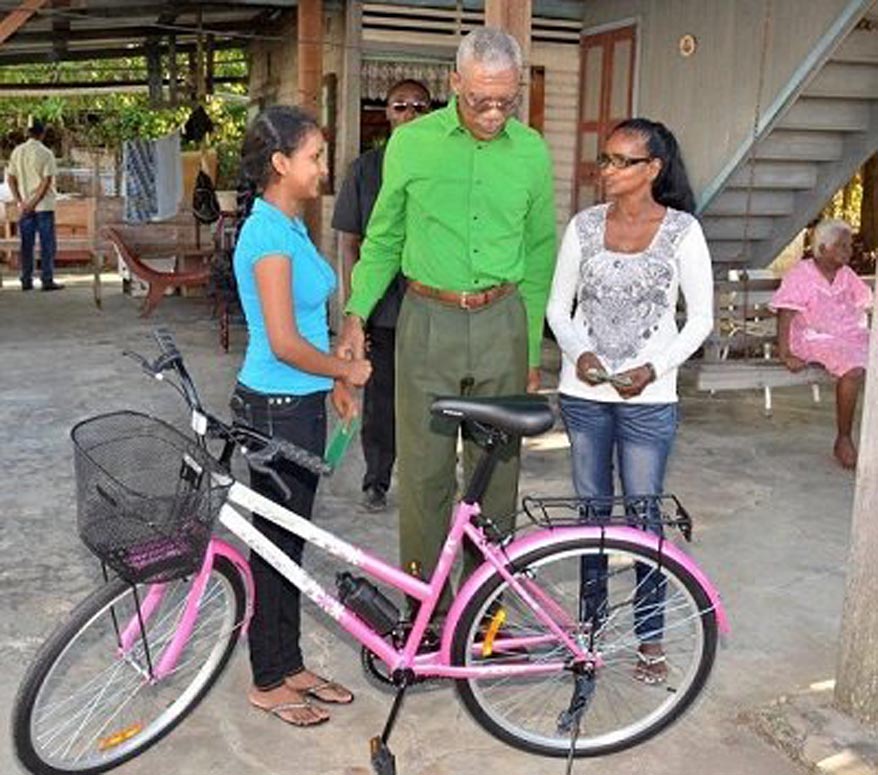 Georgetown, Guyana – (October 26, 2015) As was promised, Brigadier David Granger, President of Guyana, on Sunday paid a visit to Sarah Shivpersaud and her mother Lalita Bedessie who are currently staying with relatives at East Canje Berbice following a fire, which destroyed their home, last week.
Fifteen year old Sarah Shivpersaud, who lost her School Based Assessments (SBA), school books, uniforms and other personal effects, during the fire, was presented with a bicycle to help her get to school. Additionally, the Government, through the Regional Administration, will pay the Caribbean Secondary Education Certificate (CSEC) examination fees for the Berbice High School fifth form student.
Promising further support, the President said, "From the time we heard about the fire, and the fact that she was preparing for [CSEC], we felt that we had to do something…so we are just committed to ensuring that you stay in school and do well."
President David Granger, Berbice High School student Sarah Shivpersaud and her mother, Lalita Bedessie, shortly after the President handed over the bicycle during his visit on Sunday.
President Granger said the decision was made to offer assistance so that there would be no hindrance in Miss Shivpersaud continuing her preparation for the CSEC examinations, where she is expected to sit for seven subjects. An initial offer of support was made to the teenager by the President's Public Information and Press Services Officer, Lloyda Garrett, in the form of $50,000, to support the girl's immediate return to school, last week.
President Granger, who came across the report in the Guyana Chronicle last Thursday, was especially concerned that the child's attendance at school would be affected due to the disaster. Ms. Shivpersaud, who would like to be a lawyer said that the President can expect that she will perform well at her exams and thanked him for his support.