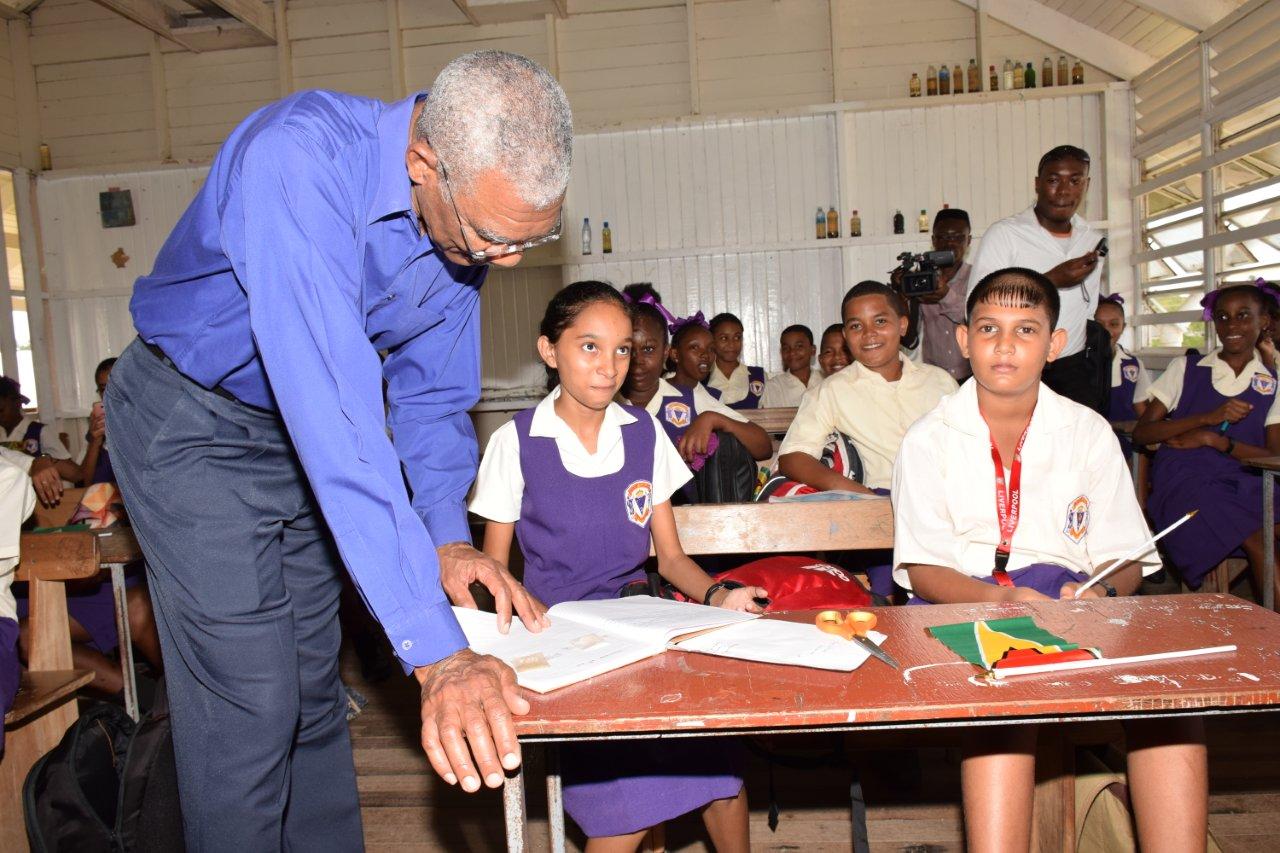 Georgetown, Guyana – (October 19, 2015) His Excellency Brigadier David Granger said that during his tenure of Office, he will ensure that nothing is done to lower the standard of President's College. He made this assurance during a special assembly today at the school followed by an extended period of interaction with students, teachers, and other members of staff.
While the visit was mainly a fact finding one, the President said that he wanted to see the school emerge as one of the leaders in a new push towards science, mathematics and technology.
"I would like to see President's College would take the lead as a college of science and technology…we have to open this country, we have to build highways and bridges, we have to build 'stellings' and factories and to develop this country we need engineers, architects, mathematicians, scientists…so that we can make use of these abundant resources, which God has given us," President Granger said.
He emphasised that as the country move forward, its citizens have to embrace the new chapter of science and technology in order to change the Guyanese economy. He recalled that many years ago, gold, timber, diamond, fish, rice and bauxite were the foundation of the local economy and today, not much has change in this regard.
"We can't live in the past; we have to look to the future… we have to change, we have to start making things. We have to start manufacturing and I look to you the next generation to move the economy forward and it must start here. Education must open the door to employment…education is the mother of everything good that you want to achieve in this life," the President urged.
President Granger carried out a thorough inspection of the operations of the various departments at the school, which spanned some three hours. During his tour of the facility, President Granger listened to the concerns of students and staff and took note of their needs. The President paid particular attention to the Science and technology labs and other facilities in the teaching and residence blocks of the college.
These concerns will be discussed with officials at the Education Ministry and other relevant bodies, after which the President will return to the school in November to inform them of the interventions that the Government will be making.
President Granger takes a moment to look through one of the students' exercise book
During his address to the packed dining hall, the President said that while this school is special to him being a patron of the school, there are about 75,000 secondary school students across the country and his Government has to ensure equitable distribution of the State's resources to all of those students. However, he noted that, "I am interested in high standards and nothing will be done during my tenure as President to lower the standard of President's College."
The Head of State said that the Administration is fully cognisant of the fact that the education system is plagued with serious problems that must be corrected.
"I am concerned about the conditions under which, children are educated. That is why I have introduced a scheme starting in the Pomeroon River for school boats…the important thing is that children must be able to get to school… nothing must prevent Guyanese children from going to school… My visit today is part of my whole purpose of being President; to ensure that this Administration will be able to hand over to you the children of Guyana, a country that is in a better shape than we found it," President Granger said.
He also spoke about his Administration's plans for the establishment of the National Cadet Corps, which will provide a meaningful training programme for secondary school students during the summer vacation. The President reminded the students that they are Guyana's future and assured that his Government will do all that is necessary to prepare them to take over.
He also cautioned against creating the conditions for educational apartheid. The President explained that a proliferation of this system will create an uneven society whereby there are only a few highly educated persons, while the masses are poorly educated. He said that his Government is focused on closing whatever developmental gaps exist and removing inequalities.
Meanwhile, Principal, Carolyn Canterbury expressed the school's appreciation to the President for his visit, which she described as "timely and conventional". "We view your presence here today as the beginning of new days here at President's College," Canterbury posited.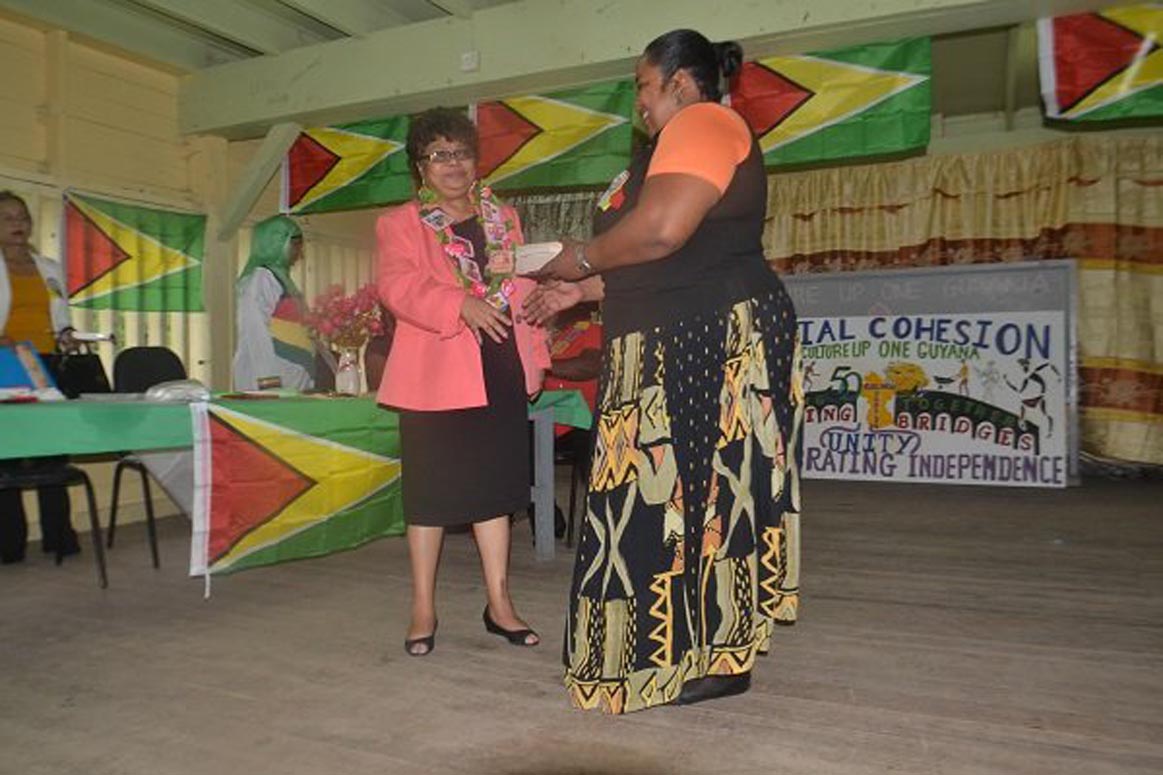 President David Granger being garlanded by a student upon his arrival at President's College
President's College was established in 1985 by former President, the late Forbes Burnham as an education institution of quality; producing top quality students on the basis of their academic performance. This year, the school is celebrating its 30th anniversary.
The school has been performing creditably at the Caribbean Secondary Education Certificate (CSEC) and Caribbean Advanced Proficiency Examination (CAPE) examinations with a pass rate of 88 percent in both examinations, this year. This represents an increase from 83.3 percent in 2014 for CAPE but for CSEC there was a four percent decrease in the pass rate for the same period.