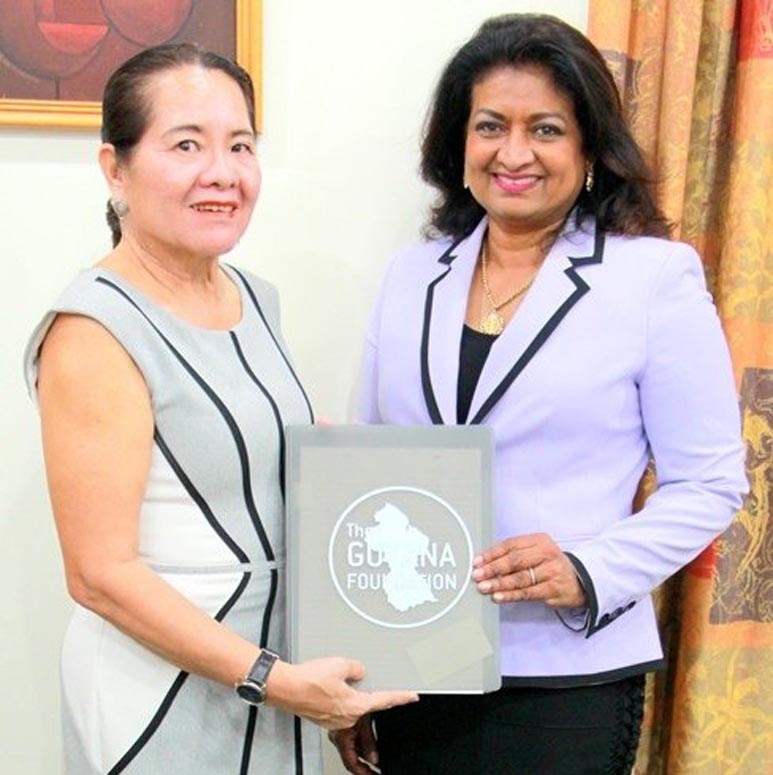 Georgetown, Guyana – (October 19, 2015) Her Excellency, Sandra Granger, today, met with Founder of the Guyana Foundation, Supriya Singh-Bodden, CCH, where several projects and areas of collaboration were discussed. The meeting took place at the First Lady's Office, State House.
According to the First Lady, the meeting was held with a purpose of understanding the purpose and work of the Guyana Foundation and to examine potential areas of collaboration, between the Foundation and the First Lady's office.
Mrs. Supriya Singh- Bodden, CCH, hands over a Report on the Guyana Foundation to First Lady, Sandra Granger.
"Mrs. Singh-Bodden came to enlighten me on the Guyana Foundation. We have been speaking for some months about it and the work that they have been doing and how we can collaborate with each other to move our work forward. I exchanged views with her on what I am doing and we found that we are on the same page basically. So we are going to work to see how best we can move forward together and hopefully improve the lives of the ordinary Guyanese and I believe that we have many projects coming," Mrs. Granger said.
In the meantime, Mrs. Singh-Bodden, CCH, said that the meeting with the First Lady proved fruitful as she noted her appreciation that areas of partnership have been discovered.
"I am happy to meet her and to have this discussion. The First Lady has such a huge heart for all of Guyana and I know that the entire Board of the Guyana Foundation will be happy that we are finding some sort of synergy so that we can move forward together," Mrs. Singh Bodden, CCH, said.
The Guyana Foundation is a charitable trust that has been created to contribute meaningfully to the rebuilding of Guyana. Driven by the conviction that great change can be made by people who are encouraged and supported, the Foundation has conducted large and small-scale projects across the country in an effort to restore hope and purpose, rebuild lives, and create a better future for all Guyanese.