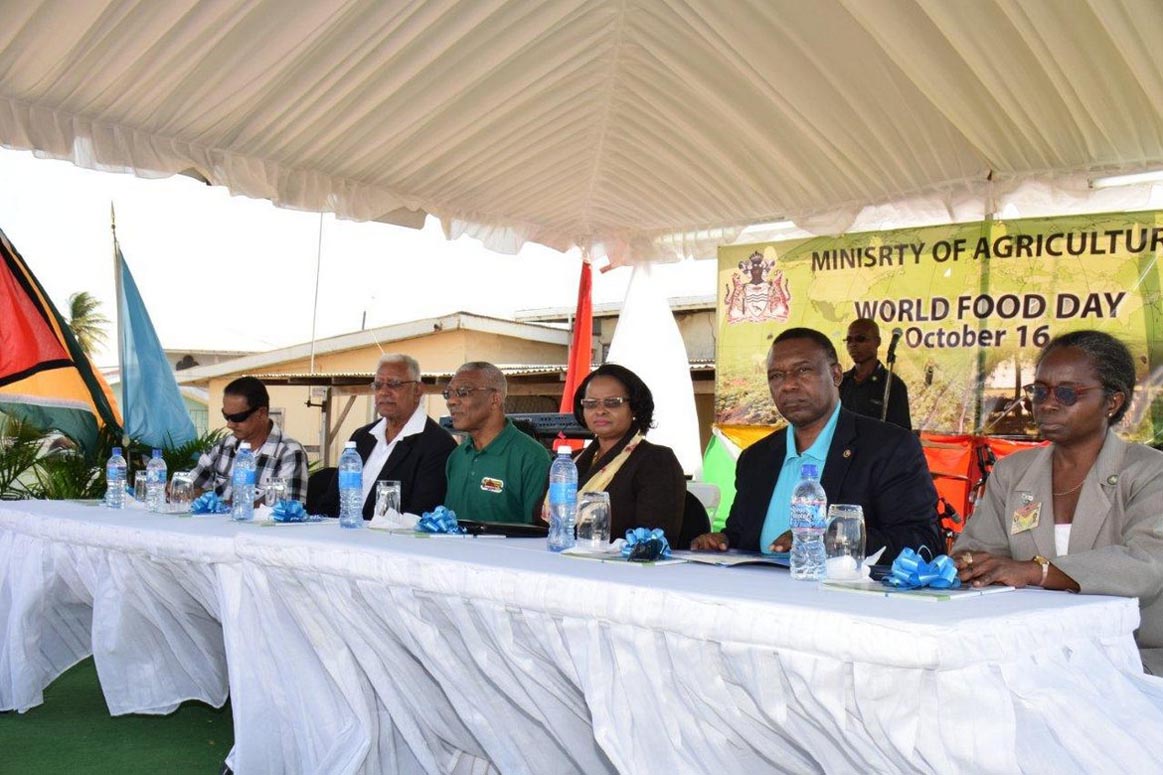 Georgetown, Guyana, (October 16, 2015) – President David Granger, today, reaffirmed Guyana's commitment to ensuring greater food security as one of the means of eliminating extreme poverty and hunger. He made this pledge at an event organised by the Ministry of Agriculture in observance of World Food Day. The event was held at the Uitvulgt Community Centre, West Coast Demerara.
This year, World Food Day is being observed under the theme, "Social Protection and Agriculture: Breaking the Cycle of Rural Poverty". President Granger explained that food security is built on three main pillars. These are: food availability, access to food and the appropriate use of food.
He said that while the Coast is relatively food secure, the same cannot be said for hinterland communities.
"To break the cycle of poverty, we must understand what is the most vulnerable section of our population and which are the most susceptible areas in our country… although we have some food insecurity on the Coast, it is greatest in the vast hinterland," the Head of State said.
Food insecurity affects small-scale independent artisans such as fishermen and small-scale miners; marginalised groups such as labourers, single-parents and the elderly and residents of hinterland communities.
From L-R- Regional Chairman, Region Three, Julius Faerber, Minister of Agriculture, Noel Holder, President David Granger, Minister of Social Services, Volda Lawrence, Food and Agriculture Organisation Country Representative, Reuben Robertson and General Manager of the National Insurance Scheme, Doreen Nelson at the World Food Day event at Uitvulgt.
Guyana recently adopted all 17 of the United Nations (UN) Sustainable Development Goals. Goal numbers one and two are particularly important since they speak to; ending poverty in all its forms, ending hunger, achieving food security, improving nutrition and promoting sustainable agriculture.
In addition to poverty, climate change is another major challenge that the farming community has to grapple with. President Granger said that droughts and floods are occurring and recurring with greater regularity and severity. "Our challenge, therefore, is to make agriculture more resilient especially against the effects of the cycle of droughts and floods.," he said.
With this reality in mind, the Government plans to focus on the development of inland and hinterland agriculture, specifically within the Intermediate and Rupununi Savannahs. Moreover, greater effort will be made to in the area of value-added production and agro-processing. The President also called on the Agriculture Minister to ensure that the promise made by the coalition government to establish agricultural institutes in every hinterland community is delivered.
"We must produce food in greater quantities; we must protect society from hunger; we must promote better nutrition and health and we must provide employment in rural and hinterland communities," the President affirmed.
Meanwhile, Minister of Agriculture, Noel Holder spoke of the Government's thrust towards promoting a green economy and said that while this may be a difficult task, it is achievable. These green agricultural initiatives will have positive impacts on rural communities.
"Agriculture can be a pillar on which we build a sustainable and resilient economy to bring equity, prosperity, and social protection to all of our people," Minister Holder said.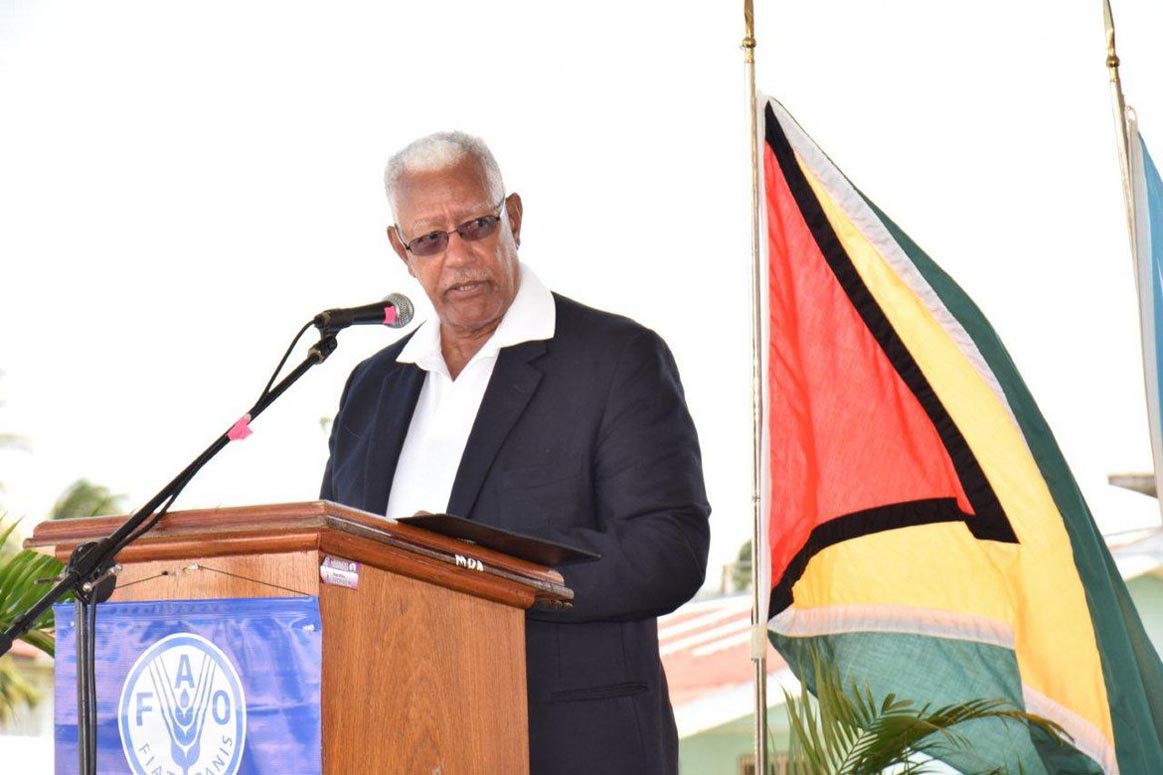 Minister of Agriculture giving remarks at the World Food Day at Uitvulgt
This year's World Food Day theme has outlined a very important role for the Ministry of Social Protection to play in eradicating poverty and hunger and improving living standards. Minister of Social Protection, Volda Lawrence who was present at the event, said that there is an urgent need for greater policy coherence and synergies between social protection, food security, agricultural development and rural poverty reduction.
She also spoke of the need for reduction in food imports, so that resources could be directed towards the development of other critical areas in the social sector.
Food and Agricultural Organisation (FAO) to Guyana, Reuben Robertson read the message of the Organisation's Director General, Jose Graziano da Silva who emphasised the need for the establishment of an enabling environment that allows for small producers to take advantage of available opportunities.
October 16 was designated World Food Day by the UN to raise public awareness about hunger and poverty.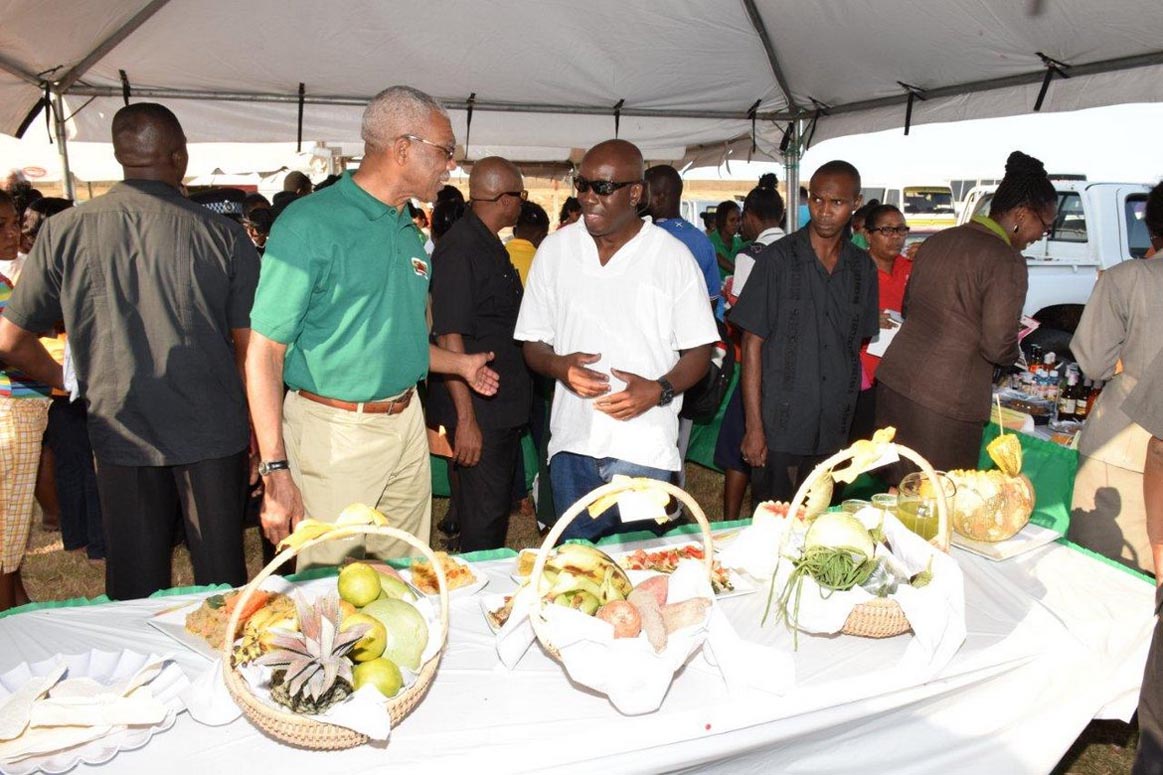 President David Granger and Permanent Secretary of the Agriculture Ministry, George Jarvis at one of the food booths on exhibition at the World Food Day event at the Uitvulgt Community Centre