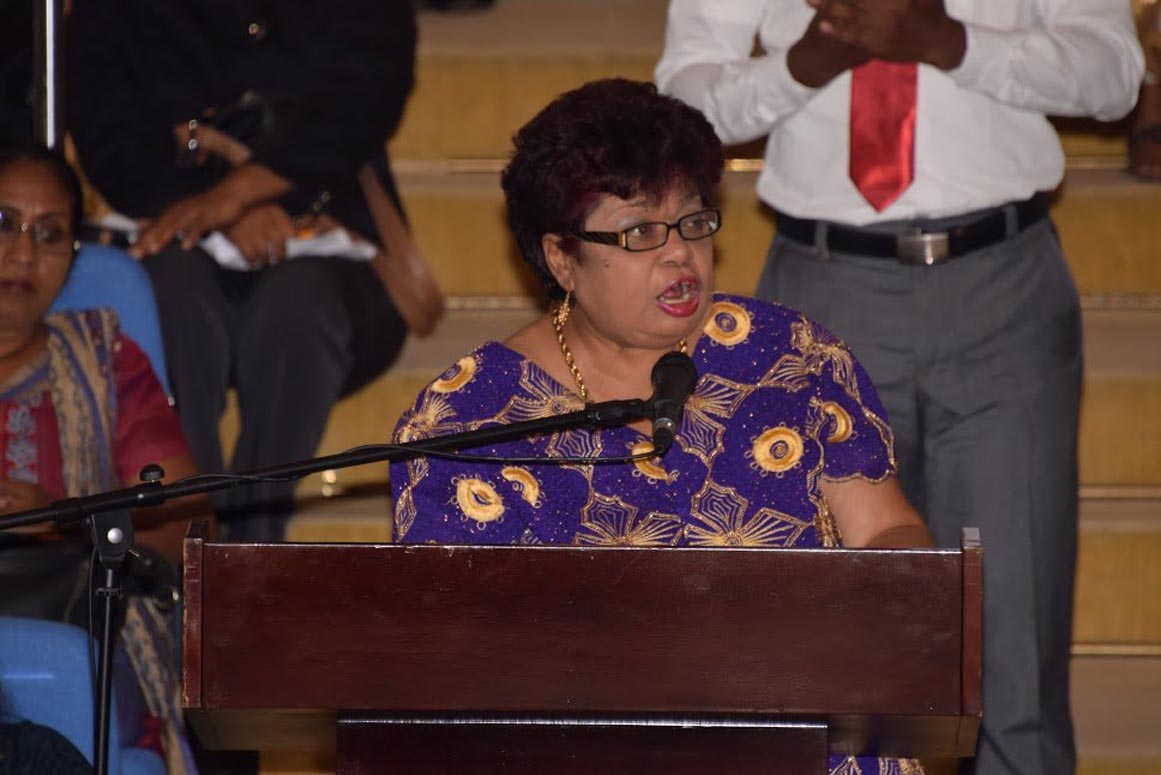 Georgetown, Guyana – (September 03, 2015) In an effort to strengthen societies and foster social cohesion, President David Granger said the new coalition government will dismantle artificial walls of mistrust, and division, which have been erected to create separateness among Guyanese.

In his address to stakeholders who gathered at the Arthur Chung Convention Centre, this morning, for the opening of the Social Cohesion Round-table meeting, President Granger said special emphasis will be placed on ensuring fairness and promoting greater cooperation among groups.

As the Head of State sought to paint a clear picture of what social cohesion is, he used the definition created by the Organisation for Economic Cooperation and Development: "A cohesive society works towards the well-being of all its members, fights exclusion and marginalisation, creates a sense of belonging, promotes trust, and offers its members the opportunity of upward mobility."

Against this backdrop, President Granger said there is evidence of a divide in Guyana, between various social groups that threatens social cohesion and weakens people's sense of belonging and inclusiveness.
"Ignoring the problem of social cohesion, risks having to face social instability, it makes interventions ineffective. It is not sufficient to apply technocratically and bureaucratically sound policy frameworks, while disregarding people's desire for inclusive political processes," President Granger said.
The lack of social cohesion, President Granger pointed out, arises primarily as a result of economic and class divisions between groups. "Human societies, political systems, communities, families and personal relationships are cemented by values, beliefs, rules and agreements between its members. Without this, there will be no order, no stability and no harmony, the identification and promotion of these values, beliefs and practices are the subject matter of social cohesion," he said.
In fostering social cohesion, President Granger said the administration will place emphasis on eliminating inequality, forging political inclusivity, eradicating extreme poverty, improving access to education, and unemployment and social protection.
"The disparities in development and income between the coastland and the hinterland must be reduced. There is an urban-rural divide, and there is a gender gap. Cohesiveness cannot be nurtured in an unequal environment," President Granger said. He added that it is the aim of the administration to afford every citizen a chance at the good life.
Further, in an effort to promote greater inclusion, the Head of State pointed out that this must start at the political level. "Article 13 of the Constitution of the Cooperative Republic of Guyana prescribes the creation of a system of "inclusionary democracy" by promoting the participation of citizens and their organisations in decision making," President Granger quoted.
In this light, he noted that the government is committed to this objective as they firmly believe that a government of national unity is fundamental to the creation of an inclusive political system. "I said at my inauguration that I intend to be President of all of Guyana. This, without question, includes those who did not vote for the coalition. I cannot exclude from the process of governing this country the duly elected representatives of 49 percent of the people," the President told the large gathering.
On the issue of addressing unemployment, the President said social cohesion calls for the establishment of labour market institutions that can facilitate the wage-setting, distributional and allocative roles of labour markets. "Reforms, setting out guarantees for workers and a collective bargaining systems, can begin to establish institutions that will assist markets in adjusting prices to the new labour market regime more smoothly," he pointed out.
Critically important too, he said, is universal access to basic social services, which may not be achievable in the short to medium term, but government still have a number of more affordable tools at their disposal.
Education, President Granger said, is also a vital part of any social cohesion agenda. "When opportunities for quality education are afforded across the population, schooling becomes a strong leveler, bringing prospects for upward mobility even to disadvantaged groups. Increasing educational attainment is an important way for countries to reduce inequality," President Granger said. He added that, beyond enrollment, the quality of education needs to receive attention so that increases in educational outcomes effectively translates into greater productivity, better growth prospects and improved chances in the labour market.
Also on the occasion, Minister of Social Cohesion, Hon. Amna Ally noted her delight at hosting such a forum, which will start the process, of initiating a moral regeneration, encourage and promote positive values and a caring society.
Essentially, she said, her Ministry's aim is to use a fresh approach to create a good life for all Guyanese. "What is crucial is that as a country, we have to forge an enduring national consensus going forward on the broad objectives of our country's development," the Minister said. In moving the process forward, the Minister stated that the government is under no illusion that the task ahead is easy, since Guyana is a product of many streams of history and culture. "We have to build one national identity out of multiple identities based on class, gender, sexual orientation, age, language, geographic location and religion," she said.
Former Commonwealth, Secretary General, Sir Shridat Ramphal, who also presented at the auspicious event, applauded the government's efforts, calling for steps to be taken to incorporate the fostering of social cohesion from an early stage into the school system. Sir Ramphal said he believes that social cohesion is not something that is likely to take place spontaneously.
"It will be required to be nurtured from the sound educational roots. To this end, there should be instituted, as an integral part of primary education, a course in civics," he said.
He added that after due consideration with the teaching profession, religious leaders and other interested parties a standard text book on the subject should be provided. "The aim should be to provide all pupils receiving primary education with a broad knowledge and appreciation of the historical and constitutional basis of the state," he said.
Meanwhile, British High Commissioner to Guyana, His Excellency James Quinn, in his remarks, applauded the government of Guyana for hosting the event and most importantly for establishing the Ministry of Social Cohesion. These the High Commissioner said are encouraging steps in seeking to promote a stable, secure and prosperous Guyana.
"We are all aware that it will take a long term strategic effort to address social cohesion here and that will not reap overnight success. But it is an important start and one which we should all encourage and support," High Commissioner Quinn said. Similar sentiments were expressed by UNDP Resident Representative, Ms. Khadija Musa, who stated that the move by the new administration is a very bold one.
The United Nations Development Programme (UNDP) and the British High Commission, Georgetown; together financed today's event, which was held under the theme "Social Cohesion for lasting peace and Unity". Leading up to today's event, outreaches were held in all administrative regions with the aim of sensitising citizens and getting their input for the crafting of a policy frame work, taking Guyana into 20/20.