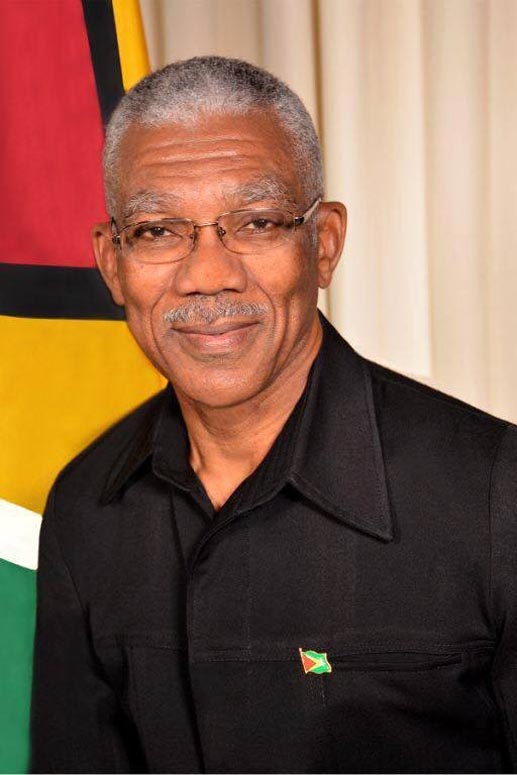 Brigadier David Arthur Granger, MSM, MSS
President of the Cooperative Republic of Guyana
Brigadier David Granger was sworn in as the ninth President of the Cooperative Republic of Guyana on 16th May 2015.
He was educated at the University of Guyana, the University of the West Indies and the University of Maryland and attended courses at the University of California; the National Defense University and the Joint Special Operations University.
Brigadier Granger is a former Commander of the Guyana Defence Force and National Security Adviser to the President. He received his military training at the Mons Officer Cadet School and the School of Infantry in the United Kingdom, the Jungle Warfare Instruction Centre in Brazil, and the Army Command and Staff College in Nigeria.
He was elected to the presidencies of the History Society, Guyana Heritage Society, University of Guyana Guild of Graduates and the Guyana Chess Federation. He was also formerly a member of the University of Guyana Council, Association of Caribbean Historians, Caribbean Studies Association, Guyana Press Association, Guyana Book Foundation, Guyana Legion and the Guyana Veterans Foundation. 
Brigadier Granger is the author of several books including National Defence: A Small State in the Subordinate System; Caribbean Geopolitics: Security, Stability and Sovereignty in Small States; Public Security: Criminal Violence and Policing in Guyana, and Public Policy: The Crisis of Governance in Guyana.
His academic awards include the President's Medal; Dennis Irvine Prize; Council of the University Prize; Elsa Goveia Medal of Excellence; Guy de Weever History Prize and the Earl Attlee History Prize from the University of Guyana.
His military awards include the Efficiency Medal, the Military Service Medal and the Military Service Star for distinguished military service.
Brigadier Granger is married to Sandra, née Chan-A-Sue, and is the father of two daughters.